Storm Forecast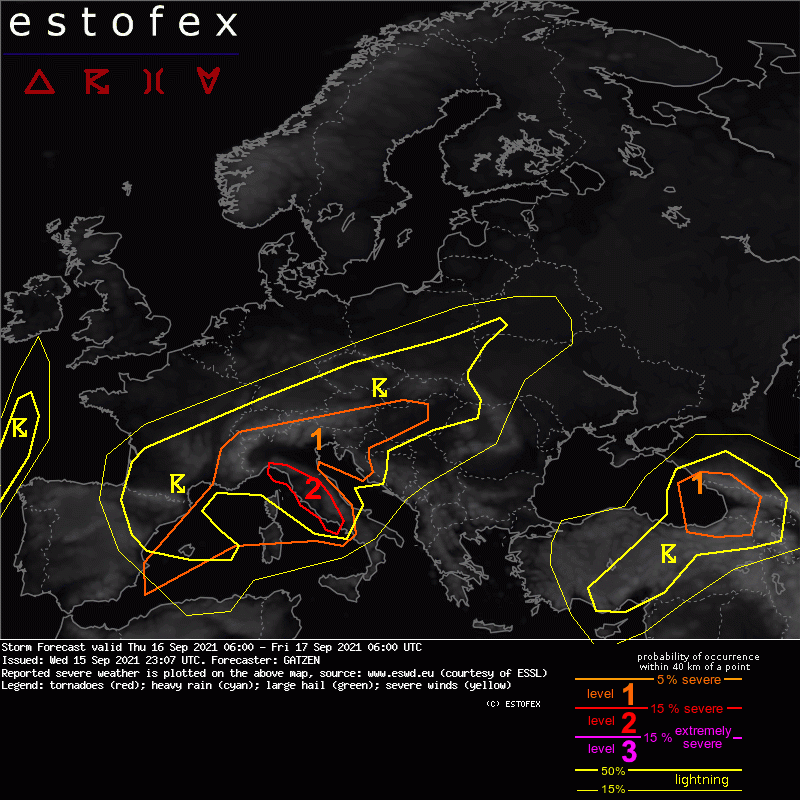 Storm Forecast
Valid: Thu 16 Sep 2021 06:00 to Fri 17 Sep 2021 06:00 UTC
Issued: Wed 15 Sep 2021 23:07
Forecaster: GATZEN
A level 2 was issued across north-western Italy for extreme rainfall.

A level 1 was issued across the southern Alpine region into the northern Balkans for extreme rainfall.

A level 1 was issued for the western and northern Mediterranean for large hail, severe wind gusts, and extreme rainfall and tornadoes.

SYNOPSIS

A ridge extends from the west Mediterranean towards Scandinavia. Troughs are situated to the west across Iberia and to the east across Turkey. Downstream of an intense trough across the Atlantic, heights are rising over western Europe, with the Mediterranean ridge shifting east and de-amplifying. The Iberian trough slowly moves east. At lower levels, a cold front slowly moves south-east and crosses parts of Italy and the west Mediterranean. Rich moisture and a plume of steep lapse rates overlap resulting in high MLCAPE. Additionally, strong deep layer shear is forecast over much of the north and west Mediterranean.

DISCUSSION

North-western Italy

Numerous thunderstorms are expected along the slow-moving cold front ahead of the approaching mid-level trough axis. Ample low-level moisture feeds the convective clusters with increasing low-level southerly winds ahead of the cold front, and models agree on 14+ g/kg low-level mixing ratio. Long straight hodographs towards the north-east are expected, with a pronounced tendency of backbuilding storms along the coasts of Italy. Low cloud bases, high relative humidity, and midest lapse rates support a heavy rain threat that will slowly spread southward duirng the period.

Additionally, due to strong low-level shear, tornadoes are not ruled out as well as some bowing systems capable of severe wind gusts.

Western and northern Mediterranean

Additional storms are forecast across the frontal zone during the day, also spreading from north to south. Although coverage is expected to be less compared to the level 2 region, still severe weather is expected due to strong vertical wind shear. Supercells are possible capable of large hail, severe wind gusts, tornadoes and heavy rain.

Southern Alpine region to northern Balkans

Numerous thunderstorms are expected to form within the base of the Iberian trough and to the ast along the frontal zone and warm air advection regime. While slow moving storms will locally result in flash floods across north-east Soain and southern France, a higher coverage of storms farther east is expected. Heavy rain is the main threat as well due to humid profiles.

East Black Sea

Within the base of the east European trough, a low-level vortex has developed across the eastern Black Sea. It will pose a threat of heavy precipitation along the shores due to slow-moving storm clusters characterized by low cloud bases and humid profiles.