Storm Forecast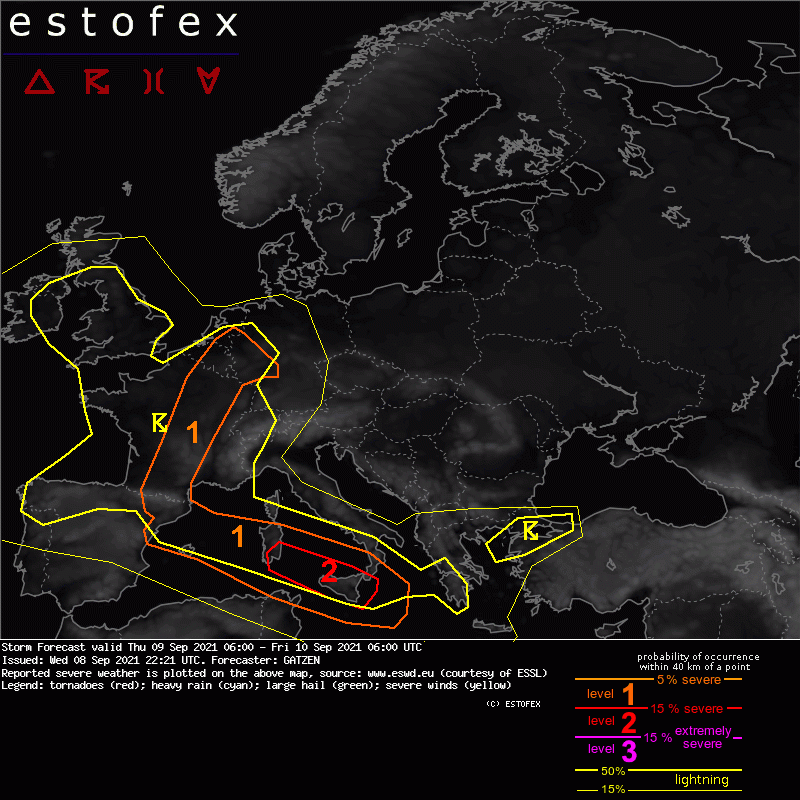 Storm Forecast
Valid: Thu 09 Sep 2021 06:00 to Fri 10 Sep 2021 06:00 UTC
Issued: Wed 08 Sep 2021 22:21
Forecaster: GATZEN
A level 2 was issued across the southern Tyrrhenian Sea for hail, wind gusts and extreme rainfall.

A level 1 was issued across western Europe into the Mediterranean for extreme rainfall.

SYNOPSIS

A blocking ridge across eastern Europe if flanked by low geopotential to the south-west, with a slowly progressing cut-off trough across the central Mediterranean and a slowly lifting mid-level trough across western Europe. A plume of warm air is present ahead of the western trough and a frontal boundary extends from the west Mediterranean to France and into the Benelux countries. Rich moisture is present along this boundary. Most of the forecast area, however, is dominated by dry low-level air masses, limiting chances of thunderstorms.

DISCUSSION

Southern Tyrrhenian Sea

At the southern edge of the low geopotential, a strong mid-level westerly jet affects the south Mediterranean. An area of long hodographs will spread from west to east with depp layer shear in excess of 20 m/s.

At low levels, a convergence zone with rich moisture is present and thunderstorms are forecast due to weak CIN. These storms are expected to organize due to the strong shear, with supercells and bow echoes possible, the latter due to strong 0-3 km shear. Severe wind gusts and large hail are forecast.

Additionally, training storms can be expected along the convergence zone with extreme rainfall and flash flooding possible. This threat also includes the west Mediterranean where storm motion vectors are short.

France into Benelux and Germany

In a weakly sheared, moist environment, storms are expected to form along the frontal boundary that slowly progresses eastward. A humid troposphere and a low cloud base with a large warm part of the storms will pose a threat of some extreme rainfall events with slow moving storms. The threat will later weaken across Germany.