Storm Forecast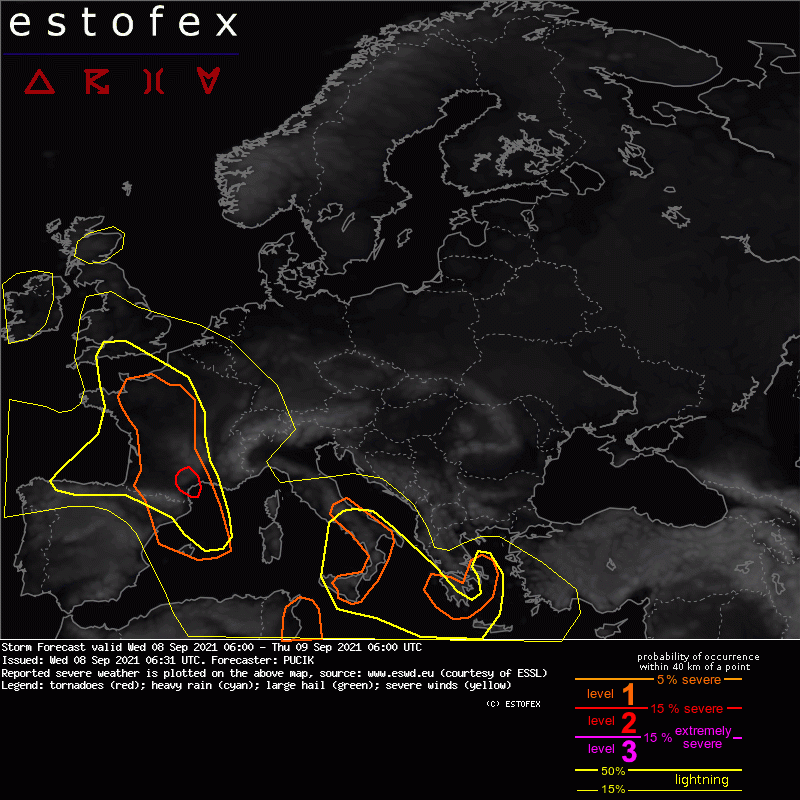 Storm Forecast
Valid: Wed 08 Sep 2021 06:00 to Thu 09 Sep 2021 06:00 UTC
Issued: Wed 08 Sep 2021 06:31
Forecaster: PUCIK
A level 2 was issued across southern France mainly for excessive rainfall.

A level 1 was issued across France towards the Balearic islands mainly for excessive rainfall and large hail.

A level 1 was issued across Tunisia mainly for large hail and excessive rainfall.

A level 1 was issued across Italy mainly for excessive rainfall and to the lesser extent for large hail.

a level 1 was issued across parts of Greece mainly for excessive rainfall.


SYNOPSIS and DISCUSSION

As of Wednesday 06 UTC, satellite imagery has detected a large MCS currently crossing NW France into the English Channel, associated with a cyclone over the Atlantic. The MCS has been initiated along a frontal wavy boundary that will cross the U.K., France, and parts of N Spain. Along the boundary, abundant lower-tropospheric moisture will contribute to MUCAPE values ranging from 500 to 1500 J/kg, increasing towards the south. More widespread initiation is forecast during the day and the storms will spread eastward. In the environment of skinny CAPE, low LCLs, and storm motions parallel to the frontal boundary, the primary threat across France will be excessive rainfall. Large hail may occur as well given the moderate bulk shear between 10 and 15 m/s, offering some potential for storm organization.

The higher flash flood threat is anticipated across parts of S France, where forecast hodographs show slow storm motions with the easterly flow in the lower troposphere veering to westerly flow aloft. Continuous easterly flow near the surface may contribute to repetitive storm initiation near the coastline. This behavior is also shown by numerous models and confidence in a heavy rainfall event across this area is high.

Towards the evening and night hours, storms may also spread over the Mediterranean Sea / initiate across NE Spain, experiencing higher CAPE and stronger shear. While there is some disagreement in models concerning this evolution, any storm that develops in this environment will pose a threat of severe weather. Similar uncertainty with a high risk of severe given the storm initiation will exist across Tunisia.

Storm initiation is forecast also across parts of Italy and Greece, where slow storm motion may result in a risk of heavy rainfall. Across S Italy and Sicily, stronger vertical wind shear will also enhance the risk of large hail. While most models show precipitation mostly inland, it is possible that most storms will stay over the sea, where CAPE is more abundant.