Storm Forecast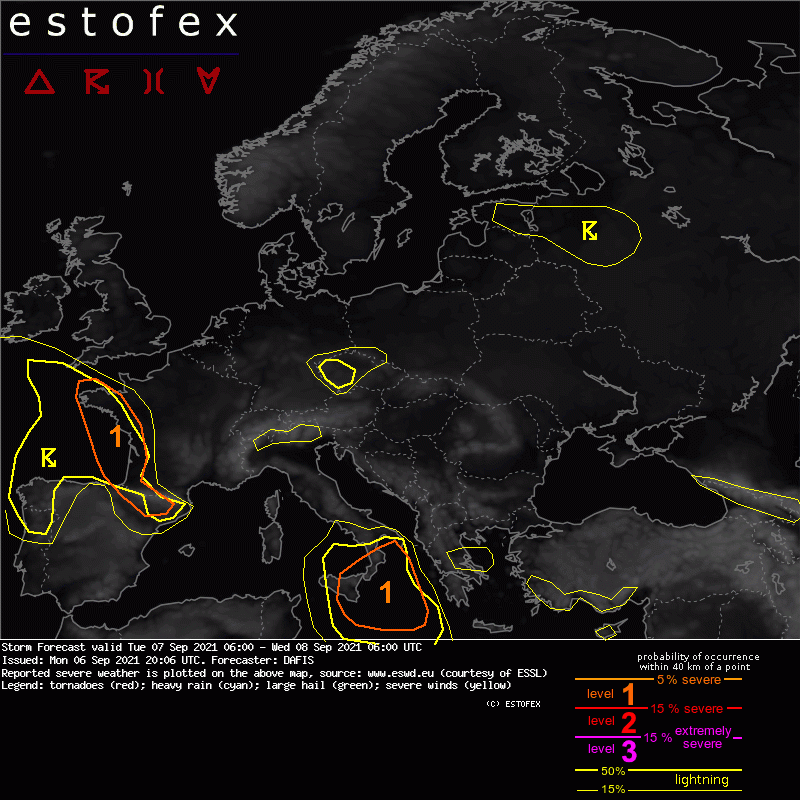 Storm Forecast
Valid: Tue 07 Sep 2021 06:00 to Wed 08 Sep 2021 06:00 UTC
Issued: Mon 06 Sep 2021 20:06
Forecaster: DAFIS
A level 1 was issued for parts of W France, N Spain and Andorra for large hail, severe convective wind gusts and excessive precipitation.

A level 1 was issued for S Italy and Malta mainly for excessive precipitation and large hail. Several waterspouts are also expected.

SYNOPSIS

An omega-blocking pattern is seen in the analysis maps, with a developing ridge over western Europe, and two main cut-off lows west and east from it. This pattern may lead to a Rex Block later on Wed 8/9. The first cold drop in the Atlantic will provide lift to unstable air masses in the Gulf of Biscay and in N Spain where DMC events are expected. Several mid/upper-level vorticity maxima can be found in the eastern cut-off low, above warm and moist air masses.
In addition, in the Aegean Sea, the strong NE flow during the night on Tue 7/9 and early morning on Wed 8/9 may lead to high-precipitation events but they will be mostly non-convective. In some additional areas storms will develop for a short period of time, such as in Turkey, Georgia, Central Europe/Alps and in Latvia-Russia, but they should be non-severe.

DISCUSSION

.... W France, N Spain and Andorra ....

The southerly flow over the Gulf of Biscay will gradually become stronger on Tue 7/9 and an EML will spread over western France. There is no consensus among the available NWP models about the exact time of CI in France, but ECMWF and ARPEGE agree that storms will develop late, after 21z. Nevertheless, any storm that will develop will be able to organize quickly and give the the overlap of high-shear and CAPE, along with very steep lapse rates, large hail is well possible. A few linear convective segments may also produce severe convective wind gusts near the coasts of W France.

In Spain and Andorra, convective inhibition will be stronger and only isolated storms are expected. The main threat will be large hail.


.... S Italy and Malta ....

Abundant moisture and instability will feed several storms in this part of the Mediterranean. DLS will be weaker than in the previous days, so storms should be mostly isolated or form short-lived MCSs. High PWAT with saturated vertical profiles and a weak low/mid level flow will increase the threat for excessive precipitation events (flash floods). Locally high CAPE values and DLS stronger than 10 m/s may also lead to large hail near the coasts.