Storm Forecast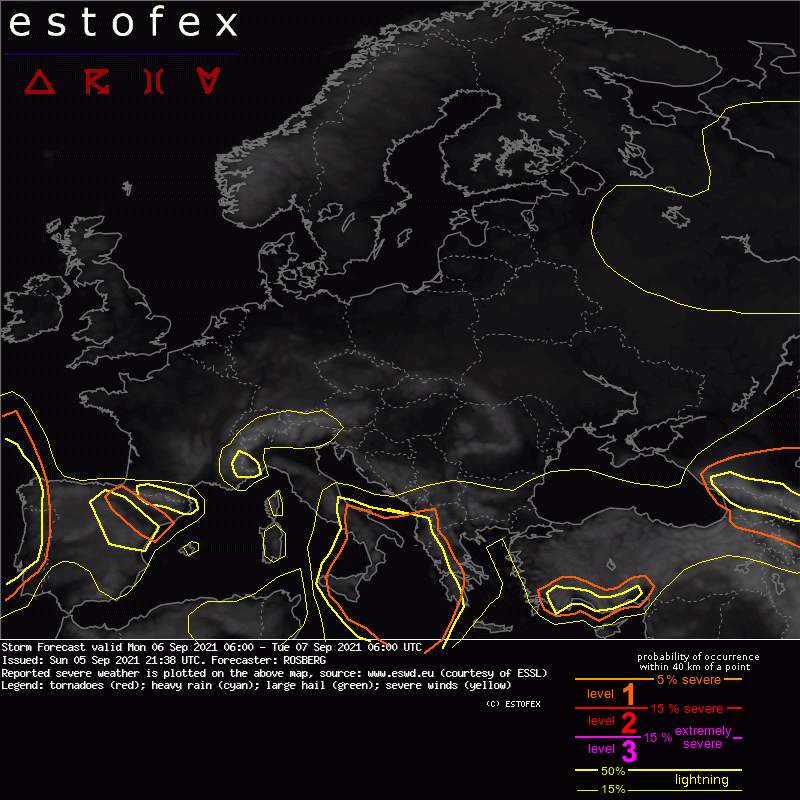 Storm Forecast
Valid: Mon 06 Sep 2021 06:00 to Tue 07 Sep 2021 06:00 UTC
Issued: Sun 05 Sep 2021 21:38
Forecaster: ROSBERG
A level 1 was issued for Portugal for severe wind gusts and to a lesser extent for large hail and excessive precipitation.

A level 1 was issued for northeastern Spain for very large hail, severe wind gusts and to a lesser extent excessive convective precipitation.

A level 1 was issued for southern Italy, Albania and western Greece for excessive convective precipitation and to a lesser extent severe wind gusts and large hail.

A level 1 was issued for southern Turkey for excessive convective precipitation and to a lesser extent severe wind gusts and large hail.

A level 1 was issued for the Caucasus-region and southern Russia for severe wind gusts and large hail.


SYNOPSIS


A mid-level long wave trough from western Russia down to the northern part of the Black Sea is moving slowly eastward. An extended branch of this mid-level trough is located over southeastern Europe as a nearly stationary upper level low with center over Greece and the Aegean Sea. Upstream from this long wave trough/upper level low over southeastern Europe, a shortwave trough will dig and move south/southeastward across Italy.
An upper level ridge/anticyclone over western and southwestern Europe will be moving very slowly towards east and northeast, and this ridge will be flanked by a northeast moving upper level cut-off low just west of the Iberian Peninsula.
At the surface a low pressure east of the Kola Peninsula is generating a westerly flow of a cold airmass over large parts of Russia. An associated weak cold front is located east of the forecast area but stretches down to the Caucasus-region, northern Turkey and southeasternmost part of Europe. This frontal boundary will trigger some convection over these areas.
Another area with occurrence of deep convection will be across east-central Mediterranean in the area from southern Italy to Ionian Sea where surface troughs will be the main trigger.
A surface low, associated with the upper level cut-off low, west op the Iberian Peninsula is moving northeastward. Ahead of the low, warm advection from the south is taking place across the Iberian Peninsula.
An associated cold front combined with strong QG-forcing will arrive to the western part of the Iberian Peninsula Monday evening and night to Tuesday with showers and a few storms.

Several lows and associated frontal systems will move northeastward, along the polar front, from northeastern Atlantic towards the Norwegian Sea and northern Scandinavia. Due to the lack of steep lapse rates no deep convection is expected in connection with these systems.
A high pressure over eastern Europe with a ridge extending across central Europe to the British Isles will keep this region mostly dry and free from DMC due to large scale sinking with dry air, subsidence inversions and weak lapse rates.


DISCUSSION


Iberian Peninsula


A very warm airmass is moving up over the Iberian Peninsula from the south, ahead of the low pressure located just west of the Peninsula, with an elevated mixed layer seen in forecast soundings from roughly 600-850 hPa. In the afternoon during peak heating the airmass will be very dry at low levels with some capping in place.
Over the central and southern part of the peninsula very strong DLS of around 20 m/s can be found with curved hodographs. However, due to the very dry air with capping just an isolated high based shower or storm is expected to form. The CB base will be too high for tornadoes, but large hail and a severe wind gust threat are possible with these inverted V sounding profiles.
Over the northeastern part of Spain, in an area from just north of Valencia to Bilbao, a weak convergence zone will be located. Thus, here a slightly higher coverage of isolated showers and storms are possible during peak surface heating. Some higher shower and thunderstorm activity are also possible over the Pyrenees.
Near this convergence zone some higher surface dewpoints can be found combined with slightly more moist low levels. Mixing ratios up to 12 g/kg combined with temperatures up to 30 degrees Celsius and the steep mid-level lapse rates will create an environment with strong instability of up to 1500-3000 J/kg SBCAPE. If a storm or two manage to form in this environment the strong instability in place with dry and well mixed boundary layer pose a threat for very large hail with severe and damaging winds.
A level 1 has been issued for the area where the strong instability will occur to highlight the possible hazards of very large hail and severe winds if storms form.
The airmass will be capped over the ocean, but a storm or two could perhaps also form over Majorca due to sea breeze collisions and terrain.

The activity will weaken and die out after sunset due to lack of solar heating.

Late Monday evening the cold front, with strong upper level QG-forcing from the upper level cut-off low, will arrive to western Portugal from the west. Despite the strong upper level lift, the mid-level lapse rates will be somewhat weak generating only a couple of hundreds J/kg MLCAPE. Thus, convection will be rather low topped which will restrict the thunderstorm coverage.
The upper level low will contribute to very strong vertical wind shear over the region with DLS of 20-27 m/s and 0-3 km bulk shear of 12-20 m/s. As a result both low topped multicells and supercells are possible, with the convection likely being organized as linear multicellular structures along the cold front. The main hazards will be severe wind gusts and hail, but flash flooding is also possible as training cells along the cold front might move up over the same areas and especially over higher terrain.
The wind- and hail potential will be somewhat limited due to the elevated nature of the storms over land/coast and due to the marginal instability. Due to these limitations a level 1 has been chosen for the area instead of a level 2.
Hodographs will be mostly straight, but some slightly curved hodographs can be found over Portugal, especially over the northern part. However, due to the storms being elevated and quite low topped the tornado potential will be very low over land areas.


Italy, Greece, Albania


Showers and thunderstorms will be occurring during the forecast period across coastal areas of southern Italy, southeastern Tyrrhenian Sea and the Ionian Sea along surface troughs located over these areas. These storms might also affect coastal areas of western Greece and Albania.
The warm Mediterranean surface water combined with quite cold temperatures aloft, due to the mid-level trough/upper low laying overhead, creates an environment of 500-1500 J/kg MLCAPE. Storms will be organized in clusters and/or lines due to some 10-18 m/s DLS, with risk of large hail and severe wind gusts.
Quite moist profiles combined with deep warm cloud layer, relatively low LCL heights and precipitable water up to 30-35 mm pose a threat of flash flooding in coastal areas of southern Italy, Sicily, western Greece and Albania if storms manage to repeatedly affect the same region.
Quite low LCLs combined with some low-level CAPE and weak low-level winds also indicate a risk for a waterspout or two over the area with surface convergence over the ocean.

In the afternoon additional storms are expected to develop across southern Italy, Sicily and western Albania by solar heating and sea breeze collisions, with a continuous threat for hail, heavy rain and strong wind gusts. A shower or storm might also develop over Corsica and Sardinia.
Thunderstorm activity will however be restricted across inland areas of Greece and the southern Balkans due to weaker lapse rates combined with areas with drier low- and mid-levels.


Southern Russia, Caucasus-region, northern Turkey


The weak cold front, that is associated with low pressure east of the Kola Peninsula, is nearly stationary over southern Russia, the Caucasus-region, northern Turkey and southeasternmost Europe. The front is separating very warm air over Turkey, the eastern Mediterranean and the Middle East from cooler air that is advected down over southern Russia and the Black Sea from northeast.
Some showers and perhaps a few elevated storms will be ongoing along the front Monday morning, but additional surface-based convection is expected to develop along the front and over mountainous areas during the day with diabatic heating.
Deep layer shear will be strong over this area, 15-25 m/s, with the highest values over Caucasus and southern Russia. Despite the strong shear, weak mid-level lapse rates combined with some dry air at low and mid-levels will prevent widespread and vigorous convection. In fact, forecast soundings show rather shallow CB-clouds with not much electrification, and over southern Russia the lapse rates may be so weak and stable that no conevective precipitation will form. Hence, only isolated or perhaps scattered thunderstorms are expected with highest coverage expected over the Caucasus Mountains. Nevertheless, storms that manage to form will easily become low topped multicells and supercells with risk of hail and severe wind gusts.


Southern Turkey


The very warm airmass over the eastern Mediterranean will be capped over the ocean, but some showers and thunderstorms might form over southern Turkey just inland from the coasts during the day. This convection will form as solar heating will generate sea breezes and onshore flow that will be forced upward over the higher terrain near the coast, breaking the cap. The convection will be confined to close to the coast since drier air and weaker lapse rates will restrict thunderstorm activity further inland.
Deep layer shear near the coast will be in the order of 10-15 m/s with a chance of some storm organization with risk of strong wind gusts and hail. The wind shear is confined to the upper parts of the troposphere with weak winds in the middle and lower parts at steering level. Thus, the storms will move rather slowly with a risk of flash flooding.
The showers and storms will weaken and die out after sunset due to lack of solar heating.


The Alpine region


Diurnally driven showers and a few storms are expected to form over the Alps due to mountain-valley circulations. However, due to the approximate distance to the ridge of high pressure over central Europe weak mid-level lapse rates and low EL-heights will prevent widespread thunderstorm activity. Highest chance for thunderstorms will be in the southern French Alps where lapse rates will be somewhat better. Here small hail, gusty winds and briefly heavy rain are possible, but no widespread severe weather reaching warning criteria is expected.


Russia


Showers and a perhaps a thunderstorm or two will form during the day over Russia by solar heating in the cold airmass. Weak mid-level lapse rates and low EL heights will only support low topped CB clouds with just some locally isolated lightning strikes possible in stronger cells. Hence, no severe weather is expected over this area.



Baltic States


A weak surface trough will move eastward across the Baltic States Monday morning. In connection with this trough some light rain showers are expected to occur over the Baltic States and the Gulf of Riga from TCU and low topped CB-clouds. Low LCLs and low-level CAPE indicate a risk for a waterspout or two in coastal areas and in the Gulf of Riga in case of locally surface convergence and weak surface winds.