Storm Forecast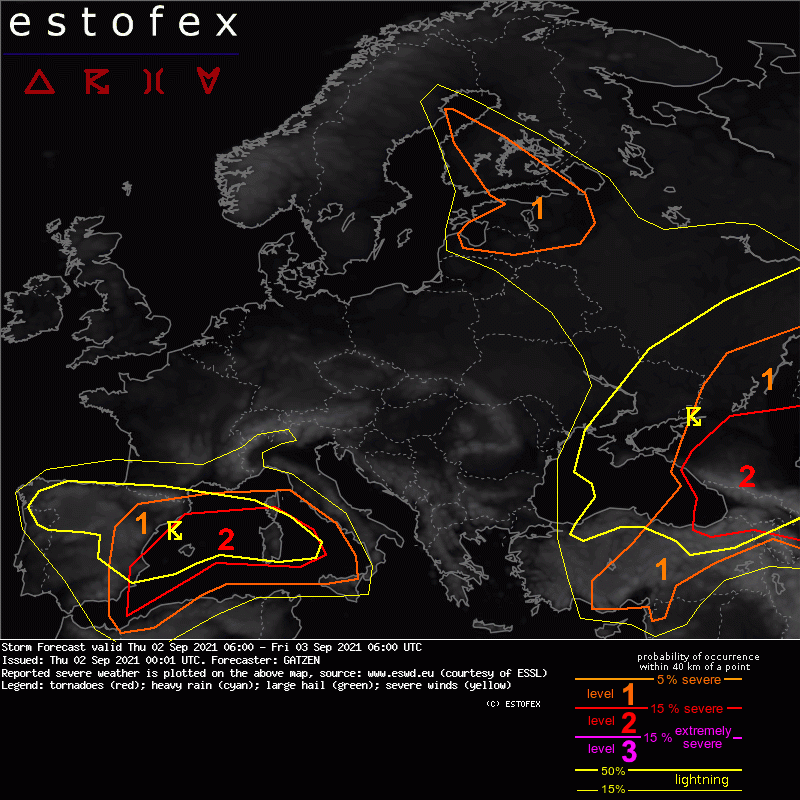 Storm Forecast
Valid: Thu 02 Sep 2021 06:00 to Fri 03 Sep 2021 06:00 UTC
Issued: Thu 02 Sep 2021 00:01
Forecaster: GATZEN
A level 2 was issued across the west Mediterranean for (very) large hail, severe wind gusts, heavy rain, and to a lesser extent tornadoes.

A level 2 was issued across eastern Black Sea to Caucasus region for large hail, severe wind gusts, and heavy rain.

A level 1 was issued across eastern Spain for large hail and heavy rain.

A level 1 was issued for central Turkey to southern Russia for large hail, heavy rain, and severe wind gusts.

A level 1 was issued across southern Finland, Estonia, Latvia, and NW Russia for tornadoes and severe wind gusts.

SYNOPSIS

A broad trough is located across eastern Europe, flanked by high geopotential over NW Europe, where a high-over-low blocking weakens. Dry air spreads into most of Europe and lapse rates are limited over most places except for the far south-west and south-east.

DISCUSSION

West Mediterranean

The high-over-low trough starts to lift during the period, with the right entry of a mid-level jet affecting the west Mediterranean with QG forcing. This will cause increasing frontogenesis along a frontal zone just east of Iberia, with WAA evolving early in the day. Due to plenty low-level moisture and steeper lapse rates overlapping with this moisture from the south-east, high MLCAPE can build across the Mediterranean. Frontal lift is expected to lead to convection initiation.

Straight and long hodographs with DLS of 20-30 m/s will allow for rapid storm organization including supercells, capable of (very) large hail and tornadoes, although low-level shear is limited over most places. Additionally, severe wind gusts are likely, especially with bow echoes that are expected due to strong 0-3 km vertical wind shear. In the northern and western parts of the level 2 and 1, heavy rain and flooding are forecast due to slower moving storms.

Storms are expeced to spread east during the period, as cold air advection sets in in the wake of the trough.

Turkey, S Russia

The east-European trough moves slowly east and cold air advection sets in across the area. Low-level moisture gradually decreases from the north-west and lapse rates also start to spread SE. At mid-levels, a strong jet streak travels across Turkey into S Russia and QG forcing increases, with some low-level convergence especially across S Russia. Here, storms are likely to develop in a strongly-sheared environment, supporting supercells and bow echoes. Large hail and severe wind gusts are the main threat. Farther N and S, overall probability decreases due to weak QG support, but every storm that forms can become well-organized and produce large hail and severe winds.

Northern Baltic States to southern Finland

A mid-level front passes from N to S late in the period, with lapse rate increase and low-level frontogenesis. Although low-level moisture is limited, some weak CAPE is expected, and storms are forecast that spread SE. Due to strong low-level vertical wind shear, severe wind gusts and tornadoes are forecast.