Storm Forecast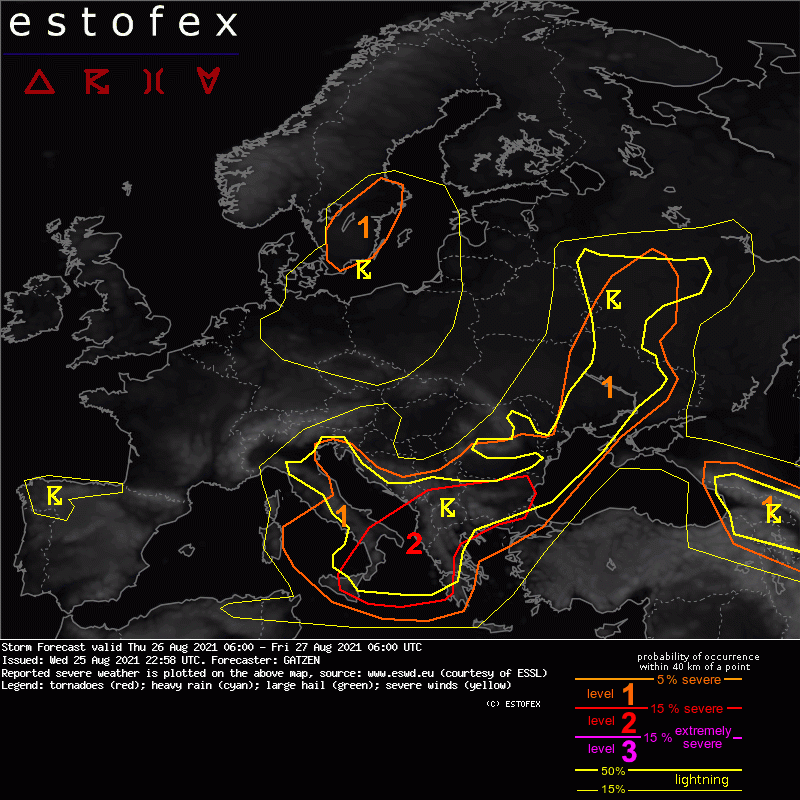 Storm Forecast
Valid: Thu 26 Aug 2021 06:00 to Fri 27 Aug 2021 06:00 UTC
Issued: Wed 25 Aug 2021 22:58
Forecaster: GATZEN
A level 2 was issued across southern Italy to southern Balkans for extreme rainfall, severe wind gusts, and large hail.

A level 1 was issued across the central Mediterranean towards the southern Balkans for extreme rainfall, large hail, and severe wind gusts.

A level 1 was issued for eastern Ukraine to western Russia for large hail, severe wind gusts, extreme rainfall, and tornadoes.

A level 1 was issued for the Caucasus region for severe wind gusts, extreme rainfall, and large hail.

A level 1 was issued for southern Sweden for severe wind gusts and tornadoes.

SYNOPSIS

A well-developed cut-off trough diggs south across central Europe. Ahead of it, a westerly to southerly mid-level flow affects the central Mediterranean and the Balkans. High geopotential extends from western to northern Europe. At low levels, rather dry air has spread into most of Europe north of a frontal boundary from the central Mediterranean to the southern Balkans and central Ukraine.

DISCUSSION

Central Mediterranean and southern Balkans

At the southern flank of low geopotential across central Europe, a strong mid-level jet is present. At lower levels, a moist and unstable air mass is located along a broad frontal zone, characterized by very high low-level mixing ratio and modest lapse rates, resulting in 1-2 KJ/kg MLCAPE, weak CIN, and low cloud bases. Thunderstorms are expected within this frontal boundary through-out the period, with a diurnal maximum across the land, especially where upslope flow supports convection initiation.

Given strong deep-layer vertical wind shear, multicells and supercells are forecast, capable of large hail and severe wind gusts. Additionally, extreme rainfall is possible, and flash floods could result in steep terrain with upslope flow and backbuilding storms.

Farther inland across the Balkans, low-level moisture is limited and threat will be less prominent. Still, severe wind gusts and large hail remain a threat with well-organized multi- and supercells.

Late in the period, a vort-max crosses the Alps, causing frontogenesis across the northern Adriatic. Thunderstorms are forecast that can merge to a MCS in the morning that spreads south-east. Some large hail and severe wind gusts are forecast due to strong vertical wind shear and well-organized convection.

Western Black Sea to western Russia

Along the warm front ahead of the European trough, a moist air mass will become unstable due to diurnal heating and north-ward advected steep lapse rates. MLCAPE will be limited but sufficient for convection initiation.

Vertical wind shear is strong enough to support multicells, and bow echoes are not ruled out given 10 m/s 0-3 km shear. In addition to a severe wind gust threat, some large hail is not ruled out as well as local flash flooding. Finally, strong low-level vertical wind shear within the warm sector is expected, and a few tornadoes are forecast.

Caucasus

Diurnally driven storms across the mountains are forecast in a rather unstable air mass with CAPE in the order of 1.5 KJ/kg. Vertical wind shear is about 10 m/s in the lowest 6 km and storms will be weakly organized. Still, some large hail and severe wind gusts as well as extreme rainfalls is not ruled out before storms decay in the evening.

Southern Sweden

Shallow convection builds across large parts of central Europe. Across Finland and Sweden, strong easterly low-level vertical wind shear is expected to support some low-topped mesocyclones and bowing segments. Due to low LCLs, tornadoes are possible in addition to severe wind gusts. Highest chance is across S Sweden with a moist onshore flow.