Storm Forecast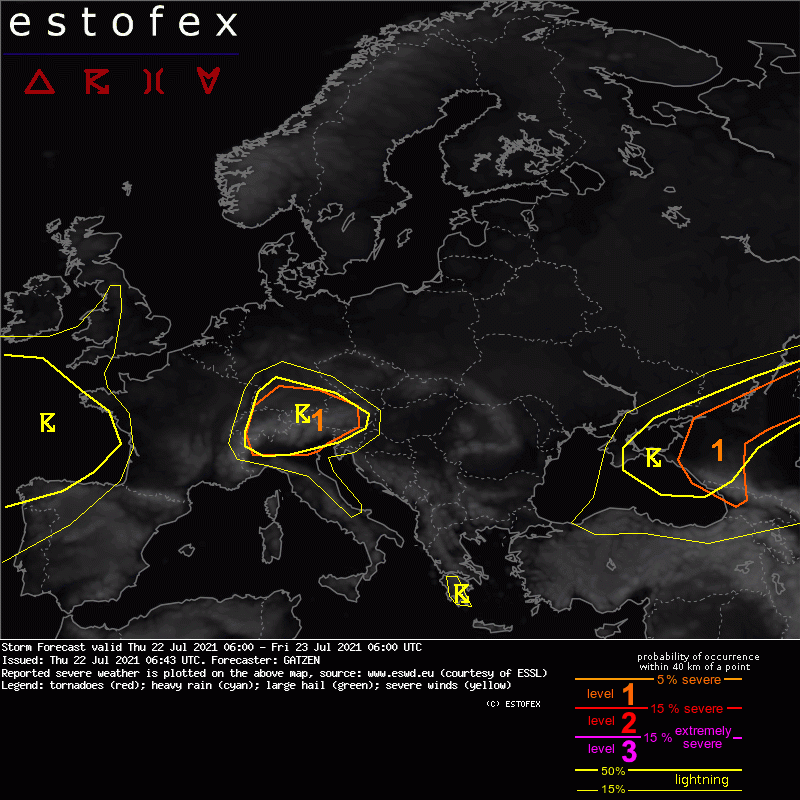 Storm Forecast
Valid: Thu 22 Jul 2021 06:00 to Fri 23 Jul 2021 06:00 UTC
Issued: Thu 22 Jul 2021 06:43
Forecaster: GATZEN
A level 1 was issued across the Alpine region for hail, wind gusts, and extreme rainfall.

A level 1 was issued across southern Russia for large hail and severe wind gusts.

SYNOPSIS

A ridge axis is located from western Europe towards Iceland, with a strong north-westerly mid-level flow affecting north-east Europe. In a weaker north-westerly flow farther south, embedded mid-level vortices progess south-east across the Alps, east Mediterranean, and northern Black Sea and Caucasus region. Rather cool and dry low-level air masses continue to spread into most of Europe with northerly winds, limiting the potential of thunderstorms. Across south-western Europe, a mid-level closed vortex causes strong synoptic forcing through-out the period, increasingly associated with thunderstorm activity late in the period.

DISCUSSION

North-eastern Black Sea to Caucasus region

A short-wave trough progresses south-east today and affects the Black Sea and Caucasus with mid-level synoptic forcing spreading from north-west to south-east during the day. At lower levels, a frontal boundary is present along the border of Ukraine and Russia with a well-mixed, rather dry air mass in the Caucasus region and east of it and cool air masses to the north. Enhanced low-level moisture can be found along the frontal boundary that partly overlaps with steep lapse rates to the south.

Height falls in response to mid-level synoptic-scale lift is expected along the frontal boundary, resulting in some warm air advection farther east today, with some south-westerly flow at 850 hPa advecting steep lapse rates ontop of the moist boundary layer along the front over southern Russia. MLCAPE around 1000 J/kg is expected. At the same time, vertical wind shear increases ahead of the trough with about 15 m/s midlevel south-westerly flow ahead of it.

Thunderstorms have developed near the base of the trough and are expected to spread east during the day. Increasing vertical wind shear will support multicells and transient supercells capable of producing large hail and severe wind gusts. The main potential of gusts is across the southern portions of the level 1 where a deep boundary-layer is present.

To the south, midlevel forcing is weaker, and latest profiles indicate rather shallow convection with weaker thunderstorm potential.

Alps

A mid-level trough will move south-east today at the flank of the broad mid-level north-westerly flow. It affects a weak frontal boundary north of the Alps, with a moist air mass to the south. Although lapse rates are expected to be weak, diurnal heating will result in weak MLCAPE today and frontal lift and orographic forcing are expected to support convection initiation.

Storms have already developed over the southern Alps. Further storms are forecast to initiate later in the day over south-western Germany that spread into the Swiss and Austria Alps and may also progress into southern and south-eastern Germany today.

Vertical wind shear will be moderate with 10 to 15 m/s present across the region, allowing for multicells and transient supercells. Some large hail is possible, along with local wind gusts that may be severe. Additially, some local flash floods are not ruled out.

Strong vertical wind shear is expected to develop in the wave of the western Alps today, and about 20 m/s deep layer shear is forecast over northern Italy in the afternoon. Supercells that develop in this environment will move southward into less unstable air. However, some very large hail is not excluded with these storms.

Bay of Biscay

Dry air masses across Iberia are expected to limit thunderstorms potential there although strong QG forcing is in place. Elevated storms are forecast along the warm air advection regime farther north that spread towards the British Isles by Friday morning. Due to strong vertical wind shear on top of the stable boundary layer, some stronger updrafts are expected woth this elevated convection, and locally, large hail can occur.