Storm Forecast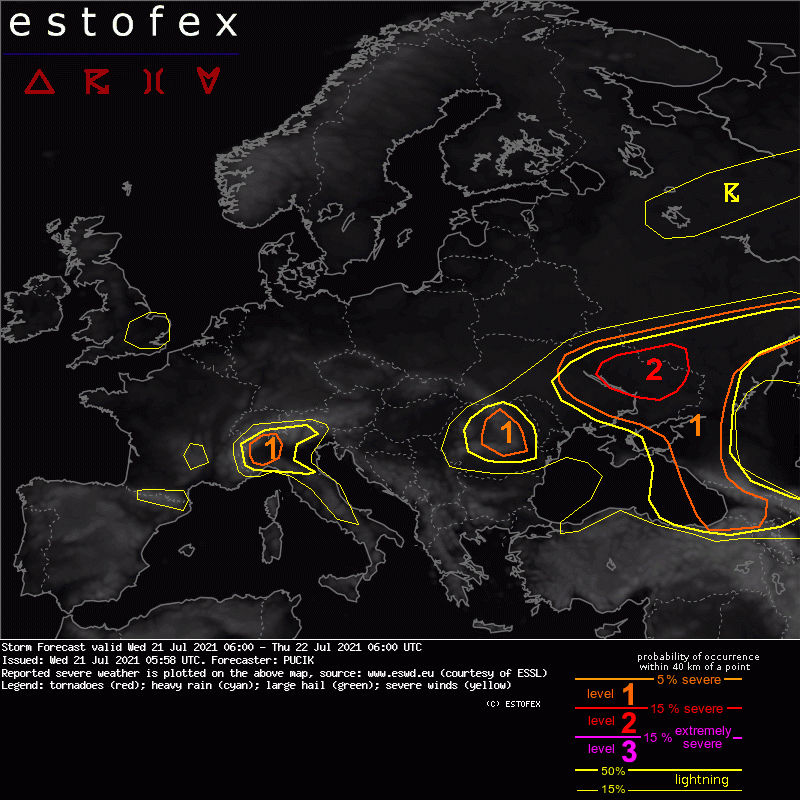 Storm Forecast
Valid: Wed 21 Jul 2021 06:00 to Thu 22 Jul 2021 06:00 UTC
Issued: Wed 21 Jul 2021 05:58
Forecaster: PUCIK
A level 1 was issued across NW Italy mainly for excessive rainfall and large hail.

A level 1 was issued across Romania mainly for excessive rainfall.

A level 2 was issued across NE Ukraine mainly for excessive rainfall, severe wind gusts and to the lesser extent for large hail and tornadoes.

A level 1 was issued across Caucasus to Russia mainly for excessive rainfall and to the lesser extent for large hail and severe wind gusts.

SYNOPSIS and DISCUSSION

Satellite imagery combined with lightning detection data as of 5:30 UTC shows a deep cyclone over NW Romania, a large MCS crossing E Ukraine and two subtle vortices, one moving across E France and another one just offshore of the SE UK.

Subtle short-wave across E France is forecast to move towards the W Alps and promote higher thunderstorm coverage across NW Italy in the evening to overnight hours. Combination of high CAPE and weak shear with slow moving storms will result in a combined risk of excessive rainfall and large hail.

Further area with slow-moving storms and enhanced potential for flash floods is forecast over Romania, especially in the mountainous areas. S Romania will experience stronger shear to the S of the cyclonic vortex, but the initiation well away from the orography is currently questionable and this area was mostly left out of Lvl 1.

Towards the east, a large MCS is currently moving across E Ukraine, posing mostly an excessive rainfall risk. NWP agrees on a strong forcing around 850 hPa along the southward moving frontal boundary. Large MCS may persist for next hours and as the surface heating increases the MLCAPE, this may lead to an increase in severe wind gust and also large hail threat. Vertical wind profile should be conducive to well organised storms with around 15 m/s of bulk shear and low-level hodograph curvature. Shear will decrease towards the SE. Degree of hodograph curvature and low-level shear is forecast to increase in the evening hours across the NE of the Lvl 2 area, so that isolated transient supercells may also pose a risk of a tornado or two. Storms may continue over the area into late evening and overnight hours and will spread towards both the E and S, as the storm coverage will also increase over the Caucasus and the Black Sea coastline with the arrival of the trough by the Thursday morning hours.