Storm Forecast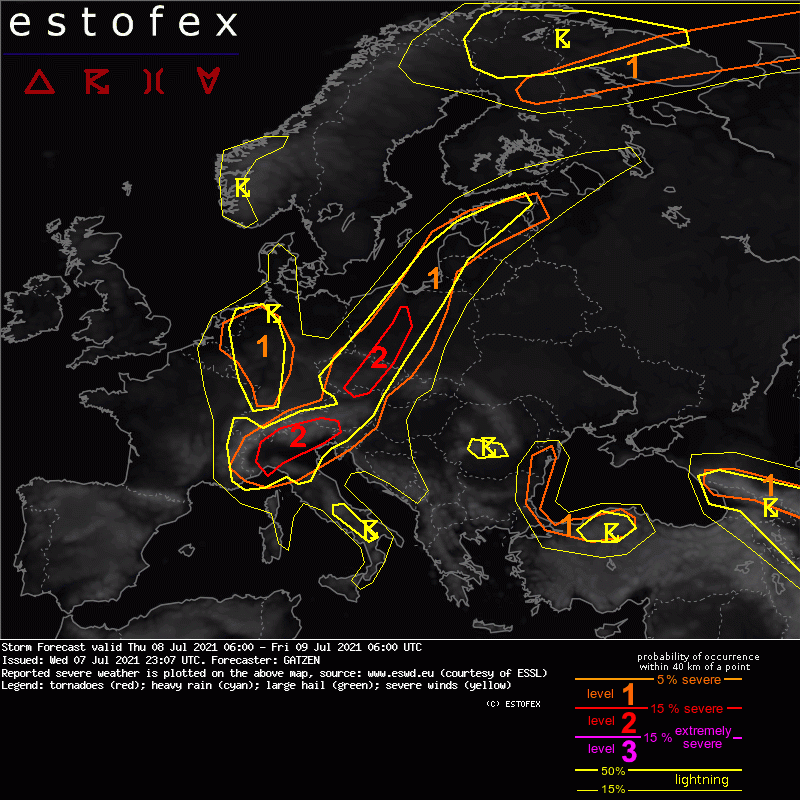 Storm Forecast
Valid: Thu 08 Jul 2021 06:00 to Fri 09 Jul 2021 06:00 UTC
Issued: Wed 07 Jul 2021 23:07
Forecaster: GATZEN
A level 2 was issued across northern Italy for (strong) tornadoes, large hail, and severe wind gusts.

A level 2 was issued across central Czech Republic into central Poland for severe wind gusts and large hail.

A level 1 was issued across northern western Germany for heavy rain.

A level 1 was issued across the Baltic States for severe wind gusts and large hail.

A level 1 was issued for northern Finland and north-western Russia for severe wind gusts and tornadoes.

A level 1 was issued for northern Turkey and western Black Sea for heavy rain.

A level 1 was issued across the Caucasus area for large hail and heavy rain.

SYNOPSIS

A west European trough lifts into central Europe. An impressive short-wave mid-level trough rotates around its axis and rapidly progresses across northern Italy and the Alps, and cyclogenesis is expected along a frontal boundaryextending along the Alps into central Poland. This frontal boundary divides hot and well-mixed air masses across the Balkans from moist and cooler air to the west. Ridging affects eastern Europe with a short-wave trough rotating arounf the ridge that affects north-eastern Europe.


DISCUSSION

Northern Italy, southern Alps

A strongly-forced situation unfolds on Thursday due to a negatively tilted, intense short-wave trough and upper vort-max that rapidly progresses north-eastward on Thursday. At low levels, cyclogenesis is forecast in the wake of the western Alps and easterly low-level winds will develop across nothern Italy.

A humid low-level air mass will overlap with a plume of steep mid-level lapse rates advected north-east ahead of the trough, and MLCAPE around 1000 J/kg is forecast. Cloud coverage is unclear at this time, due to some lift along the frontal boundary and upslope flow, and CIN varies from model to model, adding some uncertainty about the intensity of the storms.

Current thinking is that storms develop over the Alps around noon and spread east with the advancing vort-max. Strong vertical wind shear allows for supercells capable of very large hail and severe wind gusts. Additionally, impressive hodographs are indicated by latest models and tornadoes are forecast that may be strong or even violent.

Given the strong forcing, clustering of storms is likely and bow echoes are also forecast capable of producing swaths of severe wind gusts.

Due to the uncertainty of surface based CAPE in response to high cloud coverage, a level 3 is not issued. However, impressive hodographs are likely to develop at places, with a high potential of extremely severe weather if sufficient CAPE will develop.

Czech Republic into Poland

Another area of cyclogenesis is expected ahead of the approaching trough to the north of the Alps. Due to developing cold air advection across southern Germany indicated by all available models, this low will gradually move north-east into the Czech Republic in the evening. Ahead of the low, strong warm air advection will develop on the cool flank of the frontal boundary.

Rather humid low-level air is forecast west of the warm front, that partly overlaps with steep lapse rates. Low levels can be rather cool due to expected clouds, and CAPE may be capped. However, current thinking is that surface-based storms can form in the afternoon that rapidly spread north-east. Strong vertical wind shear will result in supercells and bow echoes, capable of large or very large hail and swaths of severe wind gusts. Tornadoes are also not ruled out due to locally favorable low-level vertical wind shear.

Main limiting factor is the uncertainty of surface-based CAPE. If strong diurnal heating occurs before storms initiate, a widespread severe weather event is possible. Models indicate the development of a bowing system that travels into Poland during the night. Severe wind gusts will be the main threat with such an MCS until the morning.

Western Germany

Ahead of the trough axis, some thunderstorms are forecast in a thermodynamic environment favorable for excessive precipitation. Especially the slow storm movement will lead to local flash flood potential.

Northern Finland into Russia

A mid-level short-wave troigh rotates acround the east-European ridge. A cold front will move eastwards during the day, with a moist and unstable air mass ahead of it. Due to a mid-level jet pointing towards north-eastern Europe, CAPE and strong vertical wind shear overlap and some well-organized storms are forecast along the cold front. Main threat is severe wind gusts in association with bowing segments along the cold front. However, due to strong low-level vertical wind shear, tornadoes are not ruled out.