Storm Forecast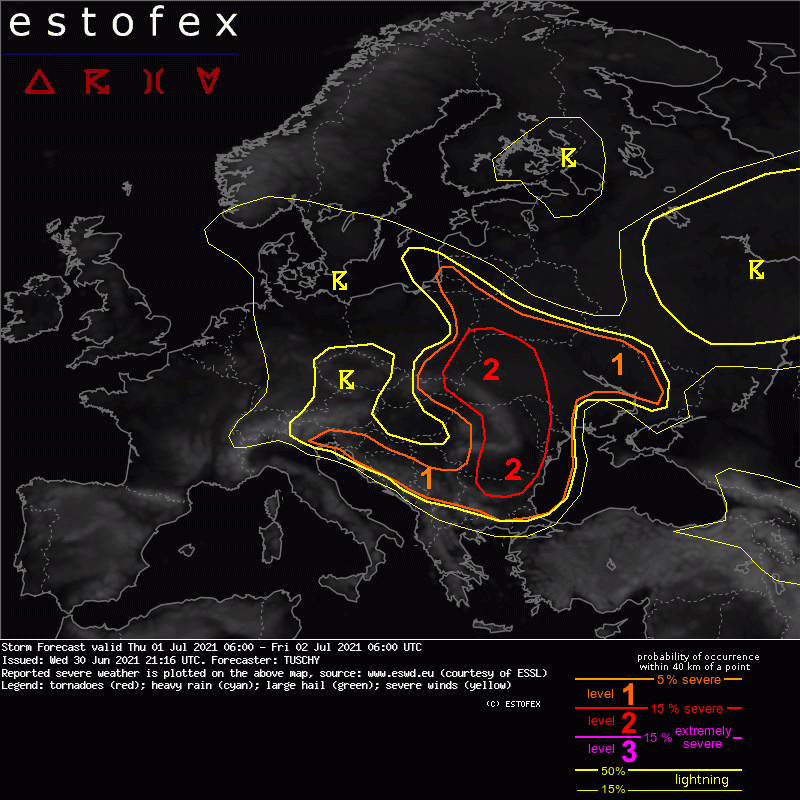 Storm Forecast
Valid: Thu 01 Jul 2021 06:00 to Fri 02 Jul 2021 06:00 UTC
Issued: Wed 30 Jun 2021 21:16
Forecaster: TUSCHY
A level 2 was issued across parts of Bulgaria and Romania mainly for damaging winds, large to very large hail and excessive rain.

A level 2 was issued for S Slovakia, SE Poland into S Belarus and the Ukraine mainly for large hail and excessive rain.

A level 1 surrounds the level 2 areas with a similar hazard but lower coverage.

A level 1 was issued for the Dinaric Alps mainly for large hail and severe wind gusts.

SYNOPSIS

An impressive Scandinavian blocking pattern for this time of year continues during this forecast. Forced split flow regime results in highly anomalous upper flow maxima, one over the Mediterranean and the other one just N of Scandinavia. In-between, a quasi-stationary pattern of upper lows continues which are placed over CNTRL Europe and far NE Europe into W Russia.

The upper low over CNTRL Europe remains atop a diffuse/broad low-level circulation, where embedded fronts cause heavy rainfall amounts over NE Germany into NW Poland. Otherwise no synoptic-scale front plays a role for this time-frame.

DISCUSSION

... The Balkan States ...

A slowly eastward progressive upper trough affects this area during the forecast with lowering geopotential heights and enhanced QG forcing. At lower levels a pronounced confluence zone is forecast over E Romania into E Bulgaria, where CI will be possible next to orographic initiation.

MLCAPE increases from Serbia and W Romania (800-1500 J/kg) to 1500-2500 J/kg over E Romania into Bulgaria with a corridor of 2500-4000 J/kg from S Romania to far N Bulgaria (between Danube and the Balkan Sredna Gora, where LL moisture is maximized). Current 2m dewpoint readings already indicate impressive 19-22C by 22Z in this area. Those extreme CAPE values occur as an African EML overspreads this rich BL moisture.

With diurnal heating and the approaching trough, CI is forecast around noon over the western and southern Carpathians and a bit later also over the eastern Carpathians into the Balkan Sredna Gora and the Rhodopes. DLS increases from N to S from 15 to 20 m/s with increasing CAPE, so initiating convection is already capable of producing large hail, strong to severe downbursts and heavy rain.
Betimes, upscale growth into progressive MCSes is forecast as cold pool driven convection exits the mountains and progresses into the very unstable but increasingly capped air mass further E.

Swaths of damaging winds are very well possible including large to isolated very large hail (wind-driven!) and a level 2 was added for this scenario. Heavy rain is also forecast with extreme amounts in a short time frame.

It reamins unclear how far E this acitivty progresses as capping issues increase, but we went further E than current model guidance and went offshore with the lightning and level areas.

Further W, towards Montenegro into Serbia, CI occurs along the mountains around noon. This convection then enters a deeply mixed BL air mass to its east with 1000 J/kg MLCAPE and 20 m/s DLS. Large hail and swaths of severe wind gusts are well possible. The main reason for staying with a level 1 is the bad timing as this region resides between two short waves with weak subsidence during the day. Therefore coverage could be isolated to scattered. Despite a level 1, confined swaths of strong to severe wind gusts are possible.

During the night an uptick in convection occurs with the next wave but decreasing CAPE should lower the severe risk.

... Moldova, Ukraine to E Slovakia and SE Poland into Belarus and all the way to Lithuania ...

Placed beneath a divergent upper flow regime, scattered to widespread CI is forecast in a weakly capped air mass. MLCAPE from Moldova to S Belarus is in the 1500 to 2500 J/kg range with DLS increasing from E to W (5 m/s to 15 m/s). Initiating storms pose a risk of very heavy rainfall amounts over the Ukraine with an increasing large hail risk towards Slovakia and SE Poland/far W Ukraine. The severe wind gust risk increases betimes with clustering convection and numerous MCS events are forecast during the afternoon hours and well into the night with a general motion from W to E/NE. The widespread nature of DMC activity with variable severe hazards prompted us to upgrade a broad area to a level 2 but we kept a level 1 towards CNTRL Ukraine due to the weak nature of the shear.

Further N to Lithuania, CAPE decreases somewhat but the risk of slow moving thunderstorms with very heavy rainfall amounts and isolated hail continues. Hence the level 1 was expanded into this area.

... NE Germany into far NW Poland ...

The long-lasting heavy rainfall event continues but a gradual weakening trend is forecast. With overall lack of thunderstorm activity no level area will be added for this event.

... NE Italy to Bosnia and Herzegovina ...

1000 J/kg MLCAPE and 15 m/s DLS with long/straight hodographs favor multicell developmt/a few transient supercells over far NE Italy which move into W-Slovenia. Hail and strong to severe wind gusts will be the main hazards.

A bit lower CAPE but stronger 0-3 km shear is present over Bosnia and Herzegovina, where initiating storms could grow upscale into a progressive MCS. Strong to isolated severe wind gusts and hail will be the main issue. A broad level 1 covers those areas.