Storm Forecast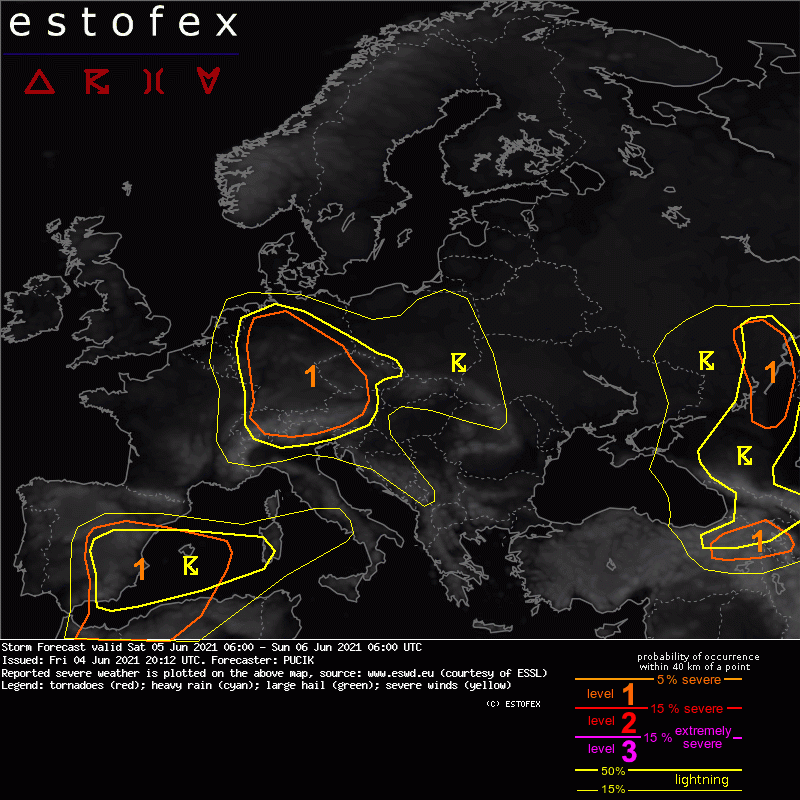 Storm Forecast
Valid: Sat 05 Jun 2021 06:00 to Sun 06 Jun 2021 06:00 UTC
Issued: Fri 04 Jun 2021 20:12
Forecaster: PUCIK
A level 1 was issued across SW Spain mainly for the heavy rainfall.

A level 1 was issued across E Morrocco and W Algeria mainly for large to very large hail and damaging wind gusts.

A level 1 was issued across Germany, Switzerland, Austria and Czech Republic mainly for heavy rainfall.

A level 1 was issued across S Russia mainly for heavy rainfall.

A level 1 was issued across NE Turkey mainly for damaging wind gusts.

SYNOPSIS

A complex synoptic-scale situation is forecast over Europe with numerous short-waves and ridges at mid to upper troposphere. A cyclone is simulated over the Atlantic with two short-wave troughs at its forward flank - the first one will lift from SW Iberia towards NE, slowly filling in. Another short-wave, located over SE France will also fill during the forecast period. A ridge will stretch across the central Mediterranean, intruding into Central Europe with a short-wave crossing from E Poland to E Slovakia on its eastern flank. Another ridge is forecast across N Russia with low to the south of it and a short-wave across Turkey.

Moist airmass with modest-mid tropospheric lapse rates is forecast over Germany, SW Iberia / W Mediterranean and over S Russia. These areas may experience scattered to widespread convective storms.

DISCUSSION

... SW Iberia to the W Mediterranean ..

Ahead of the trough, widespread storms are forecast over the forecast domain. On Saturday 06 UTC, scattered storms will already likely exist over the western border of the lightning / Lvl 1 areas and storm activity will spread eastward during the day, reaching as far as the Tyrrhenian Sea by Sunday 06 UTC.

Across continental Spain, surface-based storms will form in rather moist low to mid-troposphere and with mean wind between 0 and 5 m/s, exacerbating the heavy rainfall potential. Towards the coastline and the Balearic Sea, storms will develop atop stable maritime boundary layer, on the edge of the elevated mixed layer from Sahara. While effective shear will be less than the 0-6 km values of up to 30 m/s, it should still be sufficient for well-organised multi and supercells capable of large hail.

... N Africa ...

Very strongly sheared environment is forecast across the Lvl 1 drawn over N Africa with 0-3 km bulk shear exceeding 20 and 0-6 km bulk shear bulk shear exceeding 25 m/s. Combined with MLCAPE between 1000 and 2000 J/kg, such environment would support long-lived and intense supercells capable of all kinds of hazards. Convective initiation remains questionable as NWP suggests high LFCs and/or profiles with substantial CIN. While confidence is not high enough to warrant a Lvl 2, a solid Lvl 1 is introduced with isolated to widely scattered intense storms capable of large to very large hail and damaging wind gusts, promoted by presence of steep lapse rates both in the low and mid troposphere.

... Germany, Austria, Switzerland, Czech Republic ...

Scattered to widespread storms are forecast across this area in the parameter space of 500 - 1500 J/kg of MLCAPE and 0-6 km shear below 10 m/s. Mostly disorganised storms are forecast, in form of single cells or multicell clusters. Due to the mean wind below 5 m/s, low LCLs and high RH through low to mid-troposphere, heavy rainfall will be the primary threat with these storms. At this moment, it is not possible to identify a precise area with the highest threat of very heavy rainfall due to the of strong convergence signals in the NWP and the fact that the situation will likely depend on the evolution of overnight convection. Cloud debris from the overnight storms may limit the threat while the old outflow boundaries may serve as foci for new development.

... S Russia ...

Models simulate very moist profiles with marginal CAPE and wind parallel to the frontal boundary, suggesting high potential for effective heavy rain producing storms and also potential for cell training. Lvl 1 was introduced for the area, where models agree on the location of a heavy precipitation band.

... NE Turkey ...

Forecast profiles show deep and dry boundary layer with classic inverted-V profiles combined with 15 to 25 m/s of 0-6 km shear. High based multicells and splitting supercells are forecast with severe wind gusts being the primary threat. Storm initiation will be secured by local topography along with the synoptic-scale lift provided by the short-wave trough.