Storm Forecast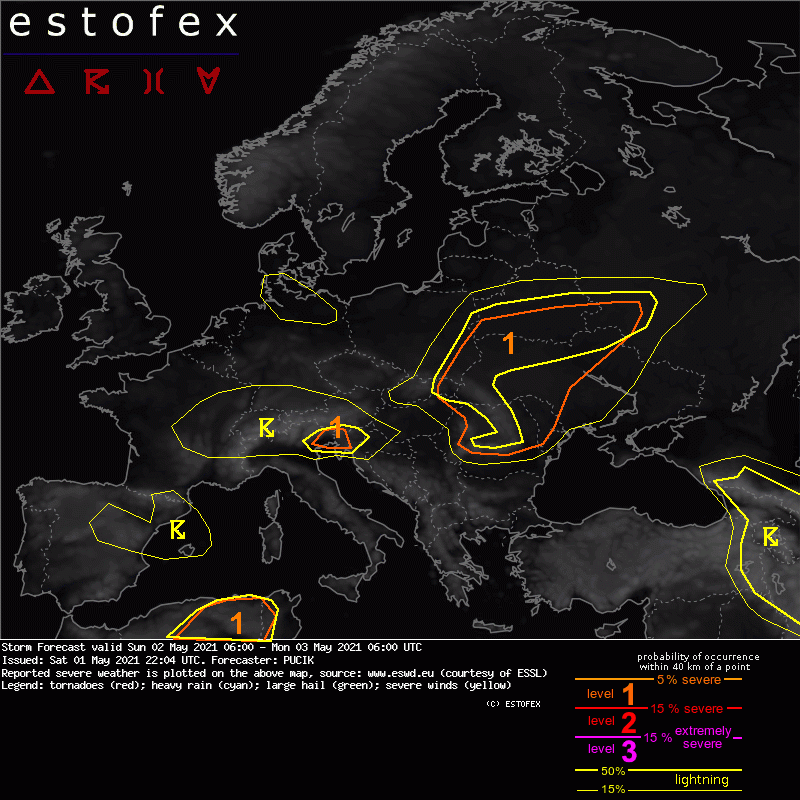 Storm Forecast
Valid: Sun 02 May 2021 06:00 to Mon 03 May 2021 06:00 UTC
Issued: Sat 01 May 2021 22:04
Forecaster: PUCIK
A level 1 was issued across Algeria mainly for large hail and severe wind gusts.

A level 1 was issued across NE Italy mainly for large hail.

A level 1 was issued across Romania mainly for large hail and severe wind gusts.

A level 1 was issued across E Slovakia, SE Poland, Ukraine and Belarus mainly for tornadoes and severe wind gusts.

SYNOPSIS

At mid to upper troposphere, a short-wave trough is forecast to cross from Germany to Poland. In between of the trough and a ridge stretching from the Mediterranean into S Balkans and W Turkey, strong flow is forecast. Rapid surface cyclogenesis is forecast ahead of the trough and in the left exit region of a 50+ m/s jet-streak at 300 hPa. As the surface low deepends, it will cross from S Germany through the Czech Republic into Poland and Belarus. Strong lift and modest lower tropospheric moisture will allow for thunderstorm activity especially near the warm front quickly advancing NEwards.

Another trough is forecast over NW Iberia, which will amplify towards SW, affecting N Africa as well in the afternoon hours.

DISCUSSION

... Algeria ...

NWP is in agreement regarding scattered storms developing in the afternoon hours. Forecast soundings and hodographs reveal conditions conducive for development of splitting supercells given strong, unidirectional shear that may pose threats of large hail and severe wind gusts.


... NE Italy ...

A narrow corridor of conditions conducive to severe weather may develop in the afternoon hours as synoptic-scale lift overspreads the region from SW and cold front wraps around the Alps from the NE. While CAPE will remain rather marginal and skinny, strong DLS will facilitate locally stronger and better organised updrafts that may be capable of large hail.

... Romania to Belarus ...

A complex forecast scenario will unfold over the region in the warm sector of the rapidly deepening surface low. Strongest synoptic-scale lift is forecast near the warm front and near the core of the low, where scattered to widespread storms will form. The highest coverage will likely be N and NW of the warm front and the low, where storms will exist in an elevated mode with rather low risk of severe weather. Isolated to scattered storms are also forecast along the advancing cold front.

Just along and south of the warm front, storms will become surface-based with pockets of SBCAPE > 0 J/kg and may attain strong low-level rotation thanks to the strongly curved hodographs with SRH ranging from 200 to 400 m2/s2 in the 3 km layer. Given high SRH, low LCLs and LLS around 15 m/s, tornadoes will be possible with surface-based storms. Limiting factor in this scenario will be poor 0-1 km lapse rates, as well as shear being confined in the lowest 0-1 km, which may limit the supercell longevity. Besides tornadoes, severe wind gusts may also occur. Skinny CAPE profile and weak shear beyond 1 km will limit the large hail threat. Threat will quickly shift from SW to NE during the day, starting over E Slovakia / SE Poland and NE Hungary in the morning hours and shifting towards E Poland, Ukraine and Belarus during the day.

Low-level shear will be weaker towards S, where initiation is also more uncertain, except for the Carpathian mountain ridge, where NWP agrees on isolated to scattered storms. Strong DLS will allow for developing storms to become supercells locally capable of large hail or severe wind gusts.