Storm Forecast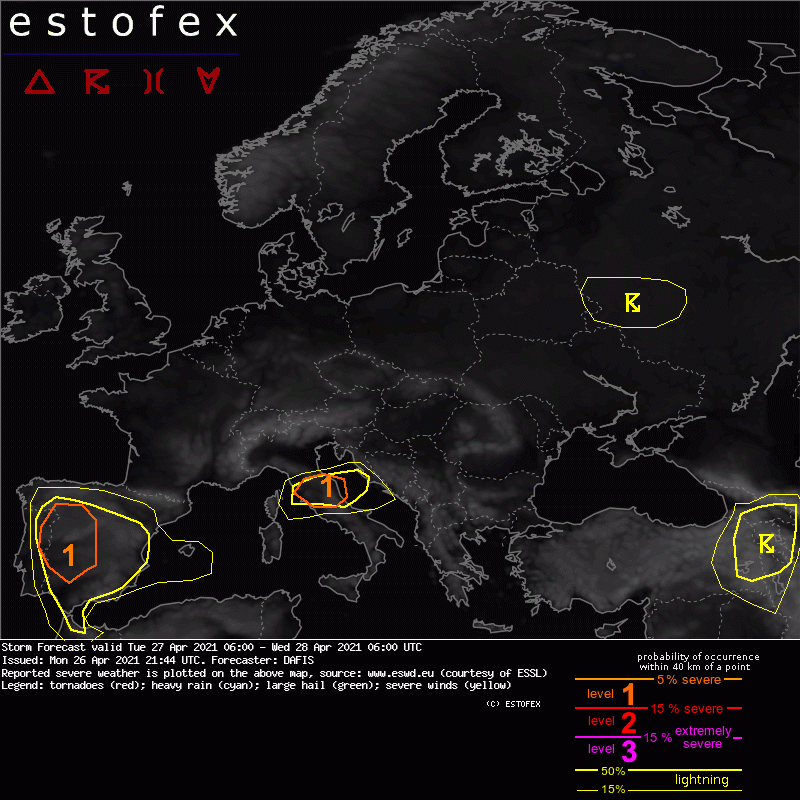 Storm Forecast
Valid: Tue 27 Apr 2021 06:00 to Wed 28 Apr 2021 06:00 UTC
Issued: Mon 26 Apr 2021 21:44
Forecaster: DAFIS
A level 1 has been issued for parts of Spain and Portugal mainly for excessive precipitation, including large amounts of small hail.

A level 1 has been issued for Italy for severe convective wind gusts and large hail.

SYNOPSIS

A cut-off low with several vorticity maxima over the Iberian Peninsula will continue to provide favorable conditions for DMC in Spain and Portugal on Tue 27/04. In central and eastern parts of the Mediterranean, a strong ridge is about to form followed by an intense subtropical jet-stream bringing unseasonably warm air masses in the Balkans and the Middle East. On the contrary, very cold air masses cover most of North and East Europe where no significant frontal activity can be found and instability is limited.

DISCUSSION

.... Spain and Portugal ....

Below the core of a diminishing cut-off low, diurnal heating will be the main driver of convective activity. Locally steep lapse rates will increase the threat of hail events but the main threat will be excessive rainfall during slow-moving storms. Storm activity will be reduced after sunset, although elevated non-severe storms most probably will continue to move slowly north during the night on Tue 27 and early morning on Wed 28/04.

.... Italy ....

Central Italy will be under the influence of a mid-level jet streak, where NWP models show the development of a few hundreds of CAPE, and high CIN over the Tyrrhenian Sea. A short-wave trough will cross the area during the maximum diurnal heating, providing lift to unstable air masses. The overlap of about 500 J/kG MUCAPE and up to 25 m/s DLS increase the threat for storms able to produce large hail and severe convective wind gusts.