Storm Forecast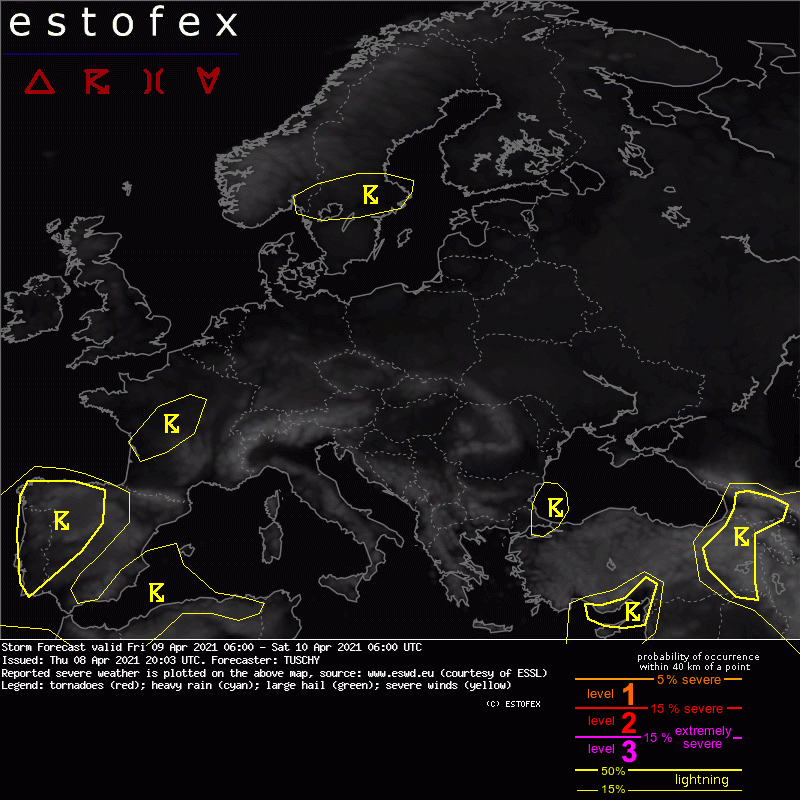 Storm Forecast
Valid: Fri 09 Apr 2021 06:00 to Sat 10 Apr 2021 06:00 UTC
Issued: Thu 08 Apr 2021 20:03
Forecaster: TUSCHY
SYNOPSIS

Ongoing NAO-/AO- pattern features numerous slow moving troughs with various amplitudes.
A sharp trough with neutral tilt affects SE Europe with its evolving closed upper circulation crossing W-Turkey to the south.
A second trough approaches the Iberian Peninsula from the west and weakens in response to falling geopotential heights to its north. Numerous short waves eject out of its base and cross Portugal/Spain.
Finally a complex pattern with numerous cyclonic vortices still impacts N-Europe. This complex sags south towards Ireland/UK/Denmark.

This geopotential pattern keeps a dry/stable airmass over most of Europe excluding some moisture recovery over SW-Europe.


DISCUSSION

...Lightning areas ...

Nothing severe is forecast for this period. Three maxima in thunderstorm activity exist:

a) Portugal and Spain with modest moisture recovery beneath adequate mid-level lapse rates: 200-500 J/kg MLCAPE. Small hodographs support pulsating/clustering convection with locally heavy rain/small hail and gusty winds. During the night some elevated convection emerges from N-Morocco/NW-Algeria and moves offshore. Nothing severe is forecast.

b) NE Syria, N Iraq and E Turkey which are placed ahead of the approaching trough in a SW-erly upslope flow regime. Steep mid-level lapse rates and modest moisture influx from the E-Mediterranean should support scattered thunderstorms. Forecast soundings show well mixed BL layers and dry mid-levels with overall steep lapse rates, so strong to severe wind gusts will be the main hazard. Spotty areas with broader mid-level CAPE profiles and 15-20 m/s DLS may also support isolated large hail events but coverage remains too isolated for a broad level area. Highest hail risk resides in the western part of the 50% lightning area.

c)Cyprus could see a few overnight storms, when the core of the upper level vortex moves offshore. Background improves for waterspout development with rising LL CAPE values and relaxing background shear.