Storm Forecast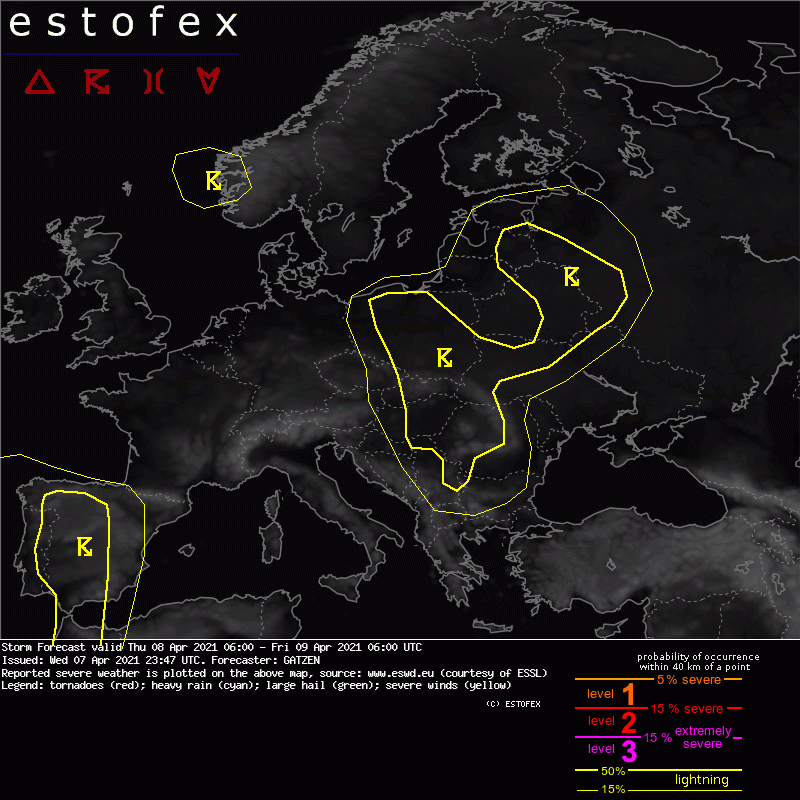 Storm Forecast
Valid: Thu 08 Apr 2021 06:00 to Fri 09 Apr 2021 06:00 UTC
Issued: Wed 07 Apr 2021 23:47
Forecaster: GATZEN
SYNOPSIS

The large European trough progresses east and affects eastern Europe with well-mixed, rather dry air masses and a strong south-westerly jet across south-eastern Europe. Upstream ridging enters Central Europe, flanked by an intense short-wave trough moving into Scandinavia. Iberia is influenced by incrasingly moist maritime air masses and an Atlantic torugh that enters the peninsula.

DISCUSSION

South-western Norway

A strongly-forced situation is in progress on Thursday, with a mid-level front entering the area from the west. Low-level instability is expected to develop in a strongly sheared environment. Limiting factor is limited instability and dry low-level air masses that limit the potential of widespread initiation. Due to the strong pressure gradient, severe winds are forecast even without well-developed storms. If it turns out that a convective line can develop, widespread severe winds can be expected in this high-shear, low-CAPE environment.

Iberian Peninsula

Thunderstorms are forecast to develop in a moist air mass on Thursday. Weak vertical wind shear will be present and severe weather is not expected. Later in the period, additional storms enter the area from the south ahead of the approaching trough. Low-level cooling will result in elevated convection that is not forecast to produce severe weather despite developing in a strongly-sheared environment.