Storm Forecast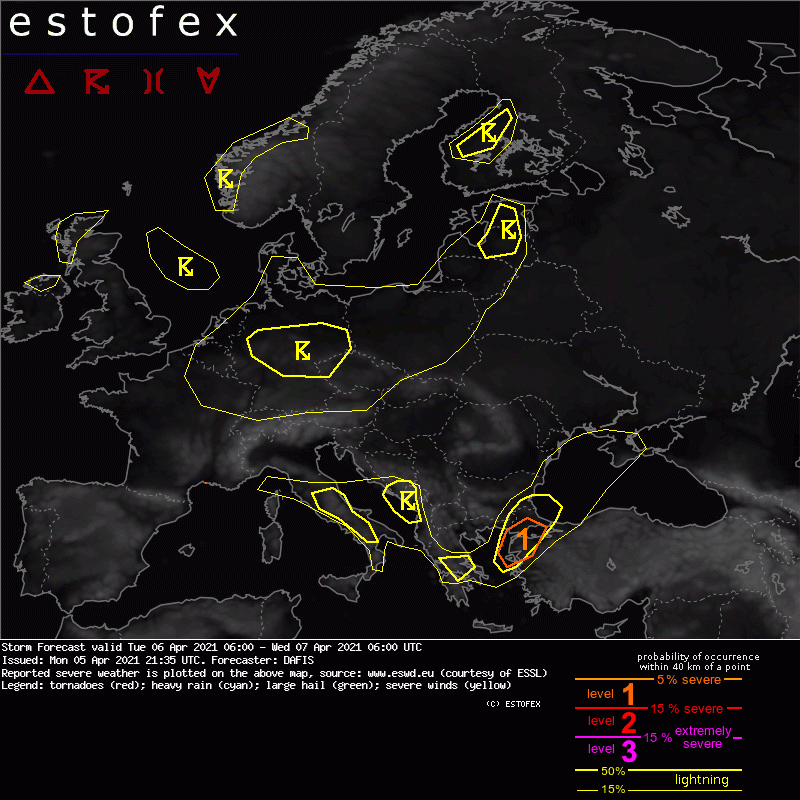 Storm Forecast
Valid: Tue 06 Apr 2021 06:00 to Wed 07 Apr 2021 06:00 UTC
Issued: Mon 05 Apr 2021 21:35
Forecaster: DAFIS
A level 1 was issued for E Greece and W Turkey mainly for severe convective wind gusts and tornadoes.

SYNOPSIS

A dipole of a very high-pressure system in the North Atlantic and a deep low over Scandinavia results in an unusual CAA in western and central Europe during this outlook. Instability will be marginal within the cold air mass and locally high amounts of graupel may accumulate at the surface.
Another short-wave trough crosses Greece and creates a jet-streak close to unstable air masses over the Aegean Sea. At the surface, a low-pressure system in the Adriatic Sea may result in thundersnow events in the Western Balkans.


DISCUSSION

.... Greece and Turkey ....

As a short-wave trough is now crossing Greece and moves fast east with a pronounced mid-level vorticity lobe, synoptic lift of unstable air masses may result in organized DMC. There is some uncertainty about the time of convective initiation due to high values of CIN in the eastern Aegean Sea in the forecast outputs, but locally strong low-level convergence zones may overcome the convective inhibition. CAPE will range between 400-800 J/kg and will overlap with up to 15-20 m/s DLS. Organized storm cells will be able to produce severe convective wind gusts and small hail. Moreover, given the strong low-level flow and shear, with more than 100 m2/s2 0-1km SREH, tornadogenesis in W Turkey cannot be ruled out.