Storm Forecast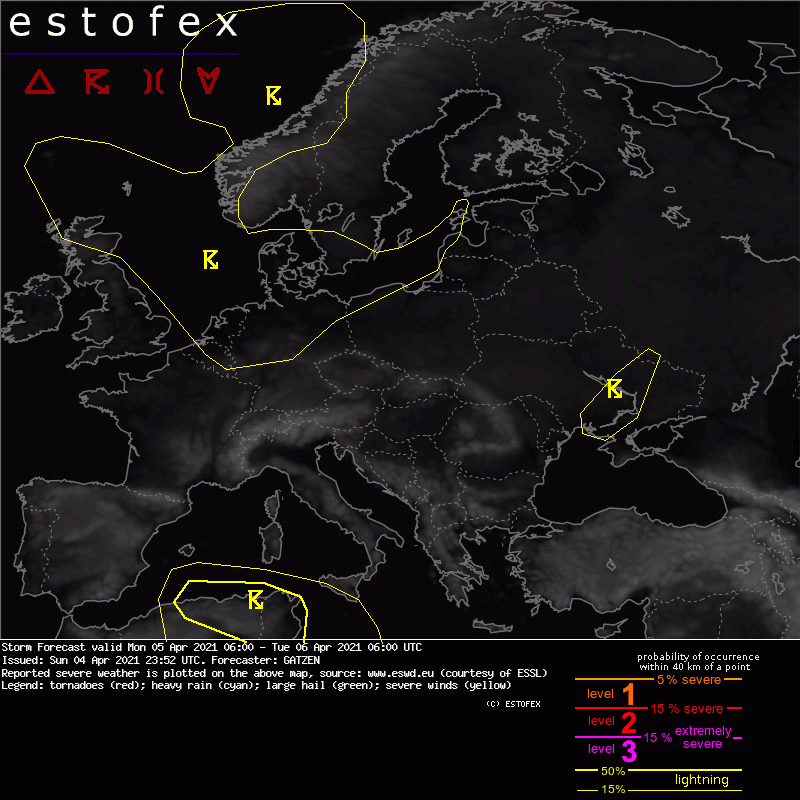 Storm Forecast
Valid: Mon 05 Apr 2021 06:00 to Tue 06 Apr 2021 06:00 UTC
Issued: Sun 04 Apr 2021 23:52
Forecaster: GATZEN
SYNOPSIS

A trough amplifies across western Europe, associated with cold arctic air spreading into the forecast region. A short-wave trough travels across northern Africa and another crosses the Black Sea.

DISCUSSION

North Sea and Baltic Sea region

The cold air is associated with steep lapse rates over the rather warm waters. Although moisture is very weak, some showers are forecast. Best potential for some lightning is expected below the centers of embedded mid-level vortices. Storms will be short-lived and poorly organized over most places due to weak CAPe and shear.

Along the cold front that progresses across Central Europe during the day, thunderstorms are not indicated by latest models. A mid-level front that follows the cold front will stay too far to the north so that deep instability is not forecast close to the cold front. Nevertheless, a narrow cold frontal rain band is forecast, with severe wind gusts possible due to strong vertical wind shear.

Finland

A short-wave trough passes across Finland on Monday. Latest models indicate that the combination of very limited moisture and very strong vertical wind shear will not allow for initiation of thunderstorms, although weak MLCAPE is expected to form in response to steep lapse rates and some weak low-level moisture. Current thinking is that some weak showers are possible, though. Severe non-convective wind gusts are not ruled out.

Turkey

At the southern flank of a passing trough, some frontal lift is expected to affect northern Turkey. Due to mid-level sinking and associated inversions, deep moist convection is not forecast. However, if storms would form in the strongly-sheared environment, these would organize quickly, capable of producing severe wind gust and large hail.