Storm Forecast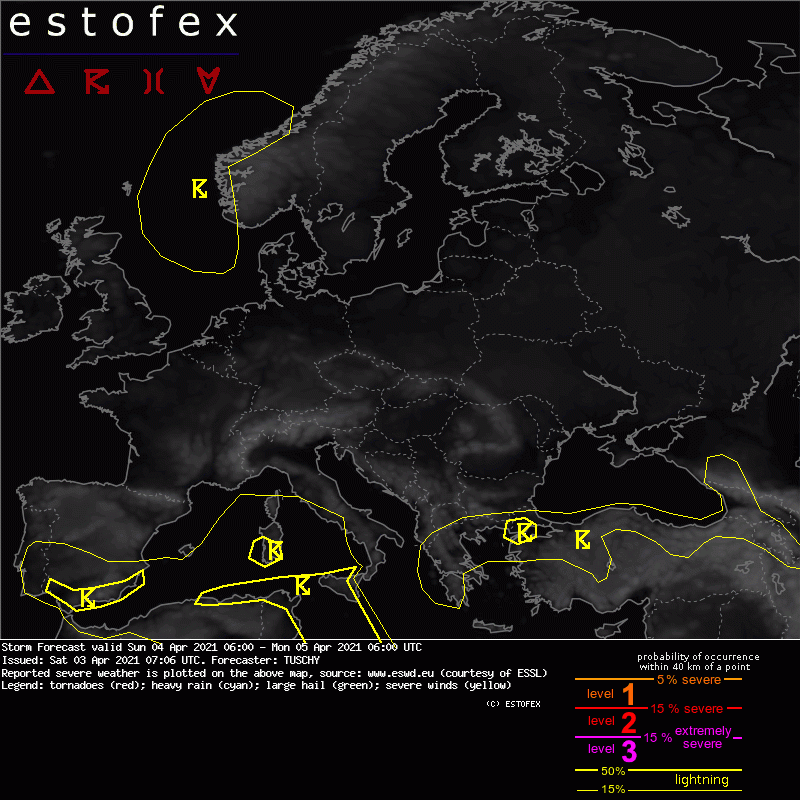 Storm Forecast
Valid: Sun 04 Apr 2021 06:00 to Mon 05 Apr 2021 06:00 UTC
Issued: Sat 03 Apr 2021 07:06
Forecaster: TUSCHY
SYNOPSIS

A longwave trough extends from N-Morocco/Algeria to W-Russia and breaks up into numerous more mobile troughs with shorter wavelengths. Downstream subtropical ridge covers Turkey with a fading EML plume, whereas upstream ridging over CNTRL Europe is short-lived and progressive.

A major outbreak of Arctic air occurs over the Greenland Sea to the North Sea and affects Scandinavia during the overnight hours.

On the surface map, a wavy frontal boundary affects Greece/the Black Sea with a cool and stable air mass to its north. Otherwise an arctic cold front plows south and is forecast to cross S-UK/Benelux/N-Germany/Baltic Sea at around 06Z (5 April 21).


DISCUSSION

... Lightning areas ...

Nothing organized/severe is anticipated excluding local instances of heavy rain/an isolated waterspout report between S-Sardegna and the coastal regions of N-Algeria.

Expect a few short-lived thunderstorms over the CNTRL-Ukraine but anticipated coverage is too marginal for a lightning area (excluding IFS and following ICON/GFS).

Greece has substantial model discrepancies regarding BL moisture and CIN during peak heating with ICON being the most aggressive model. Lift would be composed by a passing short wave and the orography but overall cloudy conditions beneath the warm conveyor belt and subsidence in the lee of the Pindus/Taygetos mountains raise concerns regarding CI.
Higher confidence for a few back-building storms exists over far NE Greece/NW Turkey (e.g. W-Sea of Marmara) with local flash flood problems possible but coverage should stay below a level 1.

Offshore CAA regime behind the Arctic front may see a lack of lightning activity, but models hint at numerous convergence zones, which could increase LL lift to support bands of more vigorous convection. We kept lightning area close to the parcel layer depth maxima.