Storm Forecast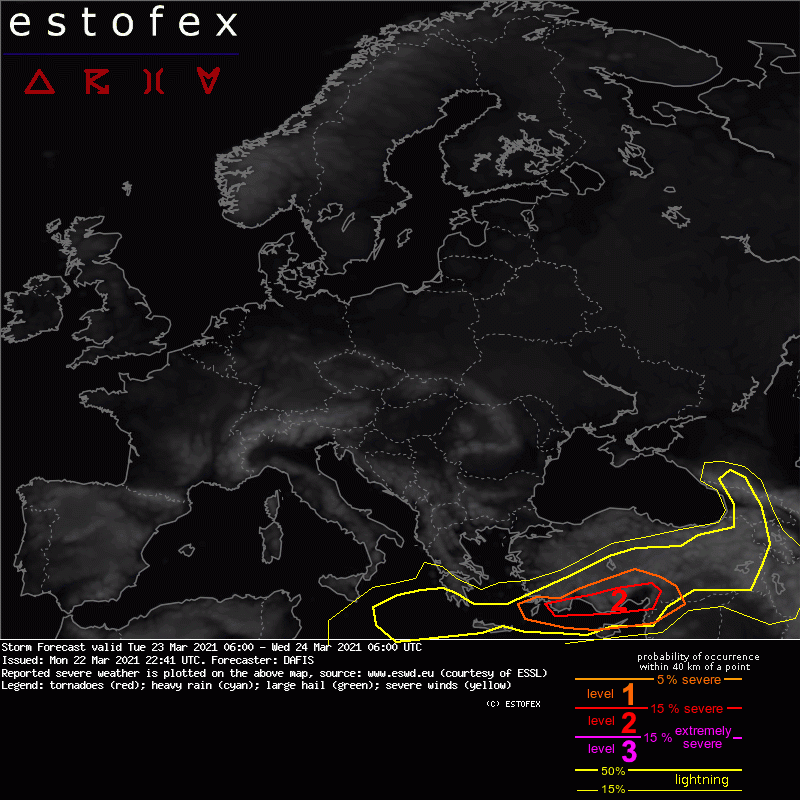 Storm Forecast
Valid: Tue 23 Mar 2021 06:00 to Wed 24 Mar 2021 06:00 UTC
Issued: Mon 22 Mar 2021 22:41
Forecaster: DAFIS
A level 2 has been issued for S Turkey, Cyprus and SE Greece for severe convective wind gusts, excessive convective precipitation, and to a lesser extent tornadoes.

A level 1 surrounds the level-2 area for the same threats but with less spatial coverage.

SYNOPSIS

A positively-tilted long-wave trough extends from Russia towards Central Mediterranean. There are two main vorticity maxima, one over South Italy and the other one over NE Balkans. The latter vorticity max will be associated with a cut-off low that will form over the Balkans, as an anticyclonic Rossby wave breaking will take place in Russia before the end of this outlook. Embedded in the developing ridge over West-Central Europe, a short-wave trough is found in the forecast maps, crossing Germany on Tue 23/03 but the air masses below are dry and no convective phenomena are expected over Central Europe.

DISCUSSION

.... S Turkey, Cyprus and SE Greece ....

The most interesting area for DMC is found in Eastern Mediterranean where a strong SW-erly flow has been established, bringing unstable maritime air masses over Turkey and the Middle East. The strong WAA increases the CIN but locally steep lapse rates, especially close to mountain ranges in S Turkey, will create a few hundred J/kg CAPE. About 40 m/s in mid-troposphere will result in more than 30 m/s DLS and extreme CAPSHEAR values.

Impressive wind values can be also found close to the surface where veering wind profiles create up to 500 m2/s2 SREH0-1km and more than 10 m/s 0-1km bulk shear. This environment will be conducive for supercells with strong rotating updrafts, able to produce severe wind gusts and tornadoes.

Large hail threat will be limited given the skinny vertical profiles of CAPE in the forecast fields, but small hail cannot be ruled out. More the 400 kg/m/s IVT and up to 30 mm of effective PWAT increase significantly the flash flood threat, especially at the mountain ranges that lie perpendicular to the mean flow.