Storm Forecast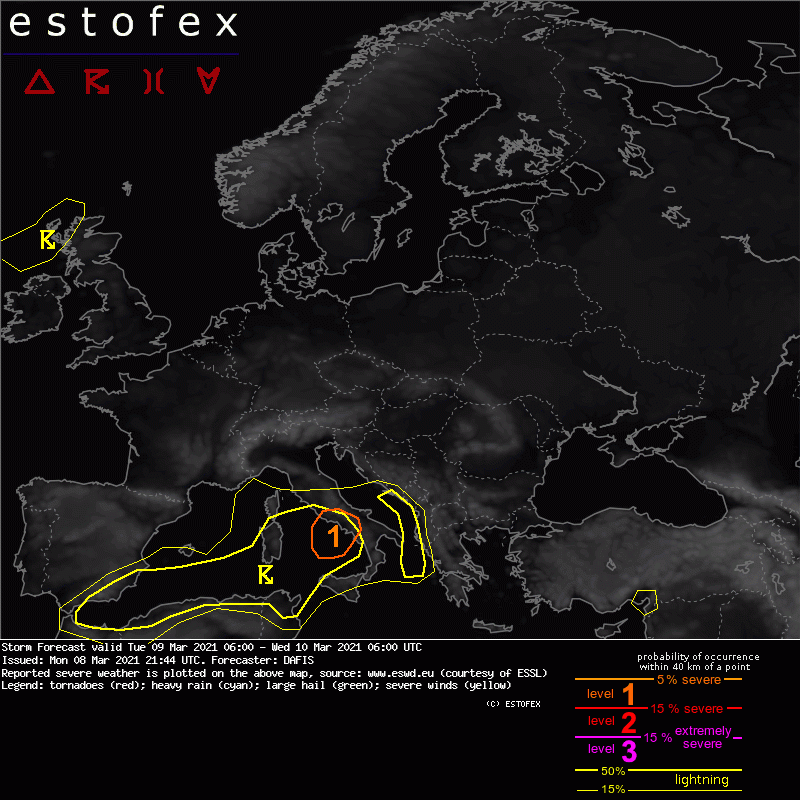 Storm Forecast
Valid: Tue 09 Mar 2021 06:00 to Wed 10 Mar 2021 06:00 UTC
Issued: Mon 08 Mar 2021 21:44
Forecaster: DAFIS
A level 1 was issued for parts of Italy mainly for excessive convective precipitation.

SYNOPSIS

A positively tilted long-wave trough covers most of western Europe and is surrounded by several short-wave troughs. A developing ridge in the eastern Atlantic is interacting with
a strong mid-/low-level trough close to Iceland and the resulting cyclogenesis is about to affect the UK and Ireland with severe weather events but mostly non-convective.

An embedded short-wave trough is about to cross western Europe and will enter the Mediterranean on Tue 9/3 where a surface low-pressure system is slowly moving east, driven but a middle-level vortex with high PV. Most of the western parts of the Mediterranean may experience thunderstorm activity, but the special focus is on the strong southwesterly flow in the Tyrrhenian Sea towards Italy.

Finally, another short-wave trough will cross the Black Sea but the air mass is cold and dry, with limited CAPE close to the surface.

DISCUSSION

.... Italy ....

As a surface low-pressure system is moving east, downstream of the approaching trough from the west, a strong southwesterly flow is established in the Tyrrhenian Sea. The influx of unstable air masses towards Central Italy will create a favorable environment for training convection. Even though the topography is not steep in the west coasts of Italy, the low-level convergence, the high PWAT, and IVT up to 400 kg/m/s increase the flash flood threat. MLCAPE will range between 200-400 J/kg, with low NCAPE values and most probably lightning activity will be limited very close to the coasts and mostly active over the sea where vertical velocities will be higher.

The same low-pressure system will be associated with storms in N Tunisia where locally CAPE will exceed 300 J/kg and DLS will reach values up to 15 m/s and small hail cannot be ruled out.