Storm Forecast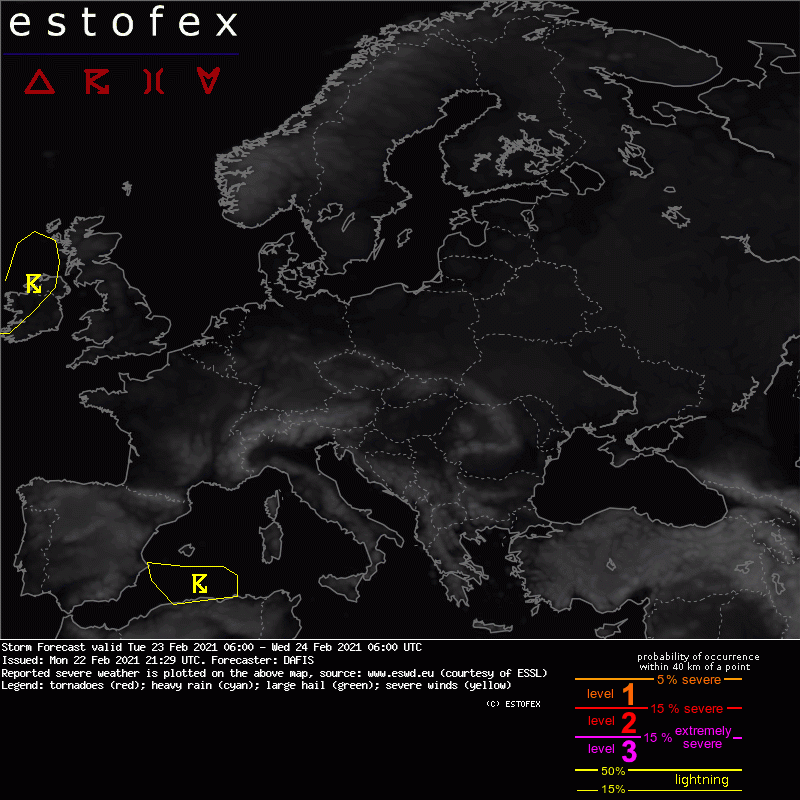 Storm Forecast
Valid: Tue 23 Feb 2021 06:00 to Wed 24 Feb 2021 06:00 UTC
Issued: Mon 22 Feb 2021 21:29
Forecaster: DAFIS
No threat levels have been issued

SYNOPSIS and DISCUSSION

An ongoing and record-breaking WAA over western and central Europe is the main feature of this outlook. The interaction between a longwave trough that has reached NW Africa, with a strong ridge over Central Europe results in a strong southerly flow in the western parts of the continent and in high-precipitation events in S France.

On Tue 23/02, an anticyclonic Rossby-wave breaking will take place over West Mediterranean and a cut-off low is about to form over NW Africa. Convection will be limited only over the maritime air masses between Spain and Algeria, where some CAPE is forecast.

At the same time, two major WCBs can be found in North/Northwest Europe. The first one is associated with a short-wave trough that crosses the North and Norwegian Seas and brings heavy rain and snow in Scandinavia, but with non-convective phenomena. The second WCB, is a product of the WAA, associated with a surface low-pressure system west of Ireland. Some instability is forecast by most of the global NWP models and a few thunderstorms cannot be ruled out. A few severe wind gusts may affect the coasts of Ireland and W UK, but should be mainly of non-convective origin.