Storm Forecast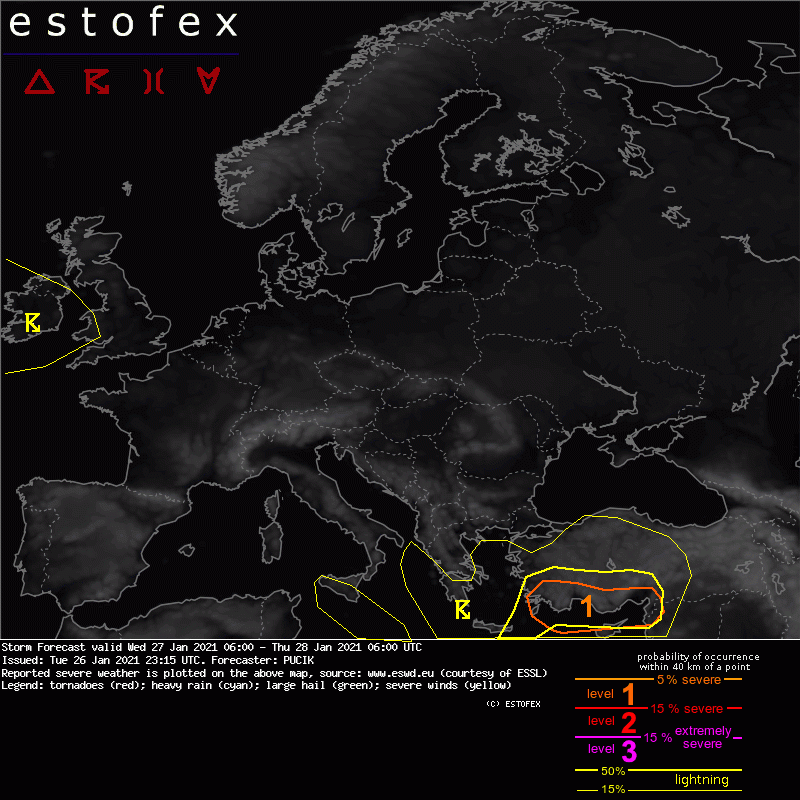 Storm Forecast
Valid: Wed 27 Jan 2021 06:00 to Thu 28 Jan 2021 06:00 UTC
Issued: Tue 26 Jan 2021 23:15
Forecaster: PUCIK
A level 1 was issued across southern Turkey mainly for excessive rainfall, severe wind gusts and tornadoes.

SYNOPSIS and DISCUSSION

A deep trough is forecast to shift from southern Greece towards western Turkey with strong mid to upper tropospheric at its forward flank, reaching 50 m/s at 300 hPa. Closer to the surface, a low-level jet will be situated ahead of the advancing surface cold front with 850 hPa speeds up to 25 m/s, decreasing after the start of the forecast period. Marginal CAPE is forecast to build-up ahead and behind the advancing front. Ahead and along the front, low-level jet and rapid northward moisture transport will contribute to non-zero MUCAPE values far inland of Turkey. Along the coastlines, especially in the early phase of the forecast period, long and curved hodographs point to the threat of well organised storms that may be capable of tornadoes (given the SRH exceeding 200 m2/s2 in the 0-1 km layer) and/or severe wind gusts (given southerly flow reaching 20 m/s in the bottom 500 m). Furthermore, rapid moisture transport combined with CAPE mostly in the warm part of the cloud may contribute to local occurrence of heavy rainnfall. The overal threat will decrease from coastal areas towards north.