Storm Forecast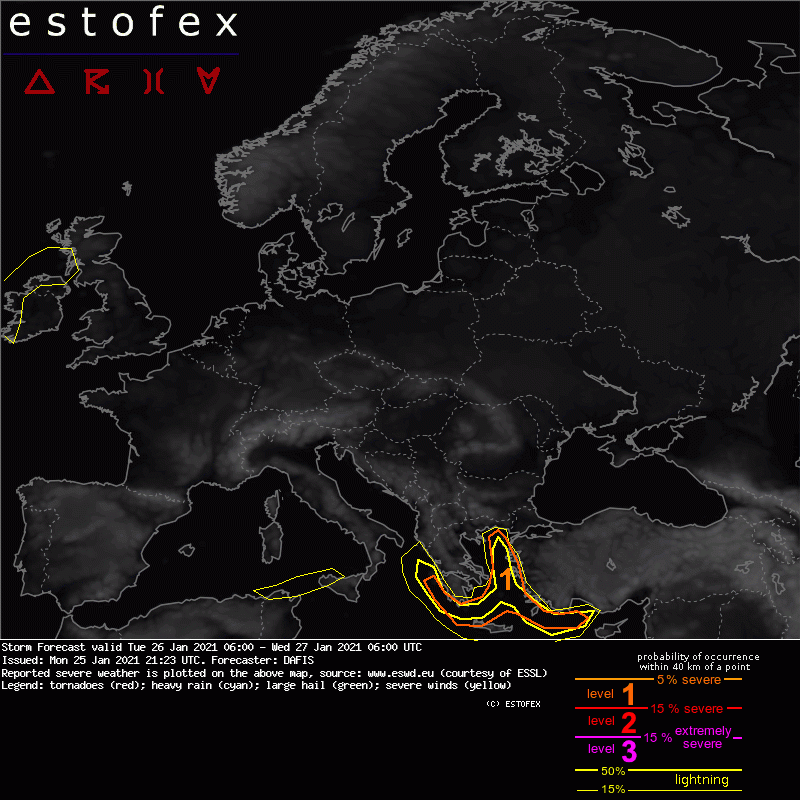 Storm Forecast
Valid: Tue 26 Jan 2021 06:00 to Wed 27 Jan 2021 06:00 UTC
Issued: Mon 25 Jan 2021 21:23
Forecaster: DAFIS
A level 1 was issued for parts of Greece and Turkey mainly for excessive precipitation and severe convective wind gusts.

SYNOPSIS and DISCUSSION

A longwave trough covers the largest part of Europe and a developing ridge in the western parts of the continent brings upper-level air masses with low PV, destabilizing the mean flow. The CAA over the Mediterranean results in instability and the sudden advection of unstable air masses over land.

Several PV maxima develop around the trough and generate several low-level cyclones, with the most important cyclogenesis taking place in the Adriatic Sea. There is a general consensus among the available NWP model outputs that this cyclone will deepen more than 10 hPa in 24 hours starting at 03z on Tue 26/01, and the strong WAA over Greece and Turkey will result in several severe weather events. Some GFS ensemble members show a max deepening of more than 17 hPa in 24 hours, justifying an explosive deepening cyclone, but this seems an unlikely scenario since it is supported by only a few model perturbations with high convective instability in the Aegean Sea.

A strong water-vapor transport from Central Mediterranean towards Greece and Turkey will result in high effective PWAT and even though CAPE is limited, convective precipitation will contribute to heavy rainfall events together with stratiform precipitation. Orographic banners perpendicular to the strong low-level flow (more than 20 m/s at 850 hPa), especially close to the coasts where CAPE will be fluctuating between 200-400 J/kg, will also lead to heavy convective precipitation. Moreover, wind gusts stronger than 20 m/s at the surface are well possible, mostly in NW Turkey.