Storm Forecast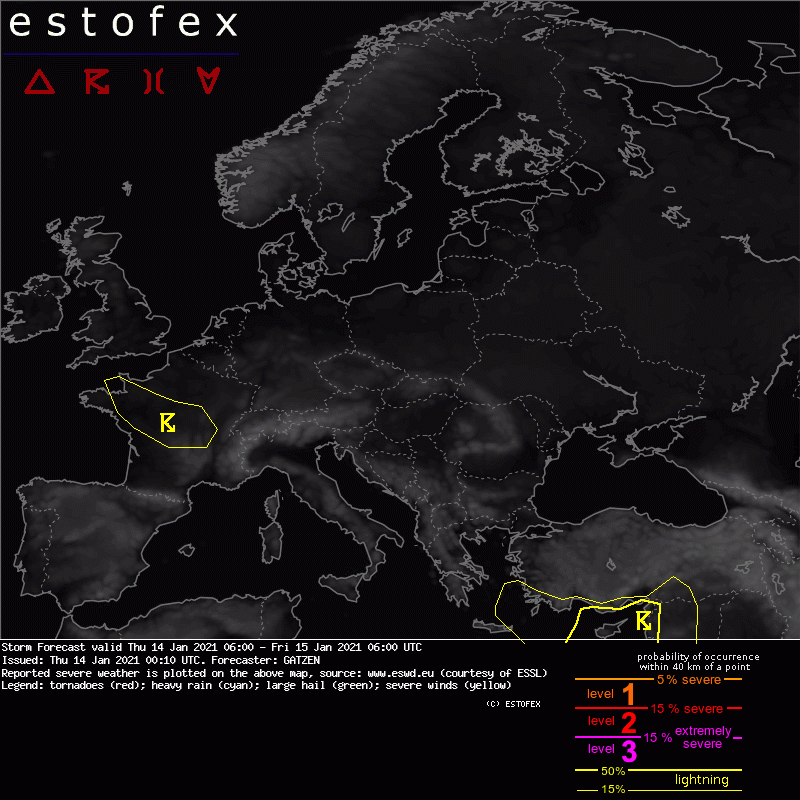 Storm Forecast
Valid: Thu 14 Jan 2021 06:00 to Fri 15 Jan 2021 06:00 UTC
Issued: Thu 14 Jan 2021 00:10
Forecaster: GATZEN
SYNOPSIS and DISCUSSION

An amplified trough is located across eastern Europe. A strong vort-max is situated along the periphery of cold mid-level air at its western flank that will move south. However, rather dry low-level air will limit the potential of storms despite some steeper lapse rates evolving in the strongly-forced situation. A few thunderstorms are not ruled out from the eastern Alps to the Balkans and later also across parts of the Adriatic and Aegean Sea, however, due to the weak moisture and also high equilibrium level temperature over most places, chance is expected to be to low for a low probability line.

Another vort-max rotates rapidly across the east Mediterranean. With better low-level moisture and rather steep lapse rates, some weak CAPE is expected. Best potential for storms exists along the trough axis. Although coverage of storms can be rather high where the low-level land-breeze convergence and upslope flow supports lift, severe weather potential is weak due to limited CAPE and vertical wind shear. Some stronger wind gusts and local heavy rain is not ruled out, with the highest potential along the shores of Syria and Turkey.

Finally, a mid-level short-wave trough migrates south at the western flank of the trough where irt affects France. Again, low-level moisture is limited and equilibrium level temperature is rather high. However, along the tropoause fold, some thunderstorms are not ruled out. Severe potential is forecast to be low given marginal CAPE.