Storm Forecast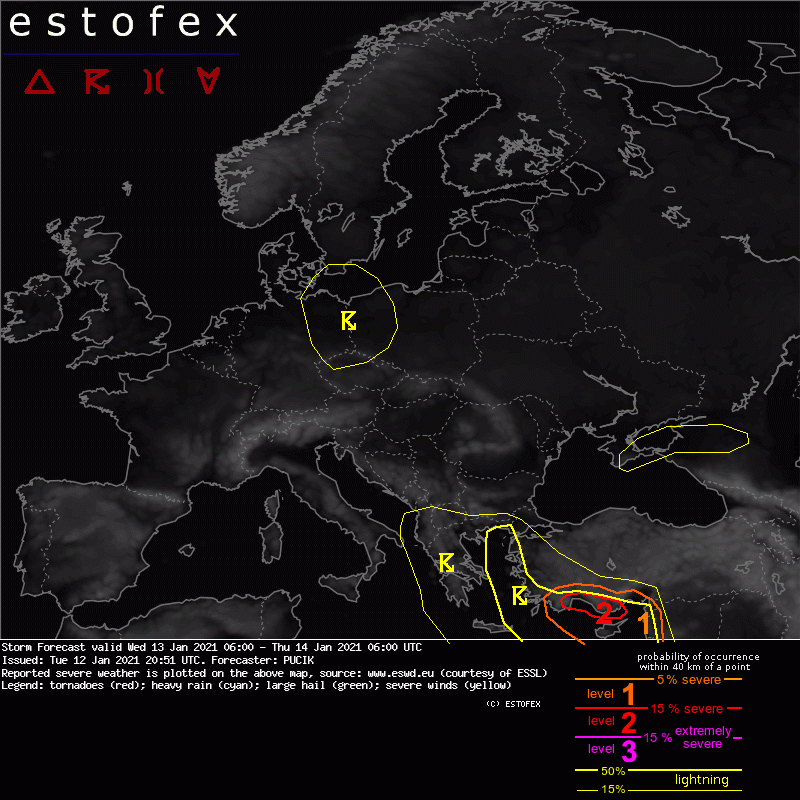 Storm Forecast
Valid: Wed 13 Jan 2021 06:00 to Thu 14 Jan 2021 06:00 UTC
Issued: Tue 12 Jan 2021 20:51
Forecaster: PUCIK
A level 2 was issued across southern Turkey mainly for heavy rainfall, tornadoes and severe wind gusts.

A level 1 was issued across eastern Mediterranean mainly for heavy rainfall and severe wind gusts.

SYNOPSIS

Two main macrosynoptic features will be a large ridge stretching from Iberia into the UK and a deep trough, centered over Denmark on Wednesday 12 UTC with its base across Balkans. Three short-waves will be associated with the trough:

1. The first one will move from Sweden towards Germany, associated with a surface low that will fill out as it crosses Germany and W Poland.

2. The second one will rapidly translate across eastern Mediterranean, accompanied by a cold front.

3. The third one will cross from the Black Sea towards Russia with significant frontal boundary and cyclogenesis on Ukraine / Russia border.

Majority of DMC activity will be confined to the eastern Mediterranean area with some isolated storms possible over E Germany and W Poland.

DISCUSSION

... Eastern Mediterranean ...

Ahead of the advancing cold front, moist airmass combined with modest mid-tropospheric lapse rates of 6.5 - 7 K/km will allow for a build up of 500 - 1000 J/kg of MLCAPE, increasing from north to south. Widespread storms are forecast along the coastline of southern Turkey, where lift from the trough will combine with the mesoscale lift resulting from the front and onshore flow. As the trough rapidly moves eastwards, so should the thunderstorm activity. The highest severe weather threat will fall to 06 - 09 UTC period, over southern Turkey, where model hodographs reveal abundant SRH combined more than 20 m/s of 0-3 km shear, promoting highly organised, rotating storms. While large hail may be limited by skinny CAPE, tornadoes, severe wind gusts and heavy rainfall will all be possible with stronger storms. More linear hodographs and lesser storm coverage is forecast more to the south and east, reducing the overall risk slightly.

... E Germany / W Poland ...

Synoptic-scale lift combined with cooling aloft will increase the mid-tropospheric lapse rates that may allow for marginal CAPE (tens of J/kg) and some electrified convection in the noon / afternoon hours. Strongly sheared environment is forecast and a Level 1 was considered for combination of severe wind gust / tornado threat, but there is large model discrepancy regarding nonzero CAPE values being present over the area. Neverthless, will keep a low probability thunder line as all models show at least neutral stratification extending to charge seperation zone.