Storm Forecast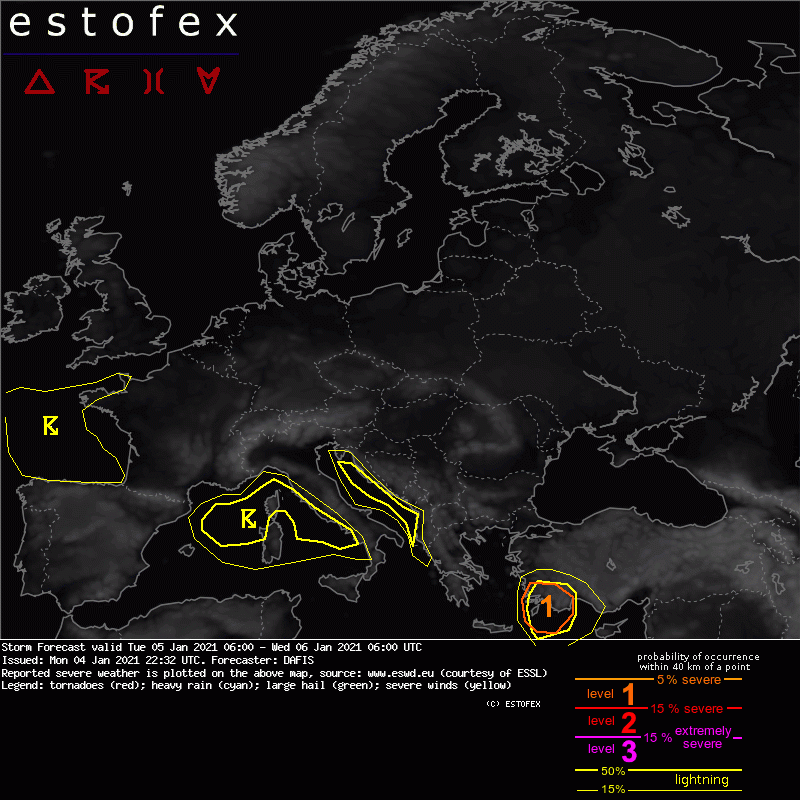 Storm Forecast
Valid: Tue 05 Jan 2021 06:00 to Wed 06 Jan 2021 06:00 UTC
Issued: Mon 04 Jan 2021 22:32
Forecaster: DAFIS
A level 1 was issued for SE Greece and S Turkey mainly for excessive precipitation.

SYNOPSIS and DISCUSSION

A long-wave trough covers most of Western and Central Europe where cold and rather dry low-level air masses lie. The weak ridge over the Norwegian Sea is collapsing as another cyclone is approaching from the Arctic, bringing again cold air masses in Western Europe the following days. In the southern parts of the continent, several low-pressure systems thrive in the Mediterranean and result in WAA towards the Balkans and the Middle East.

Convection is limited over the sea, but on Tuesday we expect a surface cold front to approach the south-easternmost parts of Greece and South Turkey where unstable masses lie. The advection of very moist air masses onshore can lead to flash floods, as more than 300 kg m-1 s-1 IVT is forecast with locally more than 20 mm PWAT. The weak lapse rates limit the hail threat but near the coasts, CAPE can reach 500 J/kg and will overlap with more than 15 m/s 0-3km wind shear and 25 m/s DLS. Organized and training convection may produce small/moderate-sized hail.

Finally, curved low-level forecast hodographs suggest that waterspouts cannot be ruled out.