Storm Forecast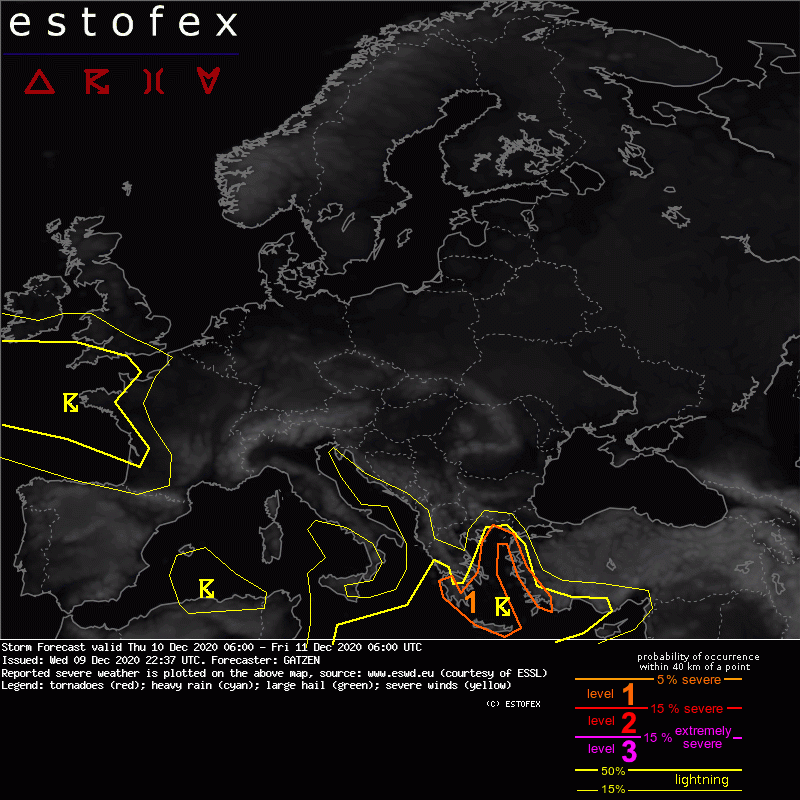 Storm Forecast
Valid: Thu 10 Dec 2020 06:00 to Fri 11 Dec 2020 06:00 UTC
Issued: Wed 09 Dec 2020 22:37
Forecaster: GATZEN
A level 1 was issued across the Aegean Sea for excessive rain.

SYNOPSIS

A mid-level vortex across the central Mediterranean will remain quasi-stationary during the period. On the one hand, vort-maxima at its eastern periphery will rotate across the Balkans and move further into eastern Europe. On the other hand, a new mid-level short-wave impulse ejects from the delta the the Atlantic jet stream and diggs across the west Mediterranean. While cool air masses continue to spread into the west and central Mediterranean, a narrow tongue of rich moisture is advected into the east Mediterreanean where some thunderstorms are forecast.

DISCUSSION

Aegean Sea, western Turkey, south Adriatic

Low-level moisture with a low-level mixing ratio around 8 g/kg advects towards the northern and eastern coasts in the range of a slowly propagating frontal boundary. Forecast profiles indicate modest lapse rates with some weak MLCAPE. Lift is expected ahead of the cold front and additionally along the land-breeze and due to topographic lift. Thunderstorms are expected to develop given moist profiles and weak CIN.

Skinny CAPE profiles, moist air, and deep warm clouds promote some potential of heavy precipitation. This is supported by the strong moisture advection by the flow that exceeds 20 m/s at low levels. Long hodographs with front-parallel shear vektors also indicate the potential of back-building systems. Limiting factor for widespread floodings is the propagation of the underlying frontal system and the relatively weak moisture content of the air mass.

Bay of Biscay

A mid-level front will pass across the northern Bay of Biscay, and lapse rates are expected to increase to 7 K/km. An overlap with remaining low-level moisture is expected to result in weak CAPE sufficient for some thunderstorms in the evening. Hodographs are quite long with 15 m/s 0-3 km vertical wind shear. Therefore, some storms may organize to brief bow echoes, capable of producing severe wind gusts. Weak low-level convergence and lift limit the potential, though, and a level 1 was not issued.