Storm Forecast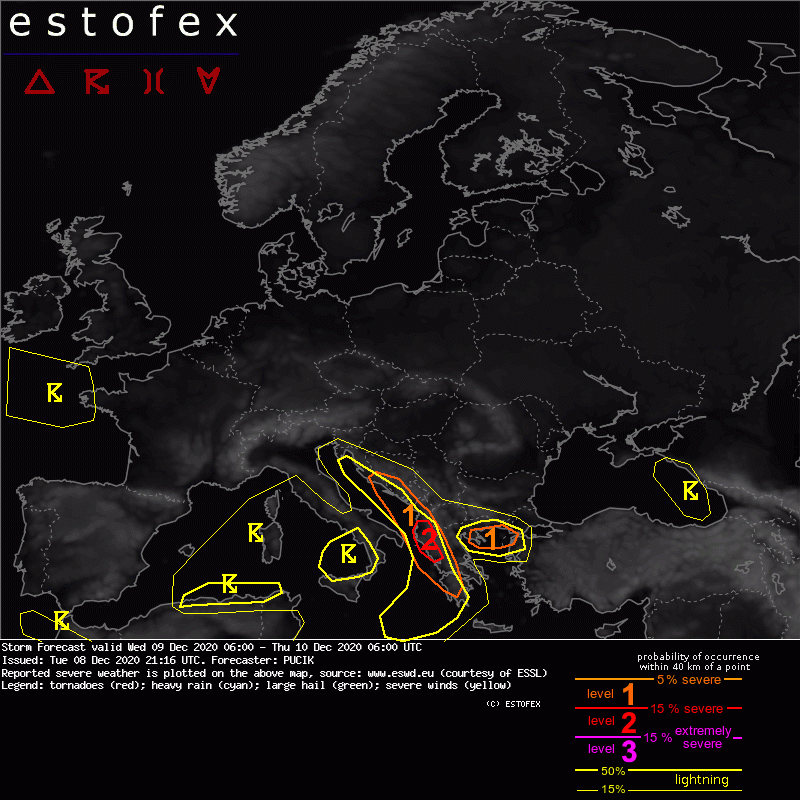 Storm Forecast
Valid: Wed 09 Dec 2020 06:00 to Thu 10 Dec 2020 06:00 UTC
Issued: Tue 08 Dec 2020 21:16
Forecaster: PUCIK
A level 2 was issued for western Albania and northwestern Greece mainly for excessive rainfall and tornadoes.

A level 1 was issued for western Balkans mainly for excessive rainfall and tornadoes.

A level 1 was issued for northern Greece mainly for excessive rainfall.

SYNOPSIS and DISCUSSION

An active weather pattern is forecast for the Mediterranean, in conjunction with a low centered over the Ligurian Sea. A jet-streak will stretch from Tunisia towards the northern Ionian Sea, with its left exit region covering the northern Ionian and southern Adriatic Sea. Strong synoptic-scale forcing is anticipated over this area. Another region of strong forcing will be confined to the coastline of Algeria and Tunisia as an axis of the trough will pass towards the East.

While CAPE values will stay marginal and mostly confined to the lower troposphere, severe weather is anticipated over the western Balkans coastline and by the end of the forecast period also over the northern Aegean Sea. The highest risk is anticipated over the southern Adriatic / northern Ionian Sea, where strongest forcing will combine with abundant lower tropospheric moisture. Low-level wind field is forecast to increase with 850 hPa windspeed reaching 20 m/s. Rapid moisture transport and its prolonged lift over the coastlines will enhance the excessive rainfall threat. Strong flow combined with a WAA regime ahead of the advancing front will result in curved hodographs with SRH values between 200 and 300 m2/s2 in the lowest 1 km. Provided that the storms remain surface-based as they move onshore, they will bear an enhanced tornado risk as well.