Storm Forecast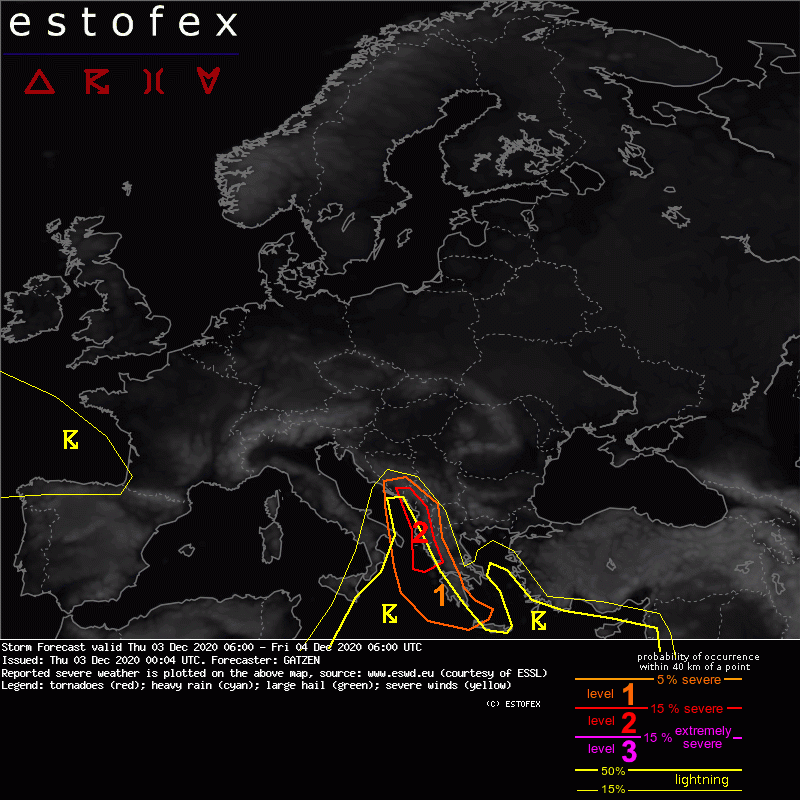 Storm Forecast
Valid: Thu 03 Dec 2020 06:00 to Fri 04 Dec 2020 06:00 UTC
Issued: Thu 03 Dec 2020 00:04
Forecaster: GATZEN
A level 2 was issued across the southern Adriatic Sea for extreme rainfall.

A level 1 was issued across Greece mainly for extreme rainfall.

SYNOPSIS

A large upper vortex amplifies across western Europe and the north-east Atlantic. The amplification is associated with an upper-level front that crosses the Bay of Biscay on Thursday evening. Downstream, a deep short-wave trough progresses across the central Mediterranean. It provides strong DCVA spreading into the Adriatic region, affecting a moist air mass. Rich moisture is also situated across the east Mediterranean, whereas most of Europe is seeing rather dry air masses.

DISCUSSION

Southern and central Adriatic Sea

A frontal boundary slowly progesses across the Adriatic Sea on Thursday. A moist and slightly unstable air mass will advect northward along the front with the quite strong southerly flow. Continuous large-scale lift ahead of the approaching short-wave trough and low-level warm air advection will help to keep the frontal gradients, with a continuous baroclinic circulation supporting initiation of new storms. Vertical wind shear is weak, but in the strong southerly flow, backbuilding becomes likely in a weakly capped, moist air mass with low LCLs. Given skinny CAPE profiles, a rather deep warm portion of the clouds, and possibly slow propagation of the precipitation, high accumulations of precipitation are forecast, which poses a threat in particular along the shores of Albania, Montenegro, and Bosnia and Herzegowina. Especially in the northern parts, storms are elevated and precipitation is partly of stratiform nature.

During the period, the frontal boundary starts to progress east, causing the severe rain threat to move east as well and affecting Greece later on. However, potential of backbuilding decreases due to veering of the low-level flow.

Bay of Biscay, northern Spain

Latest models indicate that a surface cold front will spread south ahead of the upper-level front and rich low-level moisture will not overlap with steepening lapse rates farther north. CAPE will remain marginal and convection is expected to be low-topped. A narrow cold-frontal rain band is forecast to reach northern Spain late in the evening with gusty and possibly severe winds, but contribution by convective storms to the severe weather threat is expected to be low. In the wake of the upper-level front, deeply mixed cold air spreads over the rather arm sea waters, and showers and thunderstorms are forecast. Thunderstorms are expected to be weak given weak and skinny CAPE, and storms will not contribute significantly to the severe wind gust threat that is associated by the strong synoptic-scale pressure gradient.