Storm Forecast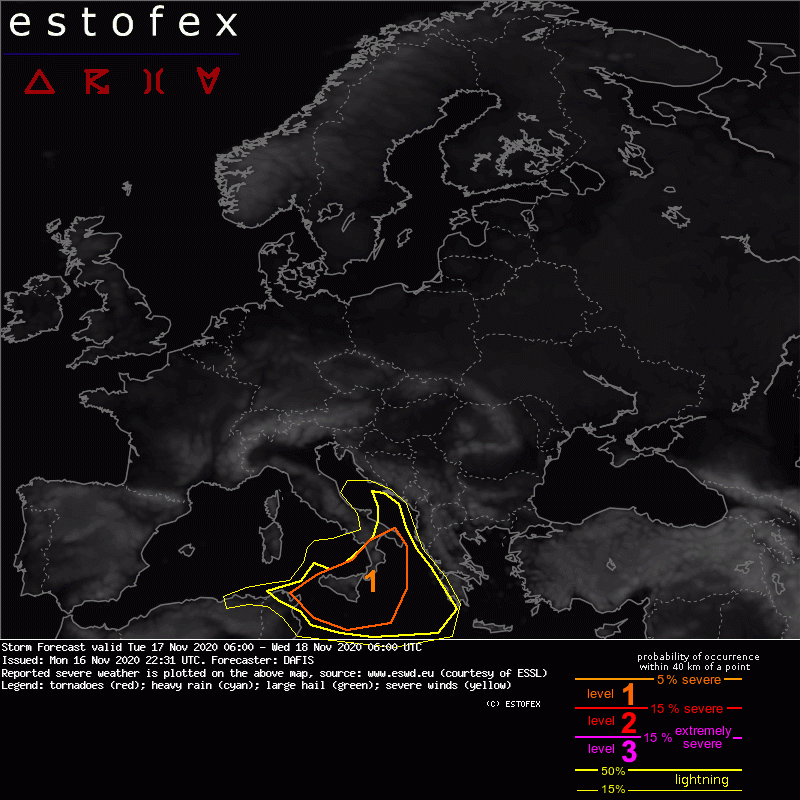 Storm Forecast
Valid: Tue 17 Nov 2020 06:00 to Wed 18 Nov 2020 06:00 UTC
Issued: Mon 16 Nov 2020 22:31
Forecaster: DAFIS
A level 1 was issued for S Italy, Malta and NE Tunisia mainly for excessive convective precipitation.

SYNOPSIS and DISCUSSION

A strong ridge is building up in Western Europe while several troughs affect Central and Eastern Europe. A short-wave trough is crossing the Baltic States, a compact cut-off low over E Ukraine attains high vorticity values in mid-tropopshere and another cut-off low is crossing Italy, moving fast south on Tue 17/11. Near the surface, most of Central Europe is under the influence of a high-pressure system and a cold anticyclone in Western Siberia extends towards the North Balkans. Low-pressure systems are active in NE Atlantic and in Central Mediterranean.


All the available ingredients for DMC can be found in Central Mediterranean where very moist air masses result in saturated vertical profiles and synoptic lift guarantees CI under the influence of a mid-level cut-off low. At the surface, a cyclone is found in S Italy in the analysis maps but in the following 24 hours it will not attain very well-defined fronts, but mostly stationary fronts are forecast around the core of the system.
The main threat will be excessive precipitation events in Italy and Malta, but also in the coasts of North Africa. High PWAT, weak storm motion and moderate CAPE can result in slow-moving storms and training convection. Last, some waterspouts are expected near the core of the mid-level cold drop on Tue 17 and early morning on Wed 18/11.