Storm Forecast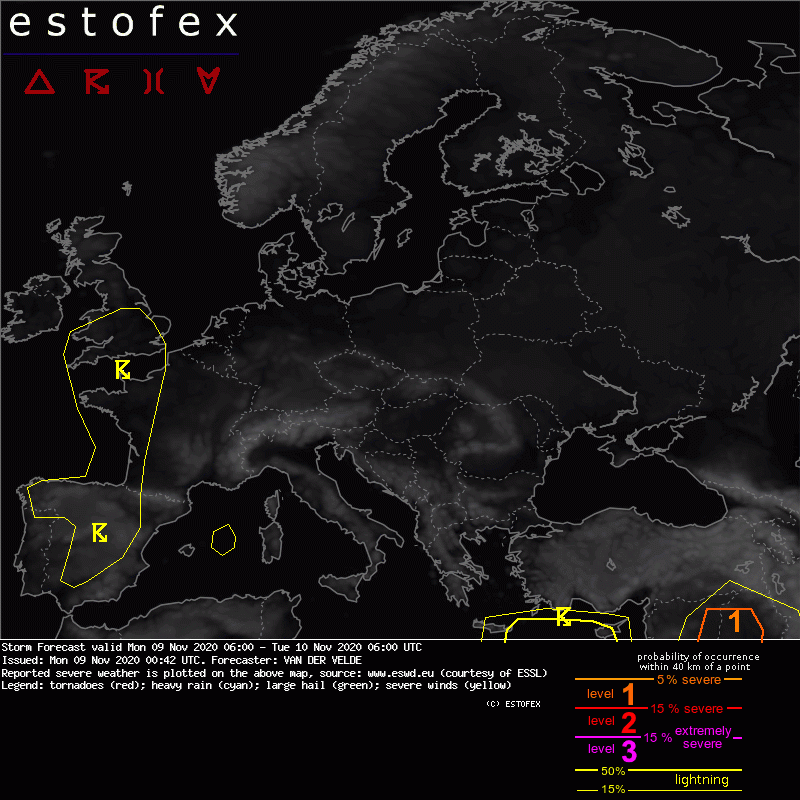 Storm Forecast
Valid: Mon 09 Nov 2020 06:00 to Tue 10 Nov 2020 06:00 UTC
Issued: Mon 09 Nov 2020 00:42
Forecaster: VAN DER VELDE
A level 1 was issued across E Syria and N Iraq mainly for large hail.

DISCUSSION

A low pressure system near Ireland advects warm and humid air northwards into western France and the British Isles. Marginal instability is included, even if from elevated parcels. Slight surface-based CAPE is present over Spain. Features in the potential vorticity fields are present and moving through these areas as potential triggers for convection. Larger CAPE developing over the SW Mediterranean Sea remains mostly capped.
Another low is situated over the eastern Mediterranean Sea, producing storms, which may end up dragging over Crete's north coast, but this precipitation threat is marginal, higher on Tuesday.
Over Syria and Iraq the combination of CAPE and moderate deep layer shear could benefit large hail producing storms, but forecast soundings look a bit marginal regarding CIN.