Storm Forecast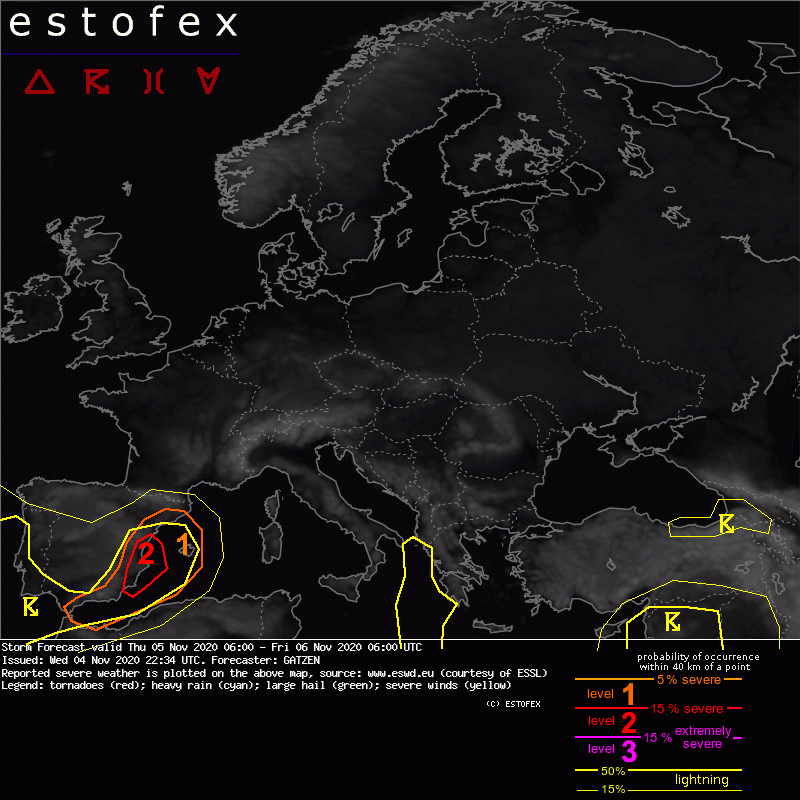 Storm Forecast
Valid: Thu 05 Nov 2020 06:00 to Fri 06 Nov 2020 06:00 UTC
Issued: Wed 04 Nov 2020 22:34
Forecaster: GATZEN
A level 2 was issued across eastern Spain mainly for heavy rain.

A level 1 was issued across eastern Spain for large hail and tornadoes.

SYNOPSIS

In the wake of a north-European trough, a north-east Atlantic high ridges eastward into Central Europe. Cut-off lows are present across the Mediterranean. One will be situated west of Iberia, still supporting an active weather period. Another will slowly leave the forecast domain across Syria.

DISCUSSION

Eastern Spain

A short-wave trough is forecast to eject from the base of the Iberian cut-off trough that will cross eastern Spain during the day. At lower levels, warm air advection will continue to affect eastern Spain and the west Mediterranean, with a frontal boundary extending from eastern Spain to the east across the Mediterranean just north of the African shores. Rich moisture is located along this boundary with front-parallel, easterly winds directed towards eastern Spain.

Expect that storms will continue during the forecast period with a cluster of storms developing along the western nose of the frontal boundary and warm air advection regime. Models indicate that it will move north together with the passing mid-level trough. Current thinking is that storms will organize into a training system due to strong inflow from the east and strong vertical wind shear.

Although the whole system is expected to slowly spread north, high amounts of convective rain are forecast, capable of producing flash floods across eastern Spain. Threat shifts north and will likely weaken late in the period as the storms will encounter drier air. Together with heavy rain, there is also the potential of large hail and tornadoes as supercells may form in 20+ m/s deep layer shear.