Storm Forecast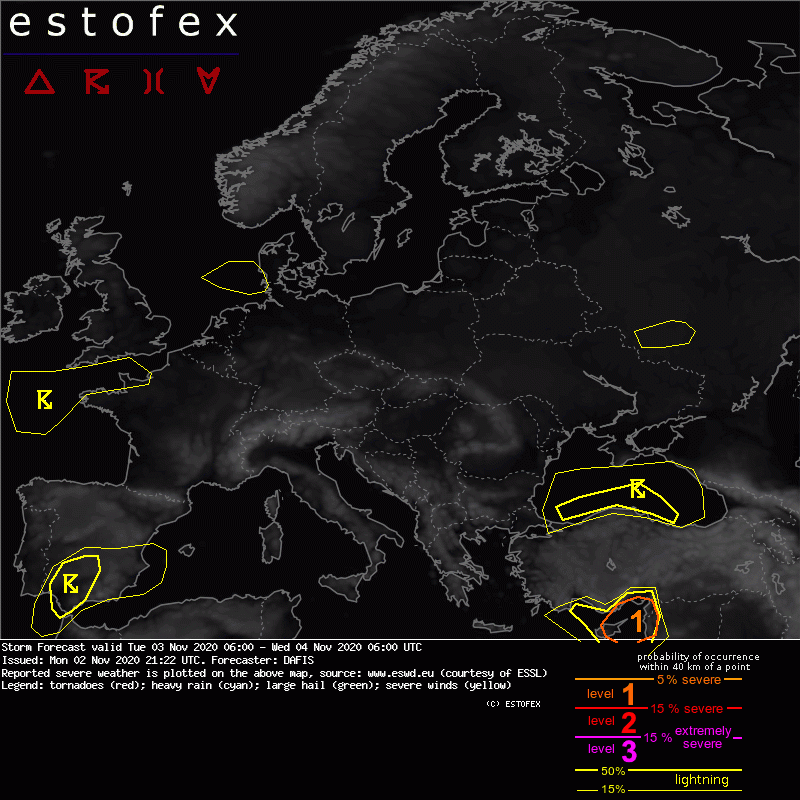 Storm Forecast
Valid: Tue 03 Nov 2020 06:00 to Wed 04 Nov 2020 06:00 UTC
Issued: Mon 02 Nov 2020 21:22
Forecaster: DAFIS
A level 1 was issued for Cyprus, S Turkey, and the coasts of Syria and Lebanon for large hail and excessive rainfall.

SYNOPSIS

Two main troughs affect the European weather, one in NE Atlantic and the other one in Eastern Europe, and in-between, a strong ridge has brought unseasonably warm air masses over Central Europe. This ridge is about to collapse as the deep trough in the Atlantic is moving fast east under the influence of the Azores High. At the surface, an elongated cold front extending from NE Scandinavia towards the Iberian Peninsula will cross most of the continent on Tue 3/11.
Convective phenomena will be limited on Tue 3 and early morning on Wed 4/11, and mostly confined over the sea. Better chances for DMC events exist in the Levantine Sea.


DISCUSSION

.... Cyprus, S Turkey, and the coasts of Syria and Lebanon ....

Several short-wave troughs are generated at the southern flank of a mid-level cut-off low with a center above Ukraine. The cold drop will slowly move south over Turkey providing lift to unstable air masses in the Levantine Sea. The available NWP models show MLCAPE up to 1000 J/kg and the DLS will range between 10 and 17 m/s. Some streamwise vorticity is shown in the forecast hodographs and locally up to 100 m2/s2 SREH0-3km. Adding the locally steep lapse rates, this environment can be conducive for organized DMC and/or a few brief supercells that may produce large hail and excessive rainfall.

Several waterspouts are expected to form in the Levantine Sea, but also in the Black Sea where there is high low-level instability, close to the core of the cut-off low.