Storm Forecast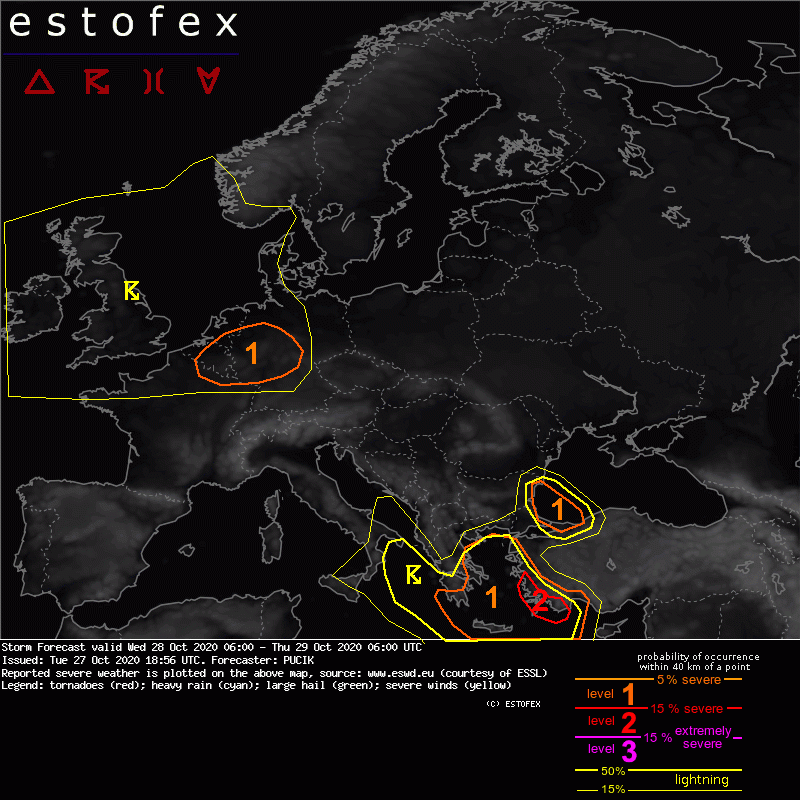 Storm Forecast
Valid: Wed 28 Oct 2020 06:00 to Thu 29 Oct 2020 06:00 UTC
Issued: Tue 27 Oct 2020 18:56
Forecaster: PUCIK
A level 1 was issued across parts of BENELUX and Germany mainly for severe wind gusts and tornadoes.

A level 2 was issued across southwestern Turkey mainly for large hail, excessive rainfall, severe wind gusts and tornadoes.

A level 1 was issued across southern Greece, the Aegean Sea and the southwestern Black Sea mainly for excessive rainfall.

SYNOPSIS

An active weather pattern is forecast across western Europe underneath and to the north of zonal jet-streak. Embedded in the zonal flow, a short-wave trough is forecast to cross British Isles in the afternoon hours and reach BENELUX and western Germany during the night. Synoptic-scale lift, along with mid-tropospheric lapse rates exceeding 7 K/km will contribute to marginal CAPE and isolated to scattered thunderstorms.

More widespread storms are forecast within and ahead of a deep trough over the Mediterranean that will cross Greece during the day and progress further towards Turkey.

DISCUSSION

... BENELUX and Germany ...

A low-end threat of severe wind gusts and tornadoes will develop over the area in the overnight hours in conjunction with the approach of fast-moving short-wave. Forecast soundings reveal marginal latent instability with rather warm EL (=10 till -20 deg C). Isolated to scattered low-topped storms are forecast to develop and will likely attain nature of fast-moving line segments or supercells given 0-3 km bulk shear over 15 m/s. 850 hPa flow in between of 20 and 25 m/s suggests potential for isolated severe wind gusts in stronger downdrafts. Supercells will also bear a risk of tornadoes with low LCLs and 0-1 km bulk shear between 10 - 15 m/s.

... Ionian, Aegean and Black Sea ...

Thunderstorm activity will be confined to the zone of the strongest synoptic-scale forcing that will shift from the Ionian Sea on Wednesday morning towards east and northeast. Forecast soundings over southern / eastern Greece and southwestern Black Sea reveal moist environment with skinny CAPE and low LCLs, enhancing threat of heavy rainfall. Heavy rainfall will be possible especially along the coastline of eastern Greece with eastern low-level flow impinging upon the coastline. Storms will spread towards northeast in the direction of the movement of the strongest forcing.

Steeper lapse rates and also stronger vertical wind shear is forecast over southwestern Turkey with 0-3 km bulk shear around 20 and 0-6 km bulk shear around 25 m/s. Well organised convection is forecast, including supercells and fast moving line segments that may be capable of all severe weather threats.