Storm Forecast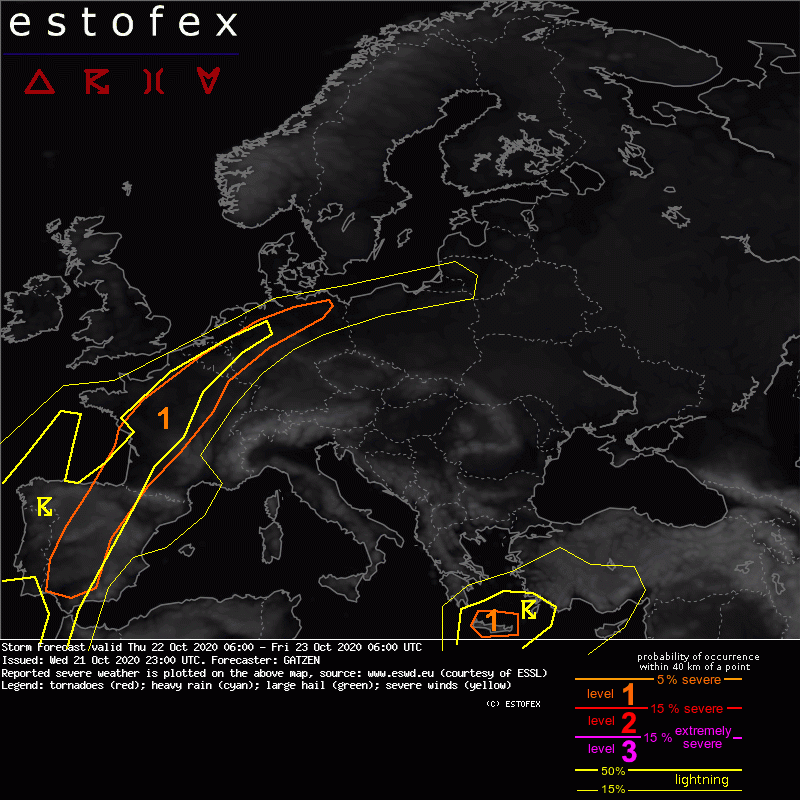 Storm Forecast
Valid: Thu 22 Oct 2020 06:00 to Fri 23 Oct 2020 06:00 UTC
Issued: Wed 21 Oct 2020 23:00
Forecaster: GATZEN
A level 1 was issued across western Spain, eastern Bay of Biscay, south-western to northern France, Belgium, and north-western and northern Germany mainly for severe wind gusts and tornadoes.

A level 1 was issued across Crete mainly for heavy rain.

SYNOPSIS

A broad ridge extends across southern and central Europe. It is flanked by a strong mid-level jet situated from the Iberian Peninsula to northern Germany and into eastern Europe. At lower levels, a frontal boundary extends over this area with a moist air mass situated at the warm side. Over the east Mediterranean, a quasi-stationary cut-off low is present.

DISCUSSION

Western Spain, eastern Bay of Biscay, south-western to northern France, Belgium, and north-western and northern Germany

A warm and moist air mass is affected by some frontogenetical forcing at the warm flank of the frontal zone. Model soundings indicate the presence of rather steep low-level lapse rates. Diurnal heating will increase these low-level lapse rates further to result in some 100 J/kg MLCAPE. During the day, a short-wave trough travels north-east across the British Isles and the North Sea, providing some QG lift. Expect that this supports the frontal zone and associated baroclinic circulation, storms are most likely to develop with the passage of the mid-level trough axis from northern France during noon to Belgium during afternoon and northern Germany in the evening.

Although CAPE is weak, and overall forcing is weak as well, storms that develop will likely organize in strong vertical wind shear. Long, straight hodographs will support both bew echoes and mesocyclones. The further can be expected since storm motion vectors are mostly parallel to the frontal zone with a chance of clustering of individual cells. Cold-pool driven storms will have a potential to produce severe wind gusts. However, mesocyclones are also not ruled out, with right-moving storms moving to the east of the frontal zone where they could stay isolated. 10+ m/s 0-1 km vertical wind shear and a moist low-level environment with rather warm downdrafts promote an environment supportive for tornadoes.

During the evening and night, low-level stabilization is expected and storms will gradually turn elevated. These elevated storms may spread further east towards the southern Baltic States during the night at the southern flank of the short-wave trough. Although the severe risk is low, isolated severe wind gusts are not ruled out.

Over western France and the Iberian Peninsula, QG forcing will be slightly stronger due to a slowly progressing mid-level trough from the west. Storm coverage is forecast to be slightly higher compared to the northern regions, whereas vertical wind shear is slightly weaker, especially at low levels. Still, storms will easily organize with some bow echoes and meesocyclones capable of producing severe wind gusts and tornadoes.

Crete

In the center of the Adriatic trough, models indicate skinny CAPe profiles in the moist and weakly sheared environment. Especially in the morning hours, expect storms over the southerh Adriatic Sea and Crete with a potential of waterspouts and heavy rain. Models indicate that storm coverage will decrease during the period.