Storm Forecast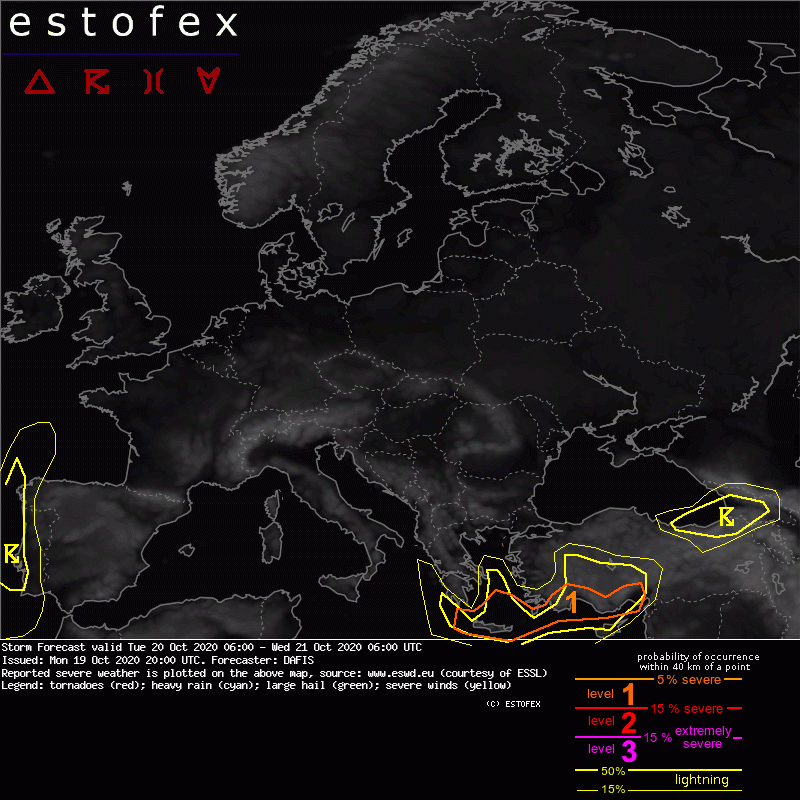 Storm Forecast
Valid: Tue 20 Oct 2020 06:00 to Wed 21 Oct 2020 06:00 UTC
Issued: Mon 19 Oct 2020 20:00
Forecaster: DAFIS
A level 1 has been issued for South Greece and South Turkey for excessive precipitation, large hail, and severe convective wind gusts.

SYNOPSIS

A Rossby wave train in North Hemisphere results in rapid weather changes over Europe. On Tue 20/10, a developing ridge in West Europe downstream of a deep trough in the Atlantic Sea will lead to the formation of a cut-off low over the Balkans. The well-defined polar front will be placed over Northern Europe, with a strong mid/upper-level jet stream. DMC events are expected mostly below the cut-off over the Aegean Sea and west from the Iberian Peninsula where an embedded short-wave trough provides lift to low-level unstable air masses.

DISCUSSION

.... South Greece, Cyprus, and South Turkey ....

There is a consensus among the available NWP models about the time of the cut-off formation in the afternoon on Tue 20/10 over Greece. A strong northerly flow starts to be established in the Aegean Sea, while the already strong southwesterly flow in the Levantine Sea is expected to intensify the following hours. This flow brings unstable air masses over Turkey where there is an important overlap of CAPE and DLS. Also in Southern Greece CAPE locally exceeds 1000 J/kg and DLS exceeds 20 m/s.

A level 1 area threat has been issued for the areas where we expect organized DMC events and perhaps a few supercells, but there is a high probability that the strongest storms will stay offshore. The main threats for South Greece will be excessive precipitation (especially in Crete island) and to a lesser extent large hail, and in South Turkey the main threats will be large hail and severe convective wind gusts. Numerous waterspouts are expected, especially under the core of the mid-level cold drop.