Storm Forecast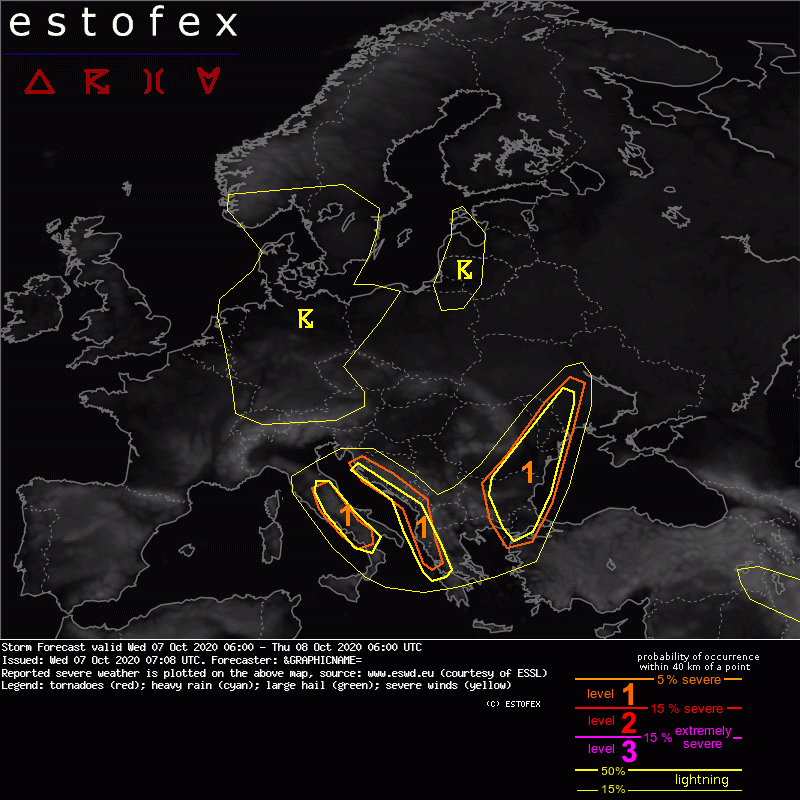 Storm Forecast
Valid: Wed 07 Oct 2020 06:00 to Thu 08 Oct 2020 06:00 UTC
Issued: Wed 07 Oct 2020 07:08
Forecaster: &GRAPHICNAME=
A level 1 was issued across central Italy mainly for tornadoes and severe wind gusts.

A level 1 was issued across eastern Adriatics and Ionian coastline mainly for excessive rainfall.

A level 1 was issued across eastern Bulgaria, Romania and Moldova mainnly for excessive rainfall and to the lesser degree for severe wind gusts and tornadoes.

SYNOPSIS

A deep mid to upper tropospheric trough is forecast to amplify over the central Mediterranean as its base crosses central Italy and moves towards southern Balkans. Pronounced synoptic-scale lift is expected ahead of the trough, as suggested by Q-vector convergence both at 500 and 300 hPa. Towards the surface, cyclogenesis is simulated over Serbia with surface low moving to Romania, strengthening the southerly 850 hPa flow ahead of the wavy frontal boundary. Another pronounced frontal boundary will cross the British Isles during the Wednesday night.

Associated with a deep trough over the Mediterranean, 3 areas may experience severe storms during the forecast period.

DISCUSSION

... Central Italy ...

Strong synoptic-scale lift will overspread a tongue of moister airmass with mixing ratios around 10 g/kg, which is being advected inland. This combination will yield marginal CAPE values with warm EL. Isolated to scattered storms are forecast to form due to the orographic lift along the coastlines. Forecast hodographs yield relatively linear vertical wind shear with 0-1 km shear values between 10 and 15 and 0-3 km shear between 15 and 20 m/s. A chance of tornadoes or severe wind gusts will exist with stronger storms that are able to use the ambient shear. Main activity will shift southward with time and diminish gradually after 15 UTC.


... Eastern Adriatic / Ionian coastline...

Same as over Italy, southward propagating storm activity is forecast. Lack of steep lapse rates precludes higher CAPE values, but marginal CAPE values in the warm part of the profile will enhance the threat of localized heavy rainfall. Storms will initiate near the coastline and move inland, weakening. It is possible that cell training will develop over certain areas.

... Eastern Bulgaria towards Romania and Moldova ...

Elevated storms are currently ongoing in the WAA regime over southern Ukraine. Storm activity may spread towards Moldova in the morning hours. As the storms allign parallel to the prevailing flow, cell training will be possible with a threat of heavy rainfall.

Further storms are expected to form in the late afternoon to evening hours, in conjunction with the approach of the trough and the surface cyclogenesis. Widespread storms are forecast to initiate along the Bulgarian / Romanian border in response to the strengthening of the 850 hPa low level jet that will cross the frontal boundary. Most of the storms will likely be elevated, posing threat of heavy rainfall as they move northward.

Towards the south, surface-baased storms may also develop with enhanced threat of severe wind gusts and tornadoes especially near the warm front, where models simulate enhanced vertical wind shear near the ground.