Storm Forecast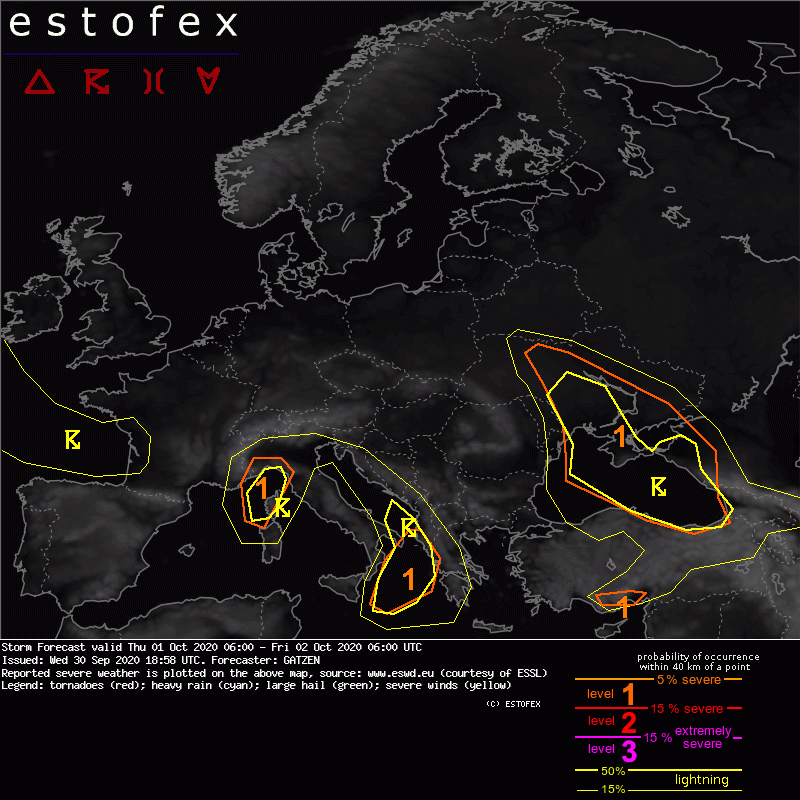 Storm Forecast
Valid: Thu 01 Oct 2020 06:00 to Fri 02 Oct 2020 06:00 UTC
Issued: Wed 30 Sep 2020 18:58
Forecaster: GATZEN
A level 1 was issued across south-eastern Russia and from southern to western Ukraine for heavy rain.

A level 1 was issued across the Ionian Sea into the southern Adriatic for heavy rain.

A level 1 was issued across the Ligurian Sea into southern France for heavy rain.

A level 1 was issued for southern Turkey mainly for large hail and heavy rain.

SYNOPSIS

A closed mid-level vortex centred across Romania is slightly connected to low geopotential across north-western Europe that steers it towards south-east Poland on Thursday. Cyclogenesis is expected over eastern Ukraine with a moist, slightly unstable air mass spreading from the Black Sea to the central Urkaine. Stable conditions are present in the range of mid-level ridging across northern Europe and at the anticyclonically sheared flank of the polar jet that affects parts of the Mediterranean. Late in the period, an intense digging short-wave trough rotates arounds the Atlantic vortex. Including very moist air masses, explosive cyclogenesis over the Bay of Biscay with a potentially dangerous storm ahead is still indicated by latest model runs.

DISCUSSION

Eastern Black Sea, south-eastern Russia and southern to western Ukraine

Ahead of the cyclogenesis across western Romania, an increasing south-easterly low-level flow evolves across south-eastern Russia and Ukraine. A band of rich low-level moisture will advect from the Black Sea towards western Ukraine. Some low-level convergence is expected in response to QG lift due to warm air advection.

Model soundings indicate that the moist air is slightly unstable with skinny CAPE profiles and rich low-level moisture. Additionally, high relative humidity is expected through-out the troposphere. Weak CIN and some low-level convergence along the land-sea-breeze are expected to support storms early in the forecast period across the Black Sea moving towards the shores of south-eastern Russia and southern Ukraine. Strong low-level flow is forecast to support backbuilding storms with a potential of heavy rain. During the day, diurnal heating will result in some more storms forming across the Ukraine. Again, humid profiles and backbuilding is excpected to support heavy rain until the storms weaken late in the period, whereas continuing activity is forecast across the Black Sea.

Southern Turkey

A short-wave trough travels across Turkey with the strong mid-level flow. Some QG lift is expected during the day. Focus for local initiation is the sea-breeze convergence over southern Turkey where rich moisture spreads onshore. Weak CIN and high CAPE are present, together with strong deep-layer shear and straight hodographs. Therefore, initiation is not ruled out with storm organization to multicells and supercells. Large hail and heavy rain is the main threat with these storms. In the evening, storms will rapidly decay as mid-level subsidence and low-level stabilization is expected.

Central Mediterranean

A mid-level short-wave trough travels rapidly across the central Mediterranean during the day. QG lift affects a moist and unstable air mass with rather weak CIN across the Ionian Sea in the evening and night hours. Storms are forecast to initiate during the evening that will likely cluster ahead of the short-wave trough. Vertical wind shear is string enough for multicells, and heavy rain is expected until the end of the period.

Southern France to north-western Italy

Ahead of the digging trough over the Bay of Biscay, a strong low-level southerly flow evolves across the west Mediterranean, with a convergence zone almost parallel to the flow. Especially over the Ligurian Sea, low-topped CAPE is expected due to rich low-level moisture and modest lapse rates. Backbuilding storms are forecast capable of producing heavy ain until the end of the period.

Bay of Biscay

Explosive cyclogenesis is forecast at the end of the period. Latest models indicate that steep lapse rates at the cyclonically sheared flank of the mid-level jet will not overlap with rich moisture at low-levels. Current thinking is that a strongly-forced convective line will not develop along the cold front. However, the situation needs to be monitored, since very strong vertical wind shear can result in a severe narrow cold-frontal rain band with high winds and tornadoes in case of an sufficient overlap of moisture and lapse rates.