Storm Forecast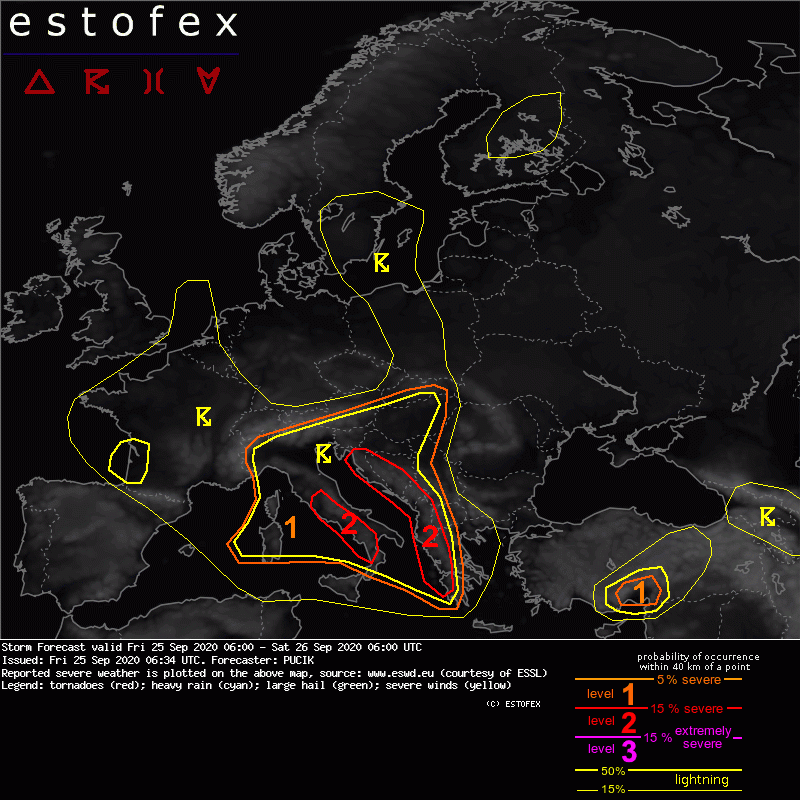 Storm Forecast
Valid: Fri 25 Sep 2020 06:00 to Sat 26 Sep 2020 06:00 UTC
Issued: Fri 25 Sep 2020 06:34
Forecaster: PUCIK
A level 2 was issued across parts of western Italy and western Balkans mainly for excessive rainfall, large hail, tornadoes and severe wind gusts.

A level 1 was issued across northern Italy, Slovenia, southeastern Austria, Hungary and southern Slovakia mainly for excessive rainfall.

A level 1 was issed across southern Turkey for excessive rainfall.

SYNOPSIS and DISCUSSION

A strongly-forced and strongly-sheared synoptic-scale regime will dominate the weather pattern over the central Mediterranean during the forecast period as a deep trough overspreads the area. At the surface, moist airmass is present ahead of an advancing cold front. Combined with a plume of steep lapse rates that has been advected from northern Africa, moderate to high buoyancy is forecast across the Mediterranean and adjacent coastlines, with MLCAPE values between 1 and 3 kJ/kg of MLCAPE. 00 UTC Pratica di Mare has sampled the environment that is expected ahead of the convective storms with MLCAPE exceeding 1000 J/kg and 0-6 km bulk shear over 25 m/s.

As the strong synoptic-scale lift overspreads region, gradual increase in convective coverage is forecast from west to east of the highlighted area. One or more convective systems will develop along the western Italian and the Adriatics coastline, propagating southwards. These systems will be capable of all kinds of severe weather threats, though heavy rainfall will be the dominant one. Large to very large hail can be expected especially in the early stages of convective development, when steep lapse rates are still present in the environment and storms are more isolated. (Strong) tornado threat will be maximized over western Albania and northwestern Greece in the evening hours, when simulated hodographs reveal presence of strongly curved hodographs with 0-3 km SRH values exceeding 400 m2/s2. Tornado threat will depend also on whether isolated supercells will manage to form ahead of the southward propagating MCSs.

Towards north, elevated storms are forecast to form from northern Croatia towards southern Slovakia in strong WAA regime ahead of the trough and advancing front. The highest activity is forecast in the evening hours and the primary threat will be excessive rainfall.