Storm Forecast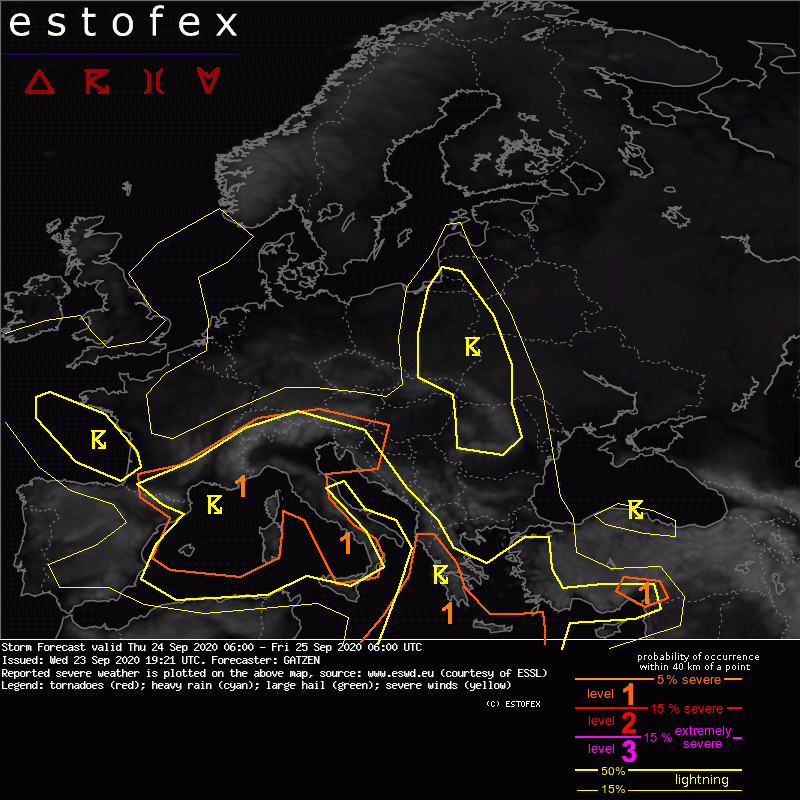 Storm Forecast
Valid: Thu 24 Sep 2020 06:00 to Fri 25 Sep 2020 06:00 UTC
Issued: Wed 23 Sep 2020 19:21
Forecaster: GATZEN
A level 1 was issued across the Ionian Sea, western and southern Greece and southern Albania for extreme rainfall, large hail, and severe wind gusts.

A level 1 was issued across southern Turkey for large hail.

A level 1 was issued across the west Mediterranean, southern France, northern an western Italy, northern Balkans, and southern Alps for extreme rain and severe wind gusts.

SYNOPSIS

Between a ridge across eastern Europe and an amplifying trough across western Europe, a broad delta flow regime is present, with the main jet extending across the Mediterranean. An embedded short-wave trough travels into the east Mediterranean. Upstream ridging affects the western and central Mediterranean ahead of the amplifying trough that increasingly affects western Europe at the end of the period.

Rich boundary layer moisture is present across the Mediterranean that partly overlaps with modest lapse rates and moderate vertical wind shear. Farther north, CAPE is limited over most places what reduces the overall severe weather risk.

DISCUSSION

East Mediterranean

High CAPE up to more than 3000 J/kg are expected across the Ionian Sea ahead of the progressing short-wave trough. In the morning hours, the trough enters the east Mediterranean, where less moisture is present and CAPE will be significantly weaker. Additionally, vertical wind shear are expected to decrease gradually to 15 m/s deep-layer shear. Multicells are forecast to develop, posing a threat of severe wind gusts, excessive rain, and locally large hail. Best potential for large hail exists across southern Turkey, where large CAPE in the hail growth layer is expected.

In the wake of the torugh axis, mid-level subsidence will result in weakening lapse rates. At low-level, advection of drier air will reduce CAPE further. Therefore, severe weather threat is forecast to cease during the period.

West Mediterranean to Alps and northern Balkans

Ahead of the amplifying trough, a short-wave trough travels eastward across the west Mediterranean during the day. Along with increasing warm air advection, a frontal zone will intensify over the area. The frontal lift will support increasing convective activity during the day. Given very moist profiles with skinny CAPE and a deep warm layer, effective warm rain process is expected with storms that form. Increasing lift in the late forecast period and upslope flow will additionally support intense rain within the level 1 area. Additionally, 0-3 km shear around 15 m/s can support some bowing lines capable of producing severe wind gusts.

Bay of Biscay

Thunderstorms are expected to develop in strong background flow. Severe wind gusts are likely, however, weak CAPE and limited vertical wind shear are forecast and storms are not expected to increase the severe weather threat significantly.