Storm Forecast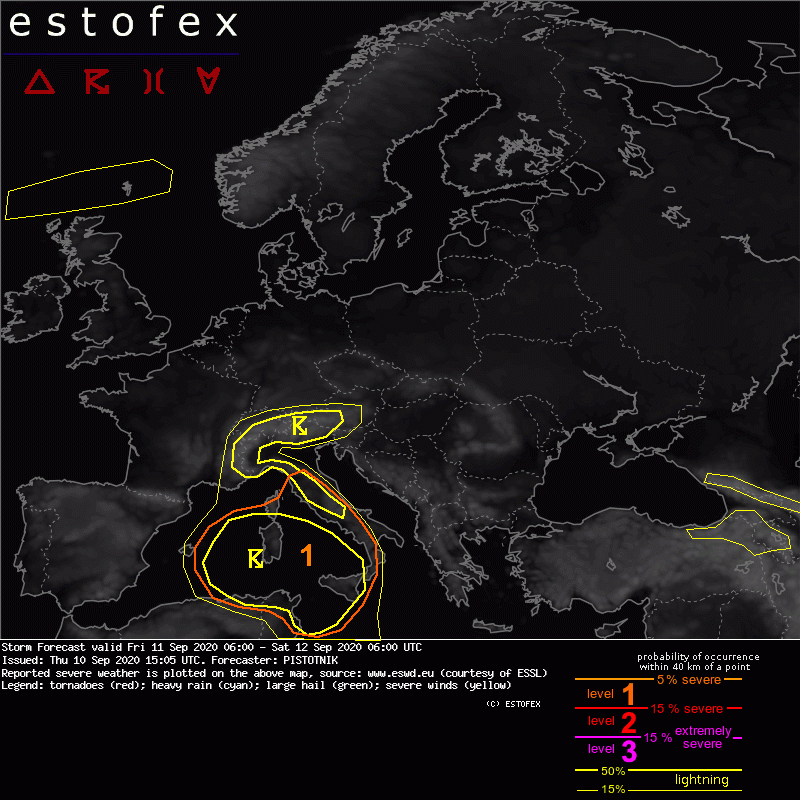 Storm Forecast
Valid: Fri 11 Sep 2020 06:00 to Sat 12 Sep 2020 06:00 UTC
Issued: Thu 10 Sep 2020 15:05
Forecaster: PISTOTNIK
A level 1 is issued for the west-central Mediterranean region for excessive convective precipitation, non-supercellular tornadoes (waterspouts), and to a lesser degree for large hail and severe convective wind gusts.

SYNOPSIS

The northern half of Europe is under a strong westerly flow with a series of embedded short-wave troughs and attendant frontal systems, but without deep convection. The southern half lies under quiescent late summer conditions and very warm air. An upper-level cold drop near Sardegna destabilizes this airmass.

DISCUSSION

... west-central Mediterranean region ...

Cold mid-level air on top of very warm sea surfaces creates moderate to high CAPE (even 3500 J/kg according to the Thu 12 UTC Trapani sounding), though heavy convective overworking acts to reduce it. Scattered to widespread thunderstorms will be active and circle around the cut-off low throughout the forecast period. The main risks are excessive rain and waterspouts, which could spin up along various convergence zones, in particular outflow boundaries and nocturnal land breeze fronts. It is not ruled out that some coastal areas (e.g., E Sardegna or NE Algeria) could see a higher density of heavy rain events with dangerous flash floods, but weak synoptic lift and a lack of obvious hot spots precludes a level 2.
Moderately enhanced deep-layer shear (10-15 m/s) and steepening lapse rates over land due to daytime heating may regionally enhance the risk of large hail and severe downbursts a bit, mostly along the north coast of Sicily and the west coast of the Italian mainland.