Storm Forecast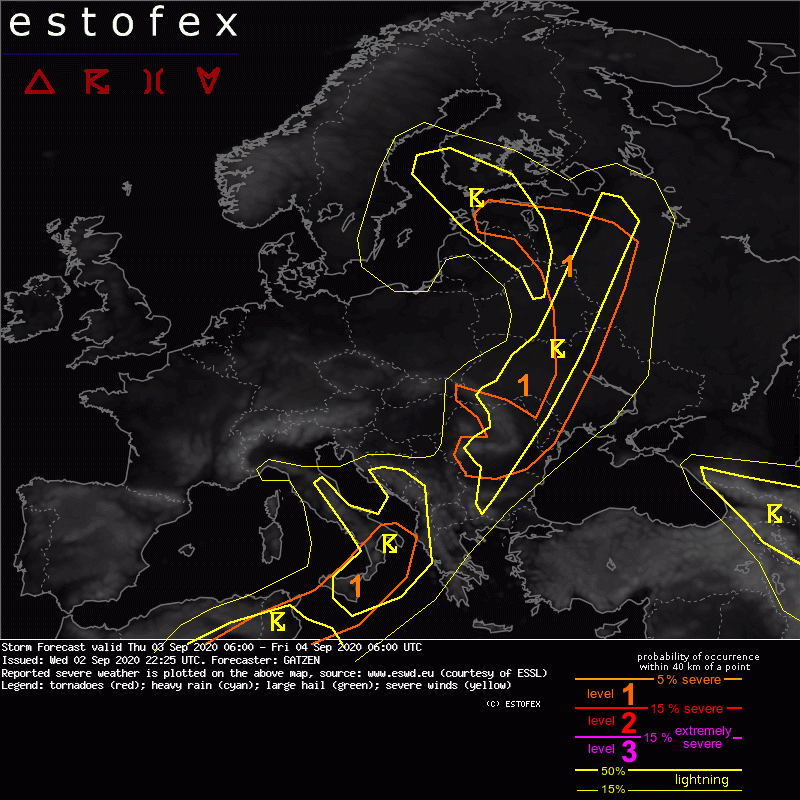 Storm Forecast
Valid: Thu 03 Sep 2020 06:00 to Fri 04 Sep 2020 06:00 UTC
Issued: Wed 02 Sep 2020 22:25
Forecaster: GATZEN
A level 1 was issued across Estonia, western Russia, east Belarus, central Ukraine and Romania mainly for severe wind gusts and large hail.

A level 1 was issued across northern Tunisia and Algeria into southern Italy mainly for excessive rain and severe wind gusts.

DISCUSSION

A trough axis extends from the Baltic Sea towards the central Mediterranean and progresses eastwards. A frontal zone stretches ahead of this trough from northern Africa to southern Italy, central Balkans, Ukraine and farther to north-western Russia. A plume of steep lapse rates is present ahead of this frontal zone and partly overlaps with enhanced low-level moisture. Cool air spreads into northern and central Europe. At the same time, a unseasonably heat wave affects Syria and surroundings.

DICSUSSION

Main convective activity is expected along the warm flank of the advancing frontal boundary. In the morning, some partly elevated storms will likely go on across Estonia towards western Urkaine and Romania. Storms are forecast to redevelop along the colf front during the day, affecting Ukraine, Belarus, and western Russia. The storms potentially merge along their cold pools given front parallel flow and strong 0-3 km shear of 15 m/s. Severe wind gusts will be the dominant threat. Additionally, large hail is expected with isolated storms that can become supercells in 20 m/s 0-6 km shear. Cold frontal convection is forecast to go on into the night with the severe threat slowly decaying due to low-level stabilization.

Central Mediterranean into northern Africa

Models agree in convective storms forming in the baroclinic zone across the Mediterranean and the Atlas mountains. Lapse rates are rather poor, and CAPE will be limited. However, strong deep layer shear supports some well-organized storms capable of large hail and excessive rain.