Storm Forecast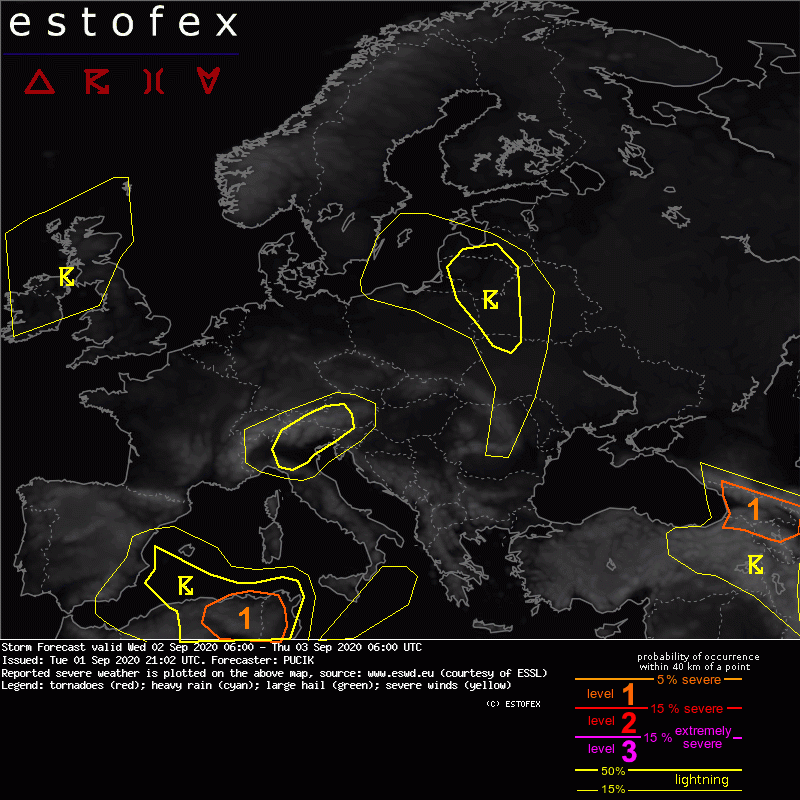 Storm Forecast
Valid: Wed 02 Sep 2020 06:00 to Thu 03 Sep 2020 06:00 UTC
Issued: Tue 01 Sep 2020 21:02
Forecaster: PUCIK
A level 1 was issued across E Algeria and W Tunisia mainly for excessive rainfall, large hail and severe wind gusts.

A level 1 was issued across Caucasus mainly for excessive rainfall, severe wind gusts and large hail.

SYNOPSIS and DISCUSSION

A complex synoptic scale pattern is forecast across Europe during the forecast period. At mid to upper troposphere, a deep low will cover much of Central Europe, its trough stretching into Italy and northern Africa. In between, a ridge will stretch into France and across W Russia into Finland. A small-scale trough is also forecast over Caucasus region. Closer to the surface, main frontal zone will run from Romania through W Ukraine and Belarus into the Baltics. NWP simulates MLCAPE values around 1000 J/kg, combined with moderate vertical wind shear across the warm sector over Belarus. However, initiation is very questionable and most of the storms are simulated to be of elevated nature on the cool side of the front. Thus, no Lvl has been issued here.

Mostly non-severe storms are also forecast over northern Italy and the Alps, their intensity limited primarily by very skinny CAPE profiles. More intense storms are forecast across parts of northern AFrica, where 0-6 km shear around 20 m/s may allow for some well-organised multi or supercells capable of various severe weather threats. Weaker shear, but higher CAPE is simualted across Caucasus, where stronger multicell clusters may be capable of large hail, excessive rainfall or downbursts.