Storm Forecast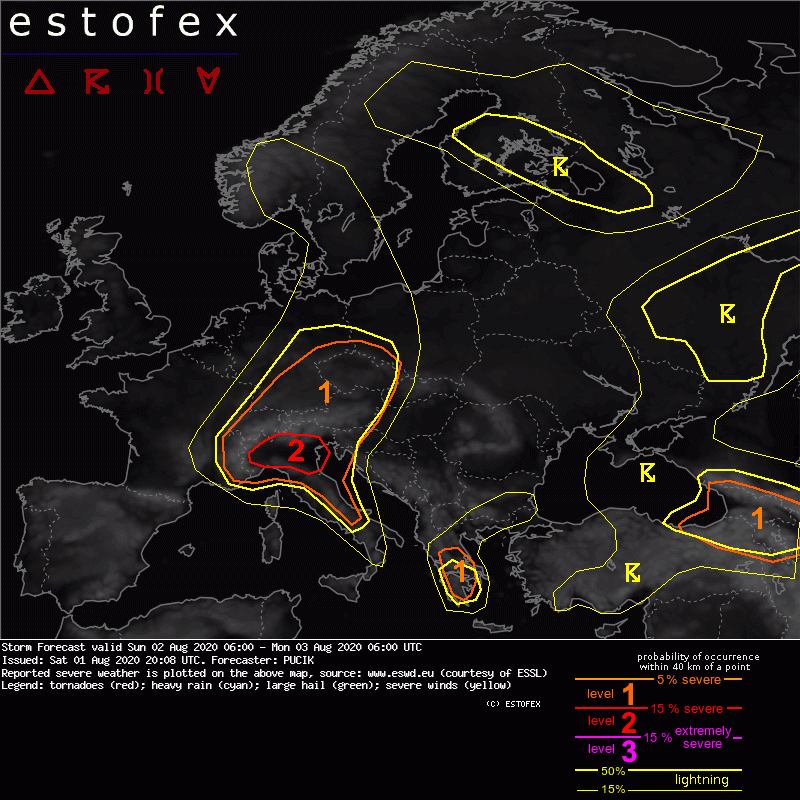 Storm Forecast
Valid: Sun 02 Aug 2020 06:00 to Mon 03 Aug 2020 06:00 UTC
Issued: Sat 01 Aug 2020 20:08
Forecaster: PUCIK
A level 2 was issued across northern Italy for excessive rainfall, large to very large hail and severe wind gusts.

A level 1 was issued across the Alpine range, Appenines, southern / southeastern Germany and the Czech Republic mainly for excessive rainfall, large hail and severe wind gusts.

A level 1 was issued across Greece mainly for excessive rainfall and large hail.

A level 1 was issued across the western Black Sea and the Caucasus region mainly for excessive rainfall and large hail.

SYNOPSIS

At mid to upper troposphere, two main macrosynoptic features will be a large cyclonic vortex over the northern Atlantic and a deep trough over eastern Europe, stretching into the Black Sea and northern Turkey, curving towards Greece. In between, a subtle ridge will cover parts of the Balkans and Central Europe. Much of the convective activity during this period will be confined to:

1. A cold front crossing the Alpine range and Central Europe with moist airmass ahead of it.

2. Underneath the trough over parts of eastern Europe and a subtle cold front crossing Russia.

DISCUSSION

... Northern Italy ...

Very moist airmass with mixing ratios between 12 and 16 g/kg will be in place across the area in easterly to southeasterly flow close to the ground. Combined with modest mid-tropospheric lapse rates between 6 and 6.5 K/km, 1500 to 3000 J/kg of MLCAPE will be available in the afternoon hours. Convective initiation is forecast along the mountains and also along the outflow boundaries associated with overnight and morning convection. Coverage is forecast to increase rapidly towards the evening hours with low-level frontogenesis as hinted by Q-vector convergence at 850 hPa in most of the models.

With 0-6 km bulk shear values mostly between 10 and 15 m/s, storms will be organised mostly as multicells, albeit supercells will be possible over the western part of the area, where shear will be stronger. Large to even very large hail will be possible with the transient supercells. As storm coverage and their interaction increases towards the evening and night hours, it is likely that an MCS will form with a threat of very heavy rainfall (given high amount of moisture available) and also isolated severe wind gusts. The rain threat will be exacerbated by the wind profile - models simulate easterly flow near the surface, switching to westerly with height and yielding mean cell motion of only around 5 m/s. Thus, the heavy rain cores could potentially remain over one location for long time.

... Northern Alpine area, Germany, Austria, Czech Republic ...

Compared to Italy, less moisture is forecast across this region and MLCAPE values will stay mostly in the range of 500 to 1500 J/kg. Vertical wind shear will increase from east towards southwest. Over southwestern Germany and Switzerland, 0-6 km bulk shear around 15 m/s points to a possibility of transient supercells. Otherwise, multicells will be the dominant convective type. Convective initiation will be tied to local orography and to the eastward advancing front. In general, storm activity will spread from west to east during the day and eastern Czech Republic / eastern Austria will experience most storms in the overnight hours. Primary threat will be excessive precipitation, but large hail and isolated severe wind gusts will also be possible with stronger cells.

... Greece ...

Diurnally-driven storms are forecast to develop along the mountainous areas of Greece in the early afternoon hours. Forecast profiles reveal substantial buoyancy with large accelerations through the hail growth zone, increasing the threat of large hail with stronger cells. Due to the slow storm motion, excessive rainfall will also be possible.

... Eastern Black Sea to Caucasus region ...

Pronounced short-wave trough is forecast to approach the region, providing strong synoptic-scale lift. Storms may already be ongoing along the eastern Black Sea coastline in the morning hours. Forecast profiles indicate very moist troposphere with high risk of heavy rainfall. Waterspouts may occur as well given large low-level buoyancy. Storm activity will shift eastwards during the day and with increasing shear, storms will be organised into multi and supercells. These will be capable of large hail and severe wind gusts.