Storm Forecast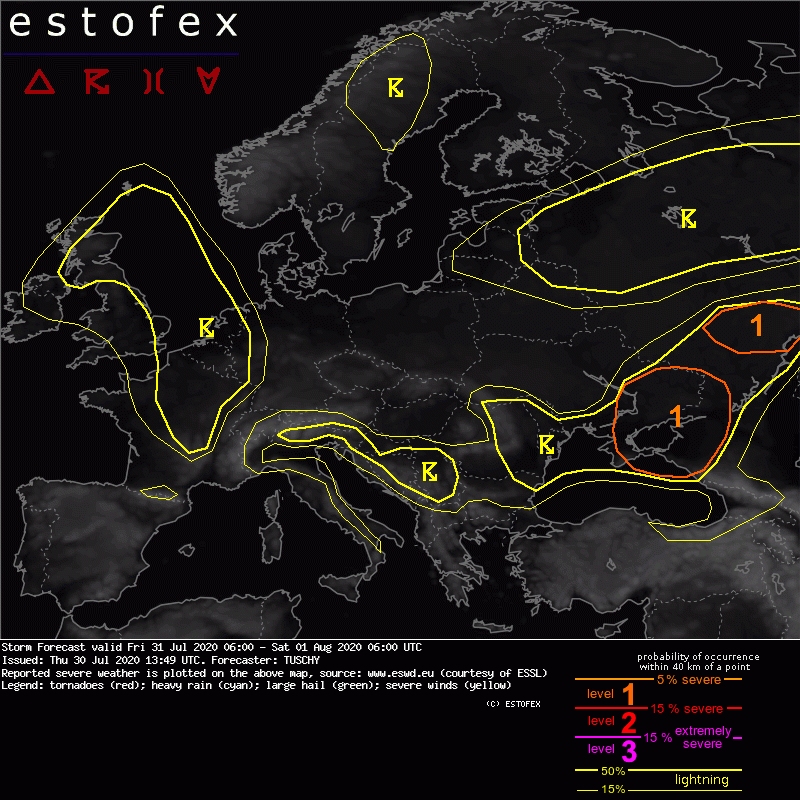 Storm Forecast
Valid: Fri 31 Jul 2020 06:00 to Sat 01 Aug 2020 06:00 UTC
Issued: Thu 30 Jul 2020 13:49
Forecaster: TUSCHY
A level 1 was issued across parts of the S/E Ukraine and S/W Russia mainly for large hail, severe wind gusts and heavy rain.

SYNOIPSIS

Seasonable 596 gpdm subtropical ridge is centered over Morocco/Algeria with ridging pointing north towards CNTRL Europe. Despite slightly positive geopotential height anomalies this ridge is only a transient feature and starts to weaken during the night. In addition, weak IPV anomalies cross the ridge with the somewhat stronger feature moving SE over the NW Balkans. A stronger disturbance over S-CNTRL France moves NE while weakening/getting distorted in a diffluent flow regime over Benelux and the French/German border.
An extensive cyclonic vortex sits over far NW Russia with a short wave entering its SW flank and causing a progressive and eastbound moving/amplifying trough over parts of E-Europe. Both, the wrap-around occlusion and an eastbound moving wavy frontal zone spark numerous showers and thunderstorms, especially over parts of the Ukraine, where ineraction with a moist/unstable air mass is expected.

Another surface front of interest is a gradually eastward moving cold front over W/NW Europe with a prefrontal wind shift line/convergence zone, which affect France/Benelux during the night.


DISCUSSION

...E/S Ukraine to S Russia ...

An approaching and intensifying upper trough plus a lingering and later in the day SE-ward pushing cold front add enough forcing/lift on the synoptic-scale to expect scattered to widespread CI. Air mass features meager lapse rates but LL mixing ratios in excess of 12g/kg result in 1-1.5 kJ/kg MLCAPE. DLS increases from 15 to 20 m/s during the day. Forecast hodographs ahead of the cold front aren't so suspicious with modest length and only weak curvature just along the frontal boundary. Also a rapid loss of shear to the south is noted. Hence expect multicells/isolated supercells to develop over and east of the Denieper Lowland to the Sea of Azov with gradual upscale growth into a cluster of thunderstorms.
During the night, thunderstorms enter the southern part of the Sea of Azov and the western part of S-Russia and that's the time frame, where hdographs show more curvature in response to the approaching and strengthening trough. This area will probably see the best probabilities for rotating updrafts despite shear magnitude on the marginal side for longer-lived events.
Overall, isolated large hail and strong to severe wind gusts next to heavy rain will be the main issue and hence a broad level 1 was issued.

Same for convection developing over the Carpathian Mountains before noon, which move SE thereafter towards the Black Sea. Worse CAPE/shear interaction kept this activity below a level 1 threshold for now.

A second level 1 was added to the NE, where some models like ICON show a temporal near surface based and weakly capped environment during noon/afternoon with strong DLS (around 20 m/s) and up to 1000 J/kg MLCAPE. A few organized thunderstorms with hail and severe wind gusts area forecast. Risk remains conditional and depends on magnitude of low tropospheric moisture advection.

... CNTRL to NW Russia ...

Weak shear/modest SBCAPE setup with weak CIN indicates early CI with widespread activity. Despite isolated heavy rainfall risk with merging cells and due to slow motion no further severe risk is forecast (although MUCAPE up to 1000 J/kg could support isolated hail and strong wind gusts on an isolated scale).

... Alps to the Dinaric Alps ...

Placed along the fringe of the highest geopotential heights, crossing impulses add some weak input for regionally enhanced orographic activity. Overall activity should be of pulsating nature with a rapid decay when leaving the orography and entering the CIN loaden environmental air mass. Bursts of heavy rain and isolated large hail/severe wind gusts are possible with thick mid-level CAPE profiles.

E/SE Bosnia and Herzegovina, Serbia and Montenegro could see a nocturnal upscale growth into a loosely organized cluster (heavy rain and a temporal strong / cold pool driven gust threat). Not enough to go with a level area.

... N France, Benelux, W-Germany, Scotland, UK and parts of the North Sea ...

Interaction of a large-scale upper trough over far NW Europe with a N ward fanning MUCAPE plume results in enhanced thunderstorm probabilities over an extensive area with ongoing model discrepancies. Best chances for scattered and elevated nocturnal activity should arise where synoptic-scale lift will be the strongest, e.g. over Scotland and along the E-coast of UK/offshore. Nothing severe is forecast.
Further S/SE, activity is more linked to the cold front and/or a prefrontal wind shift line/convergence zone, so isolated to scattered nocturnal thunderstorms are possible over parts of Benelux and W-Germany. Not a lot of shear to work with so sub-severe activity is forecast with spotty heavy rainfall reports due to slow storm motion.
Of interest is the mentioned IPV max, which crosses the area during the evening and overnight hours. Dependant on its strength, enough background support may assist in the development of smaller and slow moving clusters with heavy rain and isolated hail/strong wind gusts. CAMs hint on that with global models remaining reluctant for now, so just expanded the 50% lightning probability substantially over France and Benelux to account for that possibility.