Storm Forecast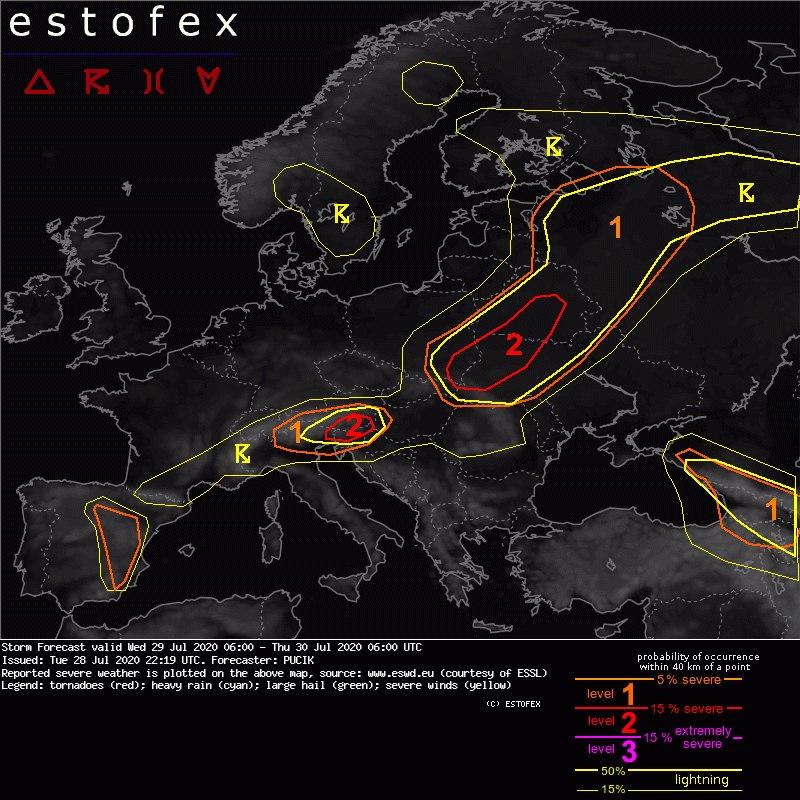 Storm Forecast
Valid: Wed 29 Jul 2020 06:00 to Thu 30 Jul 2020 06:00 UTC
Issued: Tue 28 Jul 2020 22:19
Forecaster: PUCIK
A level 1 was issued across parts of Spain mainly for severe wind gusts and large hail.

A level 2 was issued across southern Austria and northern Slovenia mainly for large to very large hail, severe wind gusts and excessive precipitation.

A level 1 was issued for the Alpine range mainly for large hail, excessive precipitation and severe wind gusts.

A level 2 was issued across southeastern Poland, northwestern Ukraine and southern Belarus mainly for large hail, severe wind gusts and excessive precipitation.

A level 1 was issued across northern Belarus and Russia mainly for excessive rainfall, severe wind gusts and to the lesser degree for tornadoes.

SYNOPSIS

At the time of forecast writing (Tuesday 21 UTC), a broken line of storms is advancing eastwards in a belt from NE Austria through Slovakia and Poland into the Baltics. This activity is tied to moist and warm airmass ahead of an advancing cold front. By Wednesday morning, the cold front will stretch approximately from the Baltics through Belarus, SE Poland into Slovakia and then across the Alpine range. Moist airmass with mixing ratios in between of 10 to 14 g/kg will be still present ahead of the front. A short-wave trough, tied to a deep cyclonic vortex centered over Sweden, is forecast to move from Poland towards the Baltics, Belarus and Russia. This means that the front will move fast over the northern part of Europe, but is foreast to stall near the Alps. Another trough is forecast to cross the Caucasus region and will also be accompanied by the thunderstorm activity.

DISCUSSION

... Spain ...

A thermal low is forecast to develop over the mainland with easterly upslope flow advecting modest lower tropospheric moisture towards the mountains. Forecast soundings reveal impressively deep layer of steep lapse rates exceeding 7.5 K/km along with deep boundary layer. Rather high LCL and LFC heigths are forecast which combined with steep tropospheric lapse rates may yield relatively powerful udprafts, should convective initiation succeed. Indeed, convective initiation remains the largest unknown in this scenario. Should storms form, they will be capable of primarily severe wind gusts (given high DCAPE values) and perhaps also of large hail (given large buoyancy through hail growth zone). A level 1 is introduced to encompass this risk.

... Alpine range and adjacent foothills...

As the frontal boundary stalls over the range, diurnal heating of moist airmass will yield 1000 to 2000 J/kg of MLCAPE along the southern slopes of the Alps by the afternoon hours. Storms will be initiated by an upslope flow forced by the heating of the slopes. Well organised storms, including supercells are forecast given the combination of weak southeasterly surface flow with 15 to 20 m/s of westerly flow near 500 hPa. Large to very large hail, as well as isolated severe wind gusts and excessive rainfall may accompany these storms. A level 2 is introduced in the corridor, where convection allowing models simulate the highest likelihood of supercell tracks.

... Eastern Slovakia into Russia ...

NWP models are in good agreement regarding simulating scattered to widespread convective precipitation in this region ahead of the advancing cold front. The steepest lapse rates, as well as the strongest deep-layer shear is forecast over the southern part of the area, whereas the strongest lower tropospheric shear, as well as the lowest cloud bases are forecast in the northern part of the highligthed belt. In general, threat of large hail and severe wind gusts will increase towards south, whereas threat of tornadoes will increase towards north.

Least uncertainty regarding the coverage of convective storms is anticipated over the northern part of the area, in conjuction with the approach of the mid to upper tropopsheric trough and a lift provided by the fast moving front. Higher uncertainty is anticipated over south, where the development may be heavily influenced by the extent of the overnight and morning convection, as well as the associated outflow boundaries.

A level 2 was deliberated and has been issued despite the uncertainty for the area with the relatively high likelihood of initiation success in combination with DLS approaching 25 m/s. Morning forecast data should be studied closely in order to refine the area with the highest threat.

... Northeastern Turkey to Cacuasus region ...

Isolated severe storms are forecast over this region in an environment of strong shear and deep, well mixed boundary layer with steep lapse rates over the southern part of the highlighted area. Here, severe wind gusts and large hail will be the dominant severe weather threats. Shear is forecast to decrease towards north, yielding less organised, but more slowly moving storms that may deliver heavy precipitation.