Storm Forecast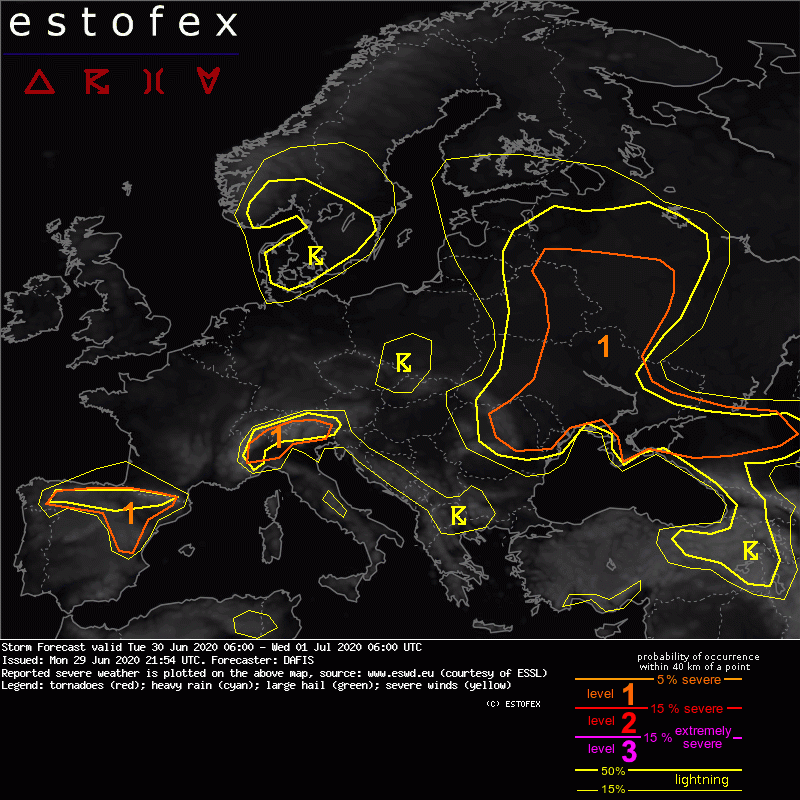 Storm Forecast
Valid: Tue 30 Jun 2020 06:00 to Wed 01 Jul 2020 06:00 UTC
Issued: Mon 29 Jun 2020 21:54
Forecaster: DAFIS
A level 1 was issued for parts of Spain and Andorra mainly for severe wind gusts and large hail.

A level 1 was issued for N Italy, S Switzerland and W Austria mainly for large hail and severe convective wind gusts.

A level 1 was issued for parts of Romania, Moldova, Ukraine, Belarus and Russia for large hail, severe wind gusts, excessive precipitation and to a lesser extent, tornadoes.

SYNOPSIS

A cut-off low over the UK and an accompanied shortwave trough to the SE from its centre are the main synoptic features of this outlook. The interaction of cold polar air masses in N Europe with an intensifying ridge in the Mediterranean results in strong baroclinicity and the development of a jet stream over West-Central Europe. Another weak shortwave trough is expected to cross the Iberia Peninsula, destabilizing the conditionally unstable environment. At the surface, a cold front is crossing Eastern Europe during the night of Monday 29/06 and will continue to propagate east during this outlook.

DISCUSSION

.... Spain and Andorra ....

WAA is forecast on Tue 30/06 that will create a strong cap over Spain, but at the same time, a weak shortwave trough will cross the area from the west. Along with diurnal heating, the synoptic lift creates questionable conditions for CI. We expect that a few storms will develop on mountains and into this volatile environment they may pose a threat for severe weather events. The storms that will develop above the well-mixed PBL will get benefit from steep mid-level lapse rates and CAPE up to 2000 J/kg. In addition, strong DLS can contribute to the development of large hail and high cloud bases show favorable conditions for accelerating downdrafts. Only a 1evel-1 level threat was issued due to the limited confidence for widespread CI, otherwise, conditions would justify a level-2 level threat.

.... N Italy, S Switzerland and W Austria ....

Storms driven by diurnal heating mainly over the Alps are expected, a regular sight this time of the year. But, given the upper-level strong wind field configuration, DLS exceeds 15 m/s and overlaps with several hundreds of CAPE. Storms will be able to organize in small clusters and create large hail and/or severe wind gusts. In NW Italy also locally excessive precipitation cannot be ruled out due to high PWAT.


.... Romania, Moldova, Ukraine, Belarus and Russia ....

As an active cold front moves to the east, it will find unstable air masses in East Europe with high values of low-level moisture. Adding the solar heating in the afternoon on Tue 30/06 ahead of the front, an increase of its speed is expected as the pressure gradients increase. Excessive precipitation events are expected along the cold front as the DLS vector in a small angle with the low-level boundary suggests that storms will be able to organize in a linear pattern. Severe wind gusts and brief tornadoes cannot also be ruled out.