Storm Forecast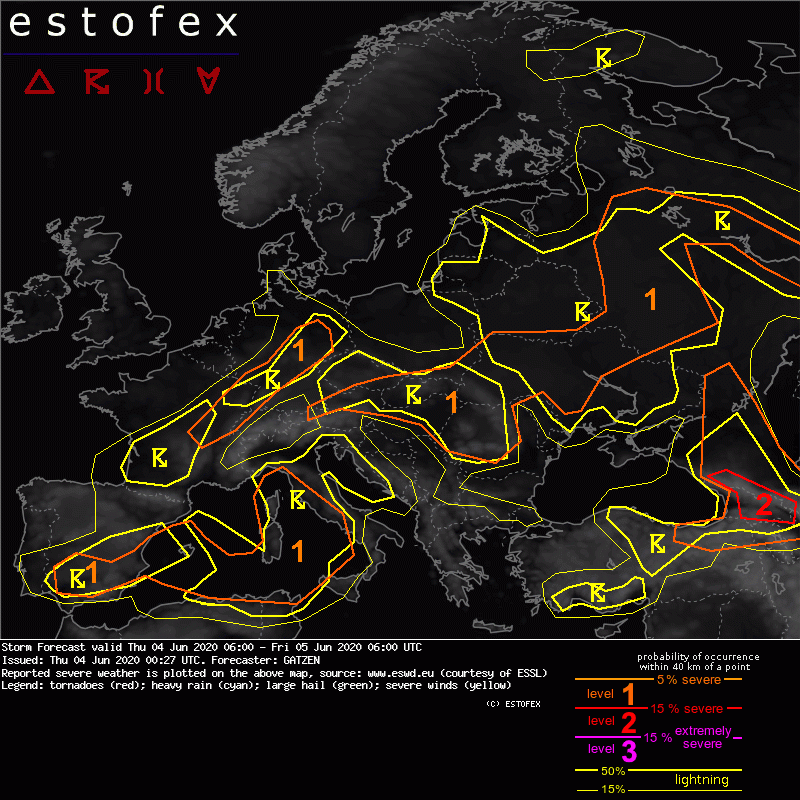 Storm Forecast
Valid: Thu 04 Jun 2020 06:00 to Fri 05 Jun 2020 06:00 UTC
Issued: Thu 04 Jun 2020 00:27
Forecaster: GATZEN
SYNOPSIS

Across eastern Europe, a weakening trough has started to lift towards western Russia. A 20 m/s mid-level jet curves around the periphery of this trough from the west Ukraine tot he southern Black Sea and then northward across southern into western Russia. Well-developed short-waves are embedded in the flow that will affect western Russia and the east Ukraine and southern Russia. A sharp ridge extends from the Balkans towards the southern Baltic Sea. Western Europe is affected by an intense trough centred across the North Sea and a sharp trough rotating around it. Ist axis will cross France and eastern Spain in the morning and moves across the west Mediterranean, Alpinde region, and Germany until the end of the period. At lower levels, a cold front progresses across the west Mediterranean and into Germany during the day. The axis of warmer air is expected from the Balkans tot he eastern Alps and east Germany during the noon. Another frontal system spreads across western Russia.

DISCUSSION

Georgia and surroundings

A well-develop jet streak affects the eastern Black Sea region during the day. East of a surface low warm air spreads north ahead of a cold front. Diurnal heating will create CAPE in the order of 1000 J/kg given rather moist low-level air and thunderstorms are forecast over the mountains. Strong deep-layer shear will support supercells capable of large hail. Additonally, storms that move into the low lands will be capable of severe winds due to deep boundary layer mixing, and the formation of MCSs and bow echoes is possible later in the period.

East Hungary, western Romania

In the wake of a east-European trough, warm air advection sets in across the region, with a warm front moving north-east of the Balkans. Low-level moisture will be maximized to the north of this warm front where it overlaps with steep lapse rates. Additionally, forecast soundings indicate strong low-level shear with curved low-level hodographs. Since deep-layer shear is around 15 m/s, most storms are expected to be multicells, however, supercells are possible where topography modifies the low-level wind field. Supercells will be capable of large hail and severe wind gusts as well as tornadoes. The main limiting factor for tornadoes is the relatively high cloud base that is around 900 m, however, a few events are forecast if storms will stay discrete along the warm front.

East Germany

Along the convergence zone, some flash floods are expected due to storms moving along the convergence within skinny CAPE profiles and moist air masses.

West Mediterranean

High shear and substantial CAPE is expected ahead of the cold front during the night. Storms are forecast to develop into clusters with embedded multicells and supercells, capable of large and locally very large hail.

Level 1 areas across Spain, France, SW Germany, Austria, Slovakia, Ukraine, Russia

In rather strong deep layer shear, storms are forecast to organize into multicells and some supercells. Main severe potential is large hail. Locally, severe wind gusts and excessive rain are also forecast.