Storm Forecast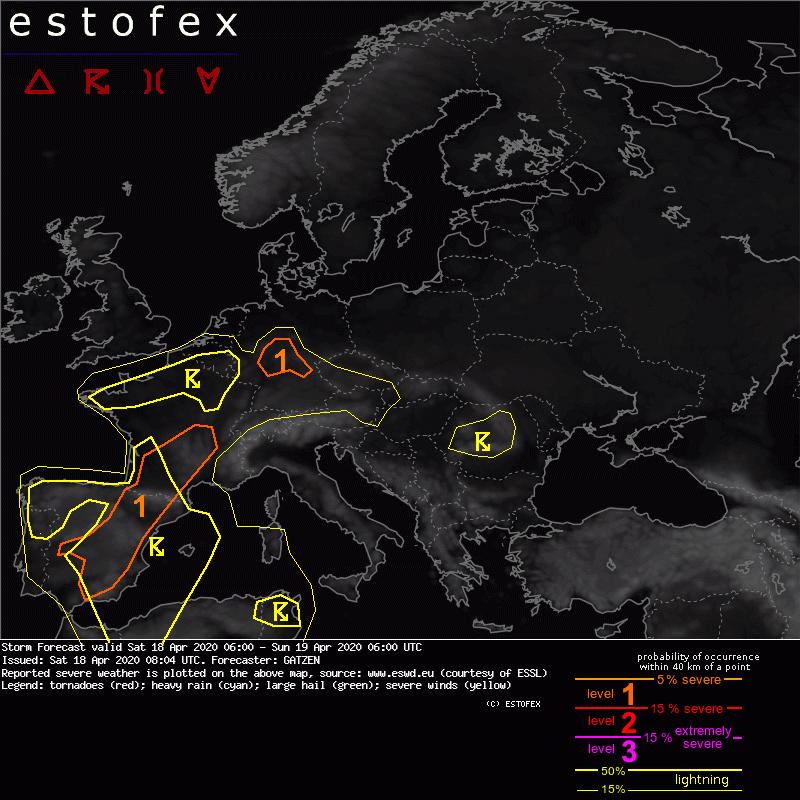 Storm Forecast
Valid: Sat 18 Apr 2020 06:00 to Sun 19 Apr 2020 06:00 UTC
Issued: Sat 18 Apr 2020 08:04
Forecaster: GATZEN
A level 1 was issued across central and north-eastern Spain into southern France mainly for large hail and to a lesser extent severe wind gusts.

A level 1 was issued across central Germany for locally excessive precipitation.

SYNOPSIS

A high across the Mediterranean ridges into the North Sea. It is flanked by an arctic trough across north-east Europe and a weakening cut-off west of the Bay of Biscay. Some short-wave troughs travel with the mid-level south-westerly jet across Spain.

At lower levels, a frontal boundary is present from the southern British Isles to Benelux and central Germany into the northern Balkans. South of the boundary, evapotranspiration has lead to increased boundary-layer moisture. Additionally, lapse rates have improved.

DISCUSSION

Spain and France

Latest satellite imaginary indicates many clouds across parts of Spain that will limit diurnal heating. Best potential for storms is across eastern and northern Spain where some stronger insolation is expected. Storms are forecast to develop during the day that can organize given 15 to 20 m/s deep layer shear. Multicells and some supercells will be capbale of producing large hail and severe wind gusts.

In the orther thunderstoirm areas, vertical wind shear is weaker and organized storms are not forecast. Some excessive rain is the main severe threat. Across the Mediterranean, storms will be elevated and main potential is some larger hail with the stronger storms.

Germany

Along the frontal boundary, skinny CAPE profiles and moist profiles (precipitable water content 20+ mm) are forecast. Storms will move parallel to the boundary and may become rather intense. However, allover severe potential is marginal. Have introduced a small level 1 to highlight the area with most confidence according to latest models. Additionally, some larger hail is not ruled out due to the low wet-bulb freezing level.

Northern Africa

Some storms are forecast in a well-mixed air mass. These are capable of producing some severe wind gusts or large hail.